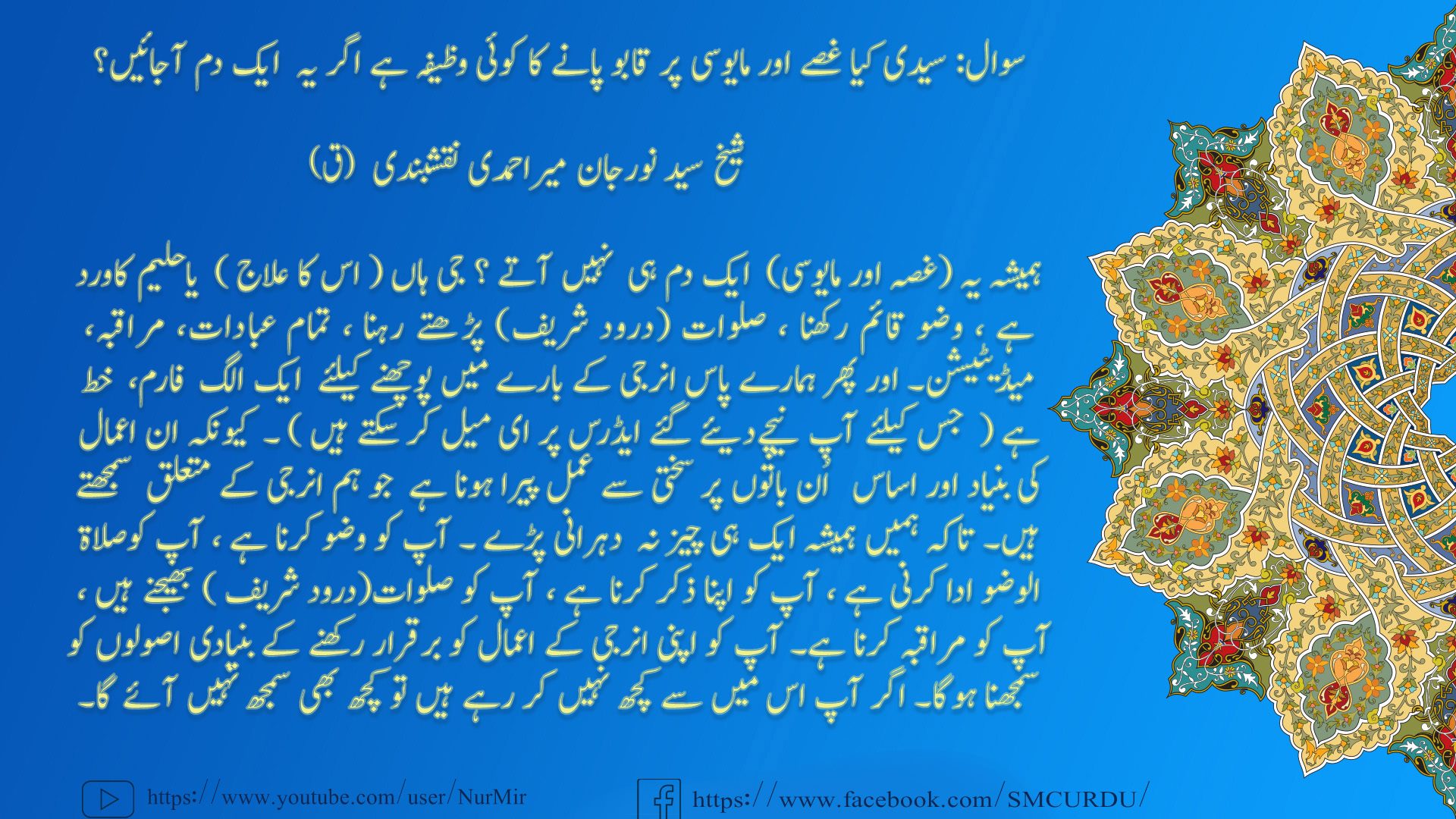 Urdu – بِسْمِ اللَّـهِ الرَّحْمَـٰنِ الرَّحِيمِ اَلَّھُمَّ صَلِّ عَلَی سَیَّدِنَا محَم…
بِسْمِ اللَّـهِ الرَّحْمَـٰنِ الرَّحِيمِ
اَلَّھُمَّ صَلِّ عَلَی سَیَّدِنَا محَمَّدٍ ﷺ وَعَلَی آلِ سَیَّدِنَا محَمَّدٍ ﷺ
شیخ سید نورجان میراحمدی نقشبندی (ق) کے ساتھ روحانی سوال و جواب 12) جون 2020 )
سوال: سیدی کیا غصے اور مایوسی پر قابو پانے کا کوئی وظیفہ ہے اگر یہ ایک دم آجائیں؟
شیخ سید نورجان میراحمدی نقشبندی (ق):
ہمیشہ یہ (غصہ اور مایوسی) ایک دم ہی نہیں آتے ؟ جی ہاں ( اس کا علاج ) یاحلیم کاورد ہے ، وضو قائم رکھنا ، صلوات (درود شریف) پڑھتے رہنا ، تمام عبادات، مراقبہ، میڈیٹیشن۔ اور پھر ہمارے پاس انرجی کے بارے میں پوچھنے کیلئے ایک الگ فارم، خط ہے ( جس کیلئے آپ نیچےدیئے گئے ایڈرس پر ای میل کر سکتے ہیں ) ۔ کیونکہ ان اعمال کی بنیاد اور اساس اُن باتوں پر سختی سے عمل پیرا ہونا ہے جو ہم انرجی کے متعلق سمجھتے ہیں۔ تاکہ ہمیں ہمیشہ ایک ہی چیز نہ دہرانی پڑے ۔ آپ کو وضو کرنا ہے ، آپ کوصلاة الوضو ادا کرنی ہے ، آپ کو اپنا ذکر کرنا ہے ، آپ کو صلوات(درود شریف ) بھیجنے ہیں ، آپ کو مراقبہ کرنا ہے۔ آپ کو اپنی انرجی کے اعمال کو برقرار رکھنے کے بنیادی اصولوں کو سمجھنا ہوگا۔ اگر آپ اس میں سے کچھ نہیں کر رہے ہیں تو کچھ بھی سمجھ نہیں آئے گا۔ لہذا جب آپ فاؤنڈیشن کو مضبوط رکھتے ہیں۔ 'میں یہ سب کر رہا ہوں ، میں اپنی تمام صلواتیں(درود شریف) پڑھ رہا ہوں ، میں اپنا وضو رکھتا ہوں ، میں اپنی انرجی کے اعمال کو برقرار رکھتا ہوں۔ میں میڈیٹیشن (مراقبہ ) کر رہا ہوں اور آپ ( شیخ ) سے رابطہ بنانے کا طریقہ پوچھ رہا ہوں۔ پھر میں صلاة النجات اداکر رہا ہوں کہ یا ربی'میرےغضب اور میرےغصے کو دور فرما۔ مجھ میں غصہ ہے جس پر میں قابو نہیں پا سکتا۔ پھر صلاة نجات (کیلئے ) ، آپ ( دی محمداً وے) ایپ کھولیں ، فجر ، اور اس (صلاة النجات ) پر کلک کریں اور کہیں کہ یا ربی میں خاص طور پر ہر رات تہجد میں یہ نماز پڑھوں گاتاکہ میرا غضب دور ہو جائے۔ اور اس سجدہ میں (سجدہ کرتے ہوئے) ، ایک طویل سجدہ میں کہیں کہ 'یاربی میں معافی مانگ رہا ہوں'۔
تَوْبَةً عَبْدٍ ظَالِمٍ لِنَفْسِهِ لَا يَمْلِكُ لِنَفْسِهِ مَوْتًا وَ لَا حَيَاةً وَلَا نُشُوْرًا
(ایک ایسے بندے کی توبہ جس نے خود پر ظلم ڈھایا ہے ، جسے نہ تو اپنی موت اور نہ ہی اپنی زندگی اور نہ ہی اپنے دوبارہ جی اٹھنے پر اختیار حاصل ہے)۔
ہمارے پاس وہاں(دی محمداً وے ایپ پر ) ایک پوری دُعا ہے۔ یہ سلطان التوبہ، سلطان الاستغفار ہے ، کہ ان سجود میں اور سجدے میں، میں یہ مانگ رہا تھا کہ 'یا ربی میں براہ کرم درخواست کر رہا ہوں ، مجھے معافی عطا فرما ، مجھے اس قہر کو دور کرنے کی قابلیت عطا فرما۔ اور میری برے خصائل (عادتیں) دور فرما۔ ان شاء اللہ۔
⚡Email:helpme@nurmuhammad.com
⚡For English:
https://www.facebook.com/1621830444573407/posts/3166139503475819/?d=n
⚡Watch Link:
https://www.facebook.com/shaykhnurjanmirahmadi/videos/2042085329257782/?d=w
⚡Please Subscribe Now:
https://www.youtube.com/user/NurMir
⚡Please Like Our Main Page:
https://facebook.com/shaykhnurjanmirahmadi/
………………………………………………………………………………………………………………………………………….
Urdu transliteration:
Sheikh Sayed Nurjan Mirahmidi Naqshbandi ( Q ) ke sath Rohani sawal o jawab 12 June 2020 )
sawal : Syedi kya ghusse aur mayoosi par qaboo panay ka koi wazifa hai agar yeh aik dam ajayeen ?
Sheikh Sayed Nurjan Mirahmidi Naqshbandi ( Q ):
hamesha yeh ( gussa aur mayoosi ) aik dam hi nahi atay? Jee haan ( is ka ilaaj ) Ya Halim ka wird hai, wudu qaim rakhna, salawat ( duroood shareef ) parhte rehna, tamam ebadaat, muraqba, meditaation. Aur phir hamaray paas energy ke barey mein poochnay ke liye aik allag form letter, hai ( jis ke liye aap neechay diye gaye address par Email kar satke hain ) . Kyunkay un aamaal ki bunyaad aur asaas unn baton par sakhti se amal pera hona hai jo hum energy ke mutaliq samajte hain. Taakay hamein hamesha aik hi cheez nah duhrani parre. Aap ko wudu karna hai, aap ko salat al wuzu ada karni hai, aap ko apna zikar karna hai, aap ko salawat ( duroood shareef ) bhejnay hain, aap ko muraqba karna hai. Aap ko apni energy ke aamaal ko barqarar rakhnay ke bunyadi usoolon ko samjhna hoga. Agar aap is mein se kuch nahi kar rahay hain to kuch bhi samajh nahi aeye ga. Lehaza jab aap foundation ko mazboot rakhtay hain . .' mein yeh sab kar raha hon, mein apni tamam salawatien ( duroood shareef ) parh raha hon, mein apna wudu rakhta hon, mein apni energy ke aamaal ko barqarar rakhta hon. Mein meditation ( muraqba ) kar raha hon aur aap ( Sheikh ) se rabita bananay ka tareeqa pooch raha hon. Phir mein Salat al nijat ada kr raha hon ke ya rabbi' mere gazabb aur mere ghusse ko daur farma. Mujh mein gussa hai jis par mein qaboo nahi pa sakta. Phir salat nijaat ( ke liye ), aap the muhammadan way ) app khollen, Fajar , aur is ( salat al nijat) par click karen aur kahin ke ya rabbi mein khaas tor par har raat tahjd mein yeh namaz parhon ga taky mera gazabb daur ho jaye. Aur is sajda mein ( sajda karte hue ), aik taweel sajda mein kahin ke' ya rabi mein maffi maang raha hon '. Tawbatan 'abdin zalimin li nafsihi, la yamliku li nafsihi mawtan wa la hayatan wa la nushura ( aik aisay bande ki tauba jis ny khud par zulm dhaya hai, jisay nah to apni mout aur nah hi apni zindagi aur nah hi –apne dobarah jee uthnay par ikhtiyar haasil hai ) .
Hamaray paas wahan ( the Muhammadan way ) aik poori dُua hai. Yeh Sultan al tauba, Sultan al astaghfar hai, ke un sujood mein aur sjday mein, mein yeh maang raha tha ke ke' ya rabbi mein barah karam darkhwast kar raha hon, mujhe maffi ataa farma, mujhe is qehar ko daur karne ki qabliyat ataa farma. Aur meri buray khasayel ( adaten ) daur farma. InShaAllah