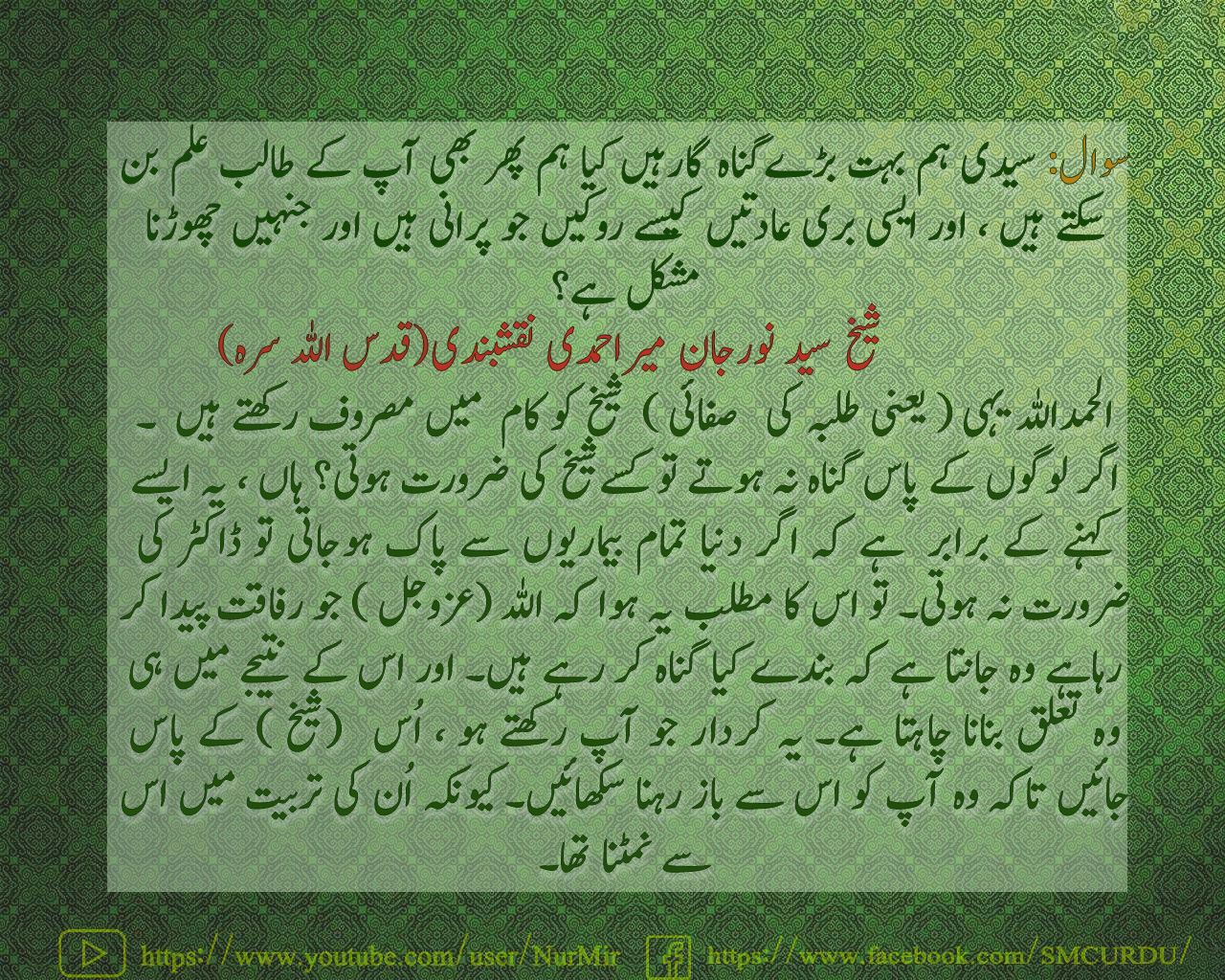 Urdu – بِسْمِ اللَّـهِ الرَّحْمَـٰنِ الرَّحِيمِ اَلَّھُمَّ صَلِّ عَلَی سَیَّدِنَا محَم…
بِسْمِ اللَّـهِ الرَّحْمَـٰنِ الرَّحِيمِ
اَلَّھُمَّ صَلِّ عَلَی سَیَّدِنَا محَمَّدٍ ﷺ وَعَلَی آلِ سَیَّدِنَا محَمَّدٍ ﷺ
شیخ سید نورجان میراحمدی نقشبندی (ق) کے ساتھ روحانی سوال و جواب
سوال: سیدی ہم بہت بڑےگناہ گارہیں کیا ہم پھر بھی آپ کے طالب علم بن سکتے ہیں ، اور ایسی بری عادتیں کیسے روکیں جو پرانی ہیں اور جنہیں چھوڑنا مشکل ہے؟
شیخ نورجان میراحمدی نقشبندی(ق):
الحمداللہ یہی ( یعنی طلبہ کی صفائی ) شیخ کو کام میں مصروف رکھتے ہیں [شیخ ہنستے ہیں]۔ اگر لوگوں کے پاس گناہ نہ ہوتے تو کسےشیخ کی ضرورت ہوتی؟ ہاں ، یہ ایسے کہنے کے برابر ہے کہ اگر دنیا تمام بیماریوں سے پاک ہوجاتی تو ڈاکٹر کی ضرورت نہ ہوتی۔ تو اس کا مطلب یہ ہوا کہ اللہ (عزوجل )جو رفاقت پیدا کر رہاہے وہ جانتا ہے کہ بندے کیا گناہ کر رہے ہیں۔ اور اس کے نتیجے میں ہی وہ تعلق بنانا چاہتا ہے۔ یہ کردار جو تم رکھتے ہو ، اُس (شیخ ) کے پاس جائیں تاکہ وہ آپ کو اس سے باز رہنا سکھائیں۔ کیونکہ اُن کی تربیت میں اس سے نمٹنا تھا۔ تو یہ ایک ایسا رشتہ ہے جسے وہ سمبائیوٹک symbiotic رشتہ کہتے ہیں ، یہ ایک ایسا رشتہ ہے جس میں آپ کو ایک دوسرے کی ضرورت ہوتی ہے۔ شیخ کو ایسے طلبا کی ضرورت ہے جو گناہ کررہے ہیں، اور گنہگار لوگوں کو شیخ کی ضرورت ہے۔ اور اسی وجہ سے ہم نے بیان کیا کہ روحانی راستے، ذکر ایک واشنگ مشین ہیں، یہ صالحین کا حلقہ نہیں ہے۔ اگرچہ ہر ایک یہ تصور کرنا چاہتا ہے کہ وہ صالحین کا حلقہ ہے لیکن حقیقت یہ ہے کہ اگر ہر ایک کو ان کے حال پہ چھوڑ دیا جائے تو وہ برے کام کریں گے۔ تو اللہ عزوجل انھیں اکٹھا کرتا ہے اور کہتا ہے کہ 'کم از کم خود کوپاک و صاف کرو' ، کیونکہ وہ آپ سے محبت کرتا ہے۔ کہ وہ آپ کی رہنمائی فرما رہا ہے کہ قبر کی صفائی سے پہلے جو ستر ہزار گنا زیادہ مشکل، ابھی تذکیہ کر لو۔ ابھی دھو لو ، ابھی صاف کرلو ، ابھی گناہوں کو دور کرلو، ابھی کردار کی تعمیر کرلو۔ اسی لئے ہم کہتے ہیں کہ یہ ایک نعمت ہے۔ مولانا شیخ (ق) نے بیان فرمایا ہے کہ یہ اللہ کی طرف سے ایک نعمت ہے۔
کیونکہ جب اللہ عزوجل یہ نعمت نہیں دیتا تو قبر میں دشواری آنے والی ہے۔ وہ (لوگ) جنہیں اُس نے ایک خاص تحفہ دیا ، 'جنت کے دائرے میں بیٹھ جاؤ ، وہ یہ ساری خرابی ابھی دھو کر صاف کر دیں گے۔ لہذا شیخ کو طالب علم چاہیے ہوتے ہیں۔ اور جو بھی برا کام وہ (طالب علم )کر رہے ہیں ، وہ کر رہے ہیں۔ اور یہ آپ کو معلوم ہے کہ وہ اس طالب علم پر لکھا جا چکا ہے۔ لیکن پھر بُرے کردار کو تبدیل کرنا مقصود ہے۔ کس طرح تبدیل کرنا ہے اور کس طرح منتظم کرنا ہے ، اور طالب علم کو خراب خصوصیات سے خود کو منتظم کرنے کا طریقہ سکھانا ہے۔ان شااللہ۔ لیکن کوئی بھی کامل نہیں ہے۔
⚡For English:
https://m.facebook.com/1621830444573407/posts/3169496983140071/?d=n
⚡Watch Link:
https://web.facebook.com/shaykhnurjanmirahmadi/videos/582215665760073/
⚡Please Subscribe Now:
https://www.youtube.com/user/NurMir
⚡Please Like Our Main Page:
https://facebook.com/shaykhnurjanmirahmadi/
………………………………………………………………………………………………………………………………………….
Urdu Transliteration:
Sawal : Sayedi hum bohat barray gunah gar hain kya hum phir bhi aap ke taalib ilm ban satke hain, aur aisi buri adaten kaisay rokain jo purani hain aur jinhein chhorna mushkil hai ?
Sheikh Sayed Nurjan Mirahmidi Naqshbandi ( q ) :
Alhamdulillah yahi ( yani talba ki safai ) Sheikh ko kaam mein masroof rakhtay hain [ Sheikh hanstay hain ]. Agar logon ke paas gunah nah hotay to kisay Sheikh ki zaroorat hoti? Haan, yeh aisay kehnay ke barabar hai ke agar duniya tamam bimarion se pak hojati to doctor ki zaroorat nah hoti. To is ka matlab yeh hwa ke Allah ( azzwajal ) jo rafaqat peda kar raha hai. Woh jaanta hai ke bande kya gunah kar rahay hain. Aur is ke nateejay mein hi woh talluq banana chahta hai. Yeh kirdaar jo tum rakhtay ho, uss ( Sheikh ) ke paas jayen taakay woh aap ko is se baz rehna skhayin. Kyunkay unn ki tarbiyat mein is se nimatna tha. To yeh aik aisa rishta hai jisay woh symbiotic rishta kehte hain, yeh aik aisa rishta hai jis mein aap ko aik dosray ki zaroorat hoti hai. Sheikh ko aisay talba ki zaroorat hai jo gunah kar rahay hain, aur gunehgaar logon ko Sheikh ki zaroorat hai. Aur isi wajah se hum neh bayan kya ke Rohani rastay, zikar aik washing machine hain, yeh saliheen ka halqa nahi hai. Agarchay har aik yeh tasawwur karna chahta hai ke woh saliheen ka halqa hai lekin haqeeqat yeh hai ke agar har aik ko un ke haal pay chore diya jaye to woh buray kaam karen ge. To Allah azzwajal unhein akhatta karta hai aur kehta hai ke' kam az kam khud ko pak o saaf karo ', kyunkay woh aap se mohabbat karta hai. Ke woh aap ki rahnumai farma raha hai ke qabar ki safai se pehlay jo sattar hazaar guna ziyada mushkil, abhi tazkiya kar lau. Abhi dho lau, abhi saaf karlo, abhi gunaaho ko daur karlo, abhi kirdaar ki taamer karlo . Isi liye hum kehte hain ke yeh aik Nemat hai. Molana Sheikh ( Q ) neh bayan farmaya hai ke yeh Allah ki taraf se aik Nemat hai .
Kyunkay jab Allah azzwajal yeh Nemat nahi deta to qabar mein dushwari anay wali hai. Woh ( log ) jinhein uss neh aik khaas tohfa diya,' jannat ke dairay mein baith jao, woh yeh saari kharabi abhi dho kar saaf kar den ge. Lehaza Sheikh ko taalib ilm chahiye hotay hain. Aur jo bhi bura kaam woh ( taalib ilm ) kar rahay hain, woh kar rahay hain. Aur yeh aap ko maloom hai ke woh is taalib ilm par likha ja chuka hai. Lekin phir buray kirdaar ko tabdeel karna maqsood hai . Kis terhan tabdeel karna hai aur kis terhan muntazim karna hai, aur taalib ilm ko kharab khususiyaat se khud ko muntazim karne ka tareeqa sikhana hai. InShaAllah. Lekin koi bhi kaamil nahi hai .