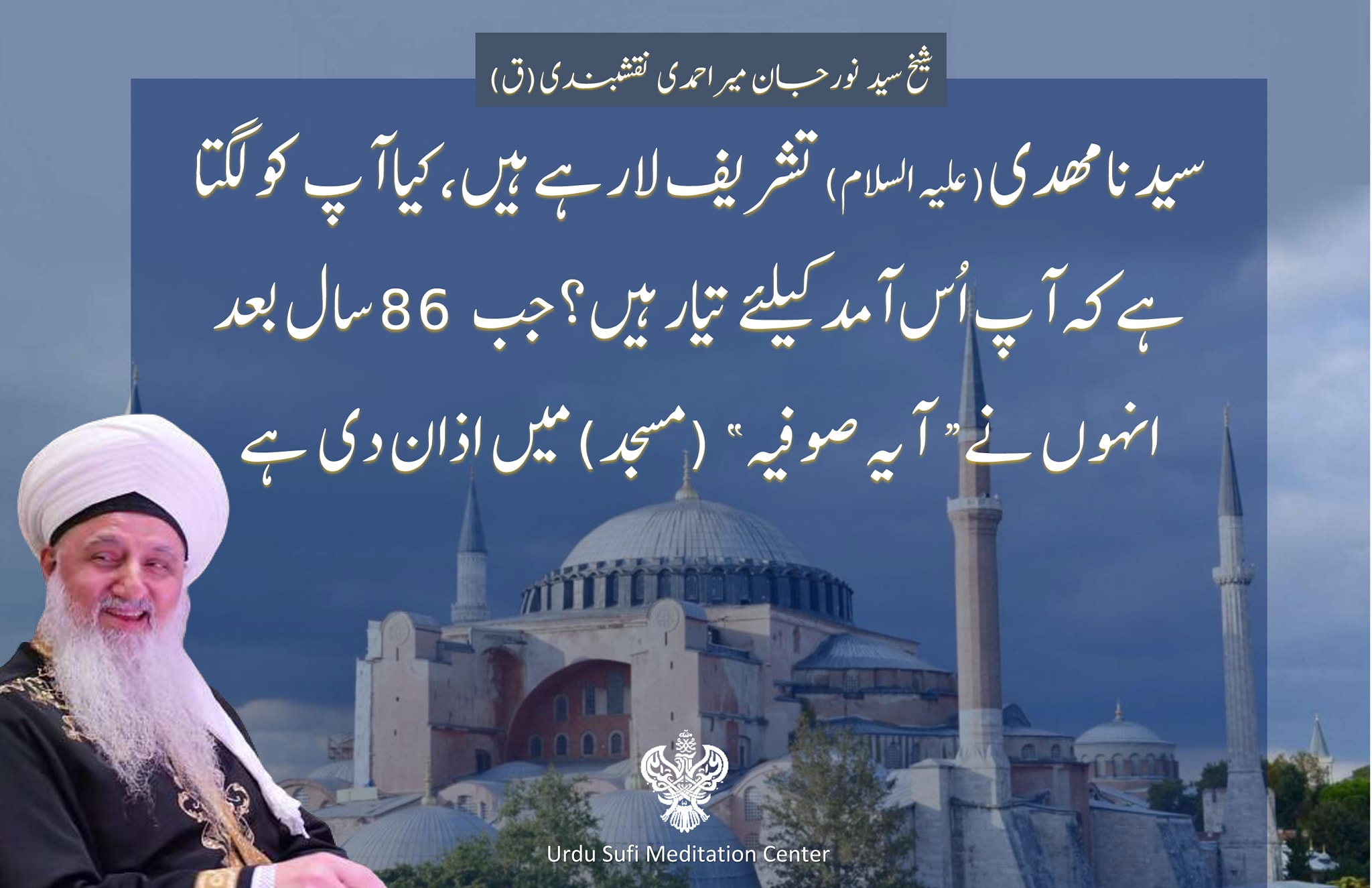 Urdu – خلوت میں آپ کا اصل کردار سامنے آرہا ہے۔ اچھا کردار اپنائیں اور فطرتِ خداوندی کی …
خلوت میں آپ کا اصل کردار سامنے آرہا ہے۔ اچھا کردار اپنائیں اور فطرتِ خداوندی کی طرح میٹھے رہیں۔ کیا آپ سیدنا مھدی )علیہ السلام( کی آمد کے لئے تیار ہیں؟
Khalwat mein aap ka asal kirdaar samnay aa raha hai. acha kirdaar apnaein aur Fitrat e khuda wandi ki terhan meethay rahen. kya aap sayyedna Mahdi ( alehi salam ) ki aamad ke liye tayyar hain ?
In isolation your real character is coming out. Have good character and Be sweet like God's nature. Are you ready for the arrival of Sayyidina Mahdi (AS)?
اَعُوْذُ بِاللہ مِنَ الشَّیْطٰنِ الرَّجِیْمِ ۞
اللہ عزوجل کی پناہ مانگتا ہوں شیطان مردود سے
بِسْمِ اللہ الرَّحْمٰنِ الرَّحِیْمِ ۞
اللہ عزوجل کے نام سے شروع کرتا ہوں جو نہایت مہربان رحم کرنے والا ہے ۔
الحمد للہ نعت شریف کہہ رہی ہے کہ لوگوں کے پاس بہت سے ٹھکانے ہیں، لیکن ہماری پناہ گاہ مدینہ منورہ ہے۔ ہم اپنے گھروں کو مدینہ بناتے ہیں۔
رحمت دا مہینہ اے
لوکاں دیاں لکھ ٹھاراں
ساڈی ٹھار مدینہ اے
یہ ماہِ رحمت ہے،لوگوں کی بہت سی پناہ گاہیں ہوسکتی ہیں ، لیکن ہماری پناہ گاہ صرف مدینہ پاک ہے۔
Awudhu Billahi min'a-shaitaan'irra jeem
Allah azzwajal ki panah mangta houn shetan mardood se
Bismillahi-r-rahman-ir-raheem
Allah azzwajal ke naam se shuru karta houn jo nihayat meharban reham karne wala hai.
Alhamdu'Lillah naat shareef keh rahi hai ke logon ke paas bohat se thikaane hain, lekin hamari panah gaah madinah Munawwara hai.hum apne gharon ko madinah banatay hain.
rehmat da maheena ae
lokan deyan likh thaaran
saaddi Thar madinah ae
yeh mah e rehmat hai, logon ki bohat si panah gahein hosakti hain, lekin hamari panah gaah sirf madinah Paak ha.
A'udhu Billahi Minash Shaitanir Rajeem
Bismillahir Rahmanir Raheem
I seek refuge in Allah from Satan, the rejected one
In the Name of Allah, the Most Beneficent, the Most Merciful
Alhamdulillah the naat shareef (praising) is saying that people have many shelters but our shelter is Medina tul Munawara. We make our homes to be Medina.
(رحمت دا مہینہ اے)
(لوکاں دیاں لکھ ٹھاراں)
( ساڈی ٹھار مدینہ اے)
(Rahmat Da Maheena ae)
(Lokan Deeaan Lukh Thaaraan)
(Saadi Thaar Madeena ae)
It's the month of rehmat (mercy) People may have lots of Shelters, but our shelter is only Madina.
مدینہ منورہ کو جو چیز مبارک بناتی ہے وہ سیدنا محمد (ﷺ) کی موجودگی ہے۔اس کا مطلب ہے کی سیدنا محمد (ﷺ) کو ہمارے گھروں میں مدعو کریں۔گھر کے اندر صلوات لگائیں ، گھر کے اندر نشیدز لگائیں ، گھر کے اندر قوالی لگائیں۔ یہ نعتیں کیسے ہمیں سکھا رہی ہیں کہ 'ایک مبارک روح تشریف لارہی ہے۔اُن کا زمانہ آرہا ہے ، وہ تشریف لارہے ہیں۔ ہر چیز کو خوبصورتی کیلئے تیار کریں۔ 'مطلب آپنے گھر میں میلاد (رسول اللہ(ﷺ)کی ولادت کا جشن) منائیں۔ مہمانوں کو مدعو کریں،کھانا لگائیں اور کہیں ، "ہم اب براہ راست نشریاتِ ذکر کرنے جارہے ہیں اور براہ راست ذکر کے لئے ہمارے ساتھ شامل ہوجائیں۔"یہ مشکل نہیں تھا۔ آپ کیا سوچتے ہیں کہ ہم جہاں پہنچ گئے وہاں کیسے پہنچے؟ انہوں نے اچانک ہمیں کچھ نہیں دے دیا اور کہا دیا کہ، "اوہ ، اب ، ٹھیک ہے ، الحمد للہ آپ یہ اور یہ ہیں۔" کچھ لوگ ایسے ہیں جو ہمت اور جوش و جذبہ سے اپنے مقصد کو پورا کرنے کے لئے، اللہ (عزوجل) نے جو کچھ دیا ہے، اسے استعمال کرتے ہیں۔ اس کا مطلب ہے کہ جب آپ ہر چیز سے بہت دور، گھر پر بیٹھے ہوئے ہوں ، کچھ دوستوں کو مدعو کریں اور کہیں ، "ہم آج رات ایک محفل سجانے جارہے ہیں۔" آپ کے پاس کھانے کے لئے کافی نہیں ہے؟ وہ فرماتے ہیں ، "حتیٰ کہ اگر آپ 4 افراد کے لئے کھانا بناتے ہیں ، تو بھی 8 افراد اس سے کھا سکیں گے۔" سیدنا محمد (ﷺ)کی خاطر ایک اچھا کھانا بنائیں۔ لوگوں کو یہ کہتے ہوئے مدعو کریں، "اب محفل شروع ہورہی ہے، ٹیلی ویژن پر براہ راست لگائیں۔" اور اپنے گھر کو ہمیشہ مقامِ محفل بنائیں۔ اگر آپ (کرونا سے) خوفزدہ ہیں تو ماسک لگا لیں اور انھیں کہیں ، "تھوڑا سا دور بیٹھ جائیں۔" لیکن محفل کی برکتیں ، صلوات کی برکات ہر قسم کی دشواری کو دور کرنا شروع کردیتی ہیں۔
Madinah Munawwara ko jo cheez mubarak banati hai woh syedna Muhammad (ﷺ ) ki mojoodgi hai. is ka matlab hai ki syedna Muhammad (ﷺ ) ko hamaray gharon mein mad'oo karen. ghar ke andar salawat lagayen, ghar ke andar nasheeds lagayen, ghar ke andar qawali lagayen. yeh naatein kaisay hamein sikha rahi hain ke' aik mubarak ruh tashreef laa rhi hai. unn ka zamana aa raha hai, woh tashreef laa rahe hain. har cheez ko khoubsurti ke liye tayyar karein.' matlab aapne ghar mein milaad ( rasool Allah (ﷺ ) ki wiladat ka jashnn ) manayeen. mehmanon ko madoo karein, khana lagayen aur kahein," hum ab barah e raast nashriyat zikar karne jaa rahe hain. aur barah e raast zikar ke liye hamaray sath shaamil ho jaien." yeh mushkil nahi tha. aap kya sochate hain ke hum jahan poanch gaye wahan kaisay puhanche? unhon ney achanak hamein kuch nahi day diya aur keh diya ke," oh, ab, theek hai, Alhamdulillah aap yeh aur yeh hain." kuch log aisay hain jo himmat aur josh o jazbay se –apne maqsad ko poora karne ke liye, Allah ( azzwajal ) ney jo kuch diya hai, usay istemaal karte hain. is ka matlab hai ke jab aap har cheez se bohat daur, ghar par baithy hue hon, kuch doston ko madoo karen aur kahin,"hum aaj raat aik mehfil sajaaney jarahay hain." aap ke paas khanay ke liye kaafi nahi hai? woh farmatay hain," hatta ke agar aap 4 afraad ke liye khana banatay hain, tou bhi 8 afraad is se kha saken ge." syedna Muhammad (ﷺ) ki khatir aik aacha khana banayen. logon ko yeh kehte hue madoo karen," ab mahfil shuru horahee hai, television par barah e raast lagayen." aur –apne ghar ko hamesha mqam e mehfil banayen. agar aap ( corona se ) khaufzadah hain to mask laga len aur unhein kahin," thora sa dour baith jayen." lekin mahfil ki barkaten, salawat ki Barkaat har qisam ki dushwari ko daur krna shuru krdeti hain.
What makes Medina to be blessed is the presence of Sayyidina Muhammad ﷺ. Means bring Sayyidina Muhammad ﷺ into our homes. Play the salawats (praisings) within the house, play the Nasheeds within the house, play the Qawwali's within the house. How these naats are teaching us that 'A blessed soul is coming. His time is coming, he's coming. Prepare make everything to be beautiful.' Means have the Milad (celebration of the birth of Prophet ﷺ) in your home. Invite guests, give food and say, "We're going to now turn on this event for live zikr (chanting) and join us for live zikr." It was not hard. How do you think we got to where we got to? They didn't all of a sudden just give us something and say, "Oh, now, okay Alhamdullilah you're such and such." There are people who use the himmah (zeal) and the zeal of whatever Allah (AJ) has given to them to accomplish their goal. Means when you're sitting at home, far away from everything, invite a few friends and say, "We're going to have a Mehfil (gathering) tonight." You don't have enough for food. They say, "Even if you made enough for 4 people, 8 can eat from it." Make a nice meal for the sake of Sayyidina Muhammad ﷺ. Invite people over say, "Now Mehfil starting, put the live television." And make your home always a place of Mehfil. If you're scared put a mask on and tell them, "Sit a little bit farther away." But the barakah (blessings) of Mehfil, the barakah of salawat begin to push every type of difficulty away.
گھر مسجد بن جاتا ہے ، گھر مدینہ منورہ بن جاتا ہے ، مکان پناہ گاہ بن جاتا ہے۔ اور کون تشریف لارہا ہے؟ محترم روح ، معزز حضورِحق، سیدنا محمد (ﷺ) تشریف لا رہے ہیں کیونکہ یہ اُن(ﷺ) کا یومِ میلاد ہے۔ وہ(آپ ﷺ) کامل کردار والے تشریف لائیں گے ، ہمیں سلام پیش کرنے کیلئے، ان تمام لوگوں کو جو اس محبت اور اس احترام کیلئے آرہے ہیں۔ نتیجتاً ، وہ سیدنا محمد (ﷺ) کی نگاہِ کرم حاصل کرنے کی ہر ممکن کوشش کرتے ہیں۔اور انہوں نے اپنا نصاب، اور اپنی تعلیم 'اخلاقِ حسنہ' میں حاصل کی۔
ghar masjid ban jata hai, ghar madinah Munawwara ban jata hai, makaan panah gaah ban jata hai. aur kon tashreef larha hai? mohtaram rooh, Muaziz Huzoor e Haq, syedna Muhammad (ﷺ ) tashreef laa rahay hain kyunkay yeh unn (ﷺ ) ka youm e milaad hai. woh ( aapﷺ ) kaamil kirdaar walay tashreef layein ge, hamein salam paish karne ke liye, un tamam logon ko jo is mohabbat aur is ehtram ke liye aa rhay hain. nateejatan, woh syedna Muhammad (ﷺ ) ki nigaah e karam haasil karne ki har mumkin koshish karte hain. aur unhon ney apna nisaab, aur apni taleem' ikhlaq hasna' mein haasil ki .
The home becomes a masjid, the home becomes Medina, the home becomes a shelter. And whose coming? The honored soul, the honored presence Sayyidina Muhammad ﷺ is coming because it's his ﷺ's birthday. He's the best of character to come, to give us the greetings to all those whom are coming for that love and for that respect. As a result, they use everything possible to gain the attention of Sayyidina Muhammad ﷺ. And they took their course, they took their studies within the 'good character'.
مشکلات کے دنوں میں، ہم نے متنبہ کیا کہ جب یہ خلوتیں شروع ہوجائیں گی اور اللہ (عزوجل) حکم دے گا کہ ، "بیوت" ، سب اپنے گھروں میں رہیں۔ آہ ، بہت سے شیاطین نکل آئیں گے—بہت سارے چوہے، ریکون۔ سب کے مرنے کے فوراً بعد اور سب مشکل( کے بعد ) اگلا عذاب کون سا آرہا ہے ؟یہ طاعون تھا۔ نہ صرف جسمانی چوہوں سے آپ کو خوفزدہ ہونا چاہئے بلکہ ان (چوہوں سی) خصوصیات سے جو انسانوں میں انا شروع ہوجاتی ہیں۔آپ لومڑی کی طرح بن سکتے ہیں جہاں آپکو لگتا ہے کہ آپ اتنے چالاک ہوکہ آپ چوروں والی چال چلنے لگتے ہو ۔آپ چوہا بننا چاہتے ہو اور اپنی غلاظت صفحہ در صفحہ پھیلانا چاہتے ہو جب آپ کو چوہا نظر آتا ہے تو آپ کیا کرتے ہیں؟ آپ مارنے والے (حشرات کُش ) کو بلاتے ہو ۔ اس کے پیچھے نہ جائیں۔ غلاظت سے نہ کھیلیں ، بس اس سے دور ہوجائیں۔کیونکہ یہ سب افراد جنہوں نے خلوت اختیار کی تھی ،تنہائی اپنائی، ان کا اصل کردار ظاہر ہو رہا ہے۔ برائی سامنے آرہی ہے۔ چھپی ہوئی خواہشیں باہر آرہی ہیں۔ لوگوں کے اندر چھپا ہوا حسد ، تمام پوشیدہ خواہشِات نفسانی ظاہر ہونے لگیں گی۔ یہ خیال نہ کریں کہ ہر کوئی ایک اچھی اور خوبصورت چیز کے طور پر ظاہر ہوگا۔اس کا مطلب ہے کہ اس مہینے میں اللہ (عزوجل) چاہتا ہے کہ ہم جانیں کہ، "آپ کے اندر جو کچھ ہے ، باہر آجائے گا۔" مٹھاس ہر قسم کی دشواری کا سامنا کرنے پر بھی ظاہر ہوتی ہے۔ ہر طرح کی برائی ، یہاں تک کہ اس ہاتھ کو، جو اسے کچل دیتا ہے ، امام علی (علیہ السلام)۔یہ اقوال حقیقت کے سمندر(بحر الحقيقة) ہیں۔
"وہ پھول بن جا،جو اپنی خوشبو اس ہاتھ تک بھی پہنچاتا ہے،جو اسے کچل دیتا ہے۔" – امام علی (علیہ السلام)
Mushkilaat ke dinon mein, hum ne mutnabba kya ke jab yeh khalwatein shuru ho jaien gein aur Allah ( azzwajal ) hukum day ga ke," Bayoot", sab –apne gharon mein rahen. aah, bohat se shayateen nikal ayen ge —bhut saaray choohay, raccoons. sab ke marnay ke foran baad aur sab mushkil ( ke baad ) agla azaab kon sa araha hai? yeh taoon tha. na sirf jismani choohon se aap ko khaufzadah hona chahiye balkay un ( choohon se) khususiyaat se jo insanon mein anaa shuru hojati hain. Ap lomri ki terhan ban satke hain jahan apko lagta hai ke ap itnay chalaak hain ke ap choron wali chaal chalne lagtay hain.Ap chooha ban-na chahtay hou aur apni ghalazat safha Dur safha phelana chahtay hain,jab aap ko chooha nazar aata hai tou aap kya karte hain?Ap maarny walay ( hashraat kush ) ko bulatay hou. iss ke peechay na jayen. ghalazat se na khelain, bas is se daur ho jaien. kyunkay yeh sab afraad jinhon ne khalwat ikhtiyar ki thi, tanhai apanee, un ka asal kirdaar zahir hu raha hai. buraiee samnay aa rahi hai. chupi hui khuwaishein bahar aa rahi hain. logon ke andar chupa hua hasad, tamam posheeda khwahisaat e nafsaani zahir honay lagen gi. yeh khayaal na karen ke har koi aik achi aur khobsorat cheez ke tor par zahir hoga. is ka matlab hai ke is mahinay mein Allah ( azzwajal ) chahta hai ke hum jaanen ke," aap ke andar jo kuch hai, bahar aajay ga." mithaas har qisam ki dushwari ka saamna karne par bhi zahir hoti hai. har terhan ki buraiee, yahan taq ke is haath ko, jo usay kuchal deta hai, imam Ali ( aleh salam ). yeh aqvaal haqeeqat ke samandar (behrul haqiqah) hain .
" woh phool ban ja, jo apni khusbhoo ous haath taq bhi pohanchata hai, jo usay kuchal deta hai." – imam Ali ( aleh salam )
In days of difficulty we warned that when these isolations begin and Allah (AJ) order, "Buyoot, everybody into your homes." Ahh, many devils will be coming out. May raccoons, rats. Right after everybody starts to die and all the difficulty what was the next azab (difficulty) coming? Was pestilence. Not only the physical rats you should be scared of but the characteristic that Insan (human being) begins to have. You can become like a fox where you think you'really just so clever that you want to be sneaky. You want to be a rat and put your poo-poo from page to page to page. When you see a rat what do you do? You call a exterminator. Don't follow it. Don't play with the poo-poo. Just get away from it. Because all these people who made seclusion, they isolated their real character is coming out. The badness is coming out. The hidden desires coming out. The hidden jealousies, all of the hidden desires within people will begin to manifest. Don't think everybody manifests as something good and beautiful. Means Allah (AJ) want to know in this month, "What's inside you, will come out." Sweetness comes out in the face of every type of difficulty. Every type of badness, even to the hand that crushes it, Imam Ali (AS). These sayings are oceans of reality.
(كُنْ كَالزَّهْرَةِ الَّتِيْ تُعْطِيْ عِطْرُهَا حَتَّى لِلْيَدِ الَّتِي تَسَحَّقُهَا – (الإمام علي بن أبّي طالب
"Kun kazzahratil lati tu'ti 'itruha hatta lilyadi allati tasahhaquha" (Al Imam 'Ali ibn Abi Talib)
"Be the flower that gives its fragrance even to the hand that crushes it." — Imam Ali (as)
گلاب کی طرح اس ہاتھ سے بھی میٹھے رہیں،جو آپ کو کچل دیتا ہے۔ اس کا مطلب یہ ہے کہ فطرت میں ، اللہ (عزوجل) نے فرمایا ، "اے انسان ایسا مت سمجھو کہ تم ہی عظیم ہو۔ میری فطرت تم سے کہیں بہتر ہے۔ ٹھیک؟ اگر آپ درخت سے ٹکراؤ گے تو آپکو کیا ملے گا، قاسم، ایک پھلدار درخت، اگر تم اسے مارو تو ، کیا ہوتا ہے؟ تمہیں سیب مل جاتا ہے۔ درخت آپ کو واپس نہیں مارے گا ، یہ آپ کو پھل دیتا ہے۔ اور فطرت ہمیں سکھاتی ہے ، 'مجھے نچوڑ دو اور میں آپ کو اپنا تمام نباتی تیل (عرق/جوھر) دوں گی۔ میں آپ کے، مجھے کچل دینے کے نتیجے میں (بھی) ،آپکو خوشبو دوں گی۔ 'کچھ زہریلا اور زہرآلود نہیں بننا۔ جو بھی شخص عرفانِ ذات کا راستہ اختیار کرتا ہے اور دیکھیں کہ کیا آپ خلوت سے کوئی زہریلی چیز بن کہ نکل رہے ہیں؟ یہ زہر اور بیماری جو تمہارے اندر تھی اب وہ راستہ بن جائے گا جس میں تم اپنی تقدیر بناؤ گے؟ وہ جملہ کیا ہے جو" ڈارتھ واڈر" نے اسٹار وارز میں استعمال کیا ، "روشنی کا انتخاب کرو"۔ نہیں ، وہ "یوڈا" تھا۔ تم جانتے ہو؟ تم اچھائی منتخب کرو اور تم روشنی کا انتخاب کرو اور یہ تمہارا مقدر (سنوارے ) گی۔ لیکن اگر تم منفی (سوچ) اور تاریکی کی طرف جاتے ہو تو وہ تمہارا مقدر بن جائے گی۔–مایوسی اور تاریکی سے بھری ہوئی زندگی۔ اور تم چُن سکتے ہو کس طرف جانا ہے۔ کیا تم دوسروں کی غلطیوں ، کوتاہیوں اور برے کاموں کو نظر انداز کرتے ہو؟ اور تم ہمیشہ نور کا انتخاب کرتے ہو اور تم ہمیشہ مثبت (سوچ) کا انتخاب کرتے ہو اور عشق و محبت کی طرف بڑھتے ہو؟
Ghulaab ki terhan is haath se bhi meethay rahen, jo aap ko kuchal deta hai. is ka matlab yeh hai ke fitrat mein, Allah ( azzwajal ) ne farmaya," ae ensaan aisa mat samjhoo ke tum hi azeem ho. meri fitrat tum se kahin behtar hai. theek? agar aap darakht se takrao ge to apko kya miley ga, Qasim , aik phaldaar darakht, agar tum usay maro to, kya hota hai? tumhe saib mil jata hai. darakht aap ko waps nahi maaray ga, yeh aap ko phal deta hai. aur fitrat hamein sikhati hai,' mujhe nichor do aur mein aap ko apna tamam nabati tail ( arq / johr ) dun gi. mein aap ke, mujhe kuchal dainay ke nateejay mein ( bhi ), aapko khusbhoo dun gi.' kuch zahreela aur zeharaalod nahi ban-na. jo bhi shakhs irfan zaat ka rasta ikhtiyar karta hai aur dekhen ke kya aap khalwat se koi zehrili cheez ban ke nikal rahay hain? yeh zeher aur bemari jo tumahray andar thi ab woh rasta ban jaye ga jis mein tum apni taqdeer banaao ge. woh jumla kya hai jo "Darth Vader" ney star wars mein istemaal kya,?" roshni ka intikhab karo ". nahi, woh" yoda" tha. tum jantay ho? tum achai muntakhib karo aur tum roshni ka intikhab karo aur yeh tumhara muqaddar ( sanware ) gi.lekin agar tum manfi ( soch ) aur tareqi ki taraf jatay ho to woh tumhara muqaddar ban jaye gi. –Mayoosi aur tareqi se bhari hui zindagi. aur tum chun satke ho kis taraf jana hai. kya tum dosaron ki ghaltion, kotahiyon aur buray kamon ko nazar andaaz karte ho? aur tum hamesha noor ka intikhab karte ho aur tum hamesha masbet ( soch ) ka intikhab karte ho aur ishhq o mohabbat ki taraf barhatay ho ?
Be sweet even to the hand that crushes you like the rose. Means that in nature, Allah (AJ) said, "Don't think Insan you're so great. My nature is far better than you". Right. If you hit the tree, what do you get Qasim? A fruit tree, if you hit it, what happens? You get the apple. The tree doesn't hit you back, it gives you its fruit. And nature teaches us, 'Squeeze me and I give you all of my essential oil. I will fragrance you by you crushing me.' Not to become something toxic and poisonous. Anyone who take a path of self realization and see that you're coming out of seclusion as something toxic? This poison and sickness that was within you is now going to be the path in which you make your destiny? What is the phrase that Darth Vader used in Star Wars, "Choose the light". No, that was Yoda. You know, you choose the good and you choose the light and that will make your destiny. But if you go towards negative and darkness that becomes your destiny. A life filled with negativity and darkness and you have a choice in which to make. Do you overlook the faults of others, the wrongs and the bad doings and you always choose the light and you always choose the positivity and moving towards muhabbat (love) and love.
ہم نے گذشتہ رات بیان کیا تھا کہ تم ہمیشہ خود کو سیدنا محمد (ﷺ) کے حضور تصور کرتے رہو۔ اور یہ تصور قائم رکھو کہ نبی کریم (ﷺ) کے حضور ، ابھی وہ ( آقاﷺ) ہمارے ساتھ موجود ہیں۔ ،یہ اہلِ محبت ہیں، اہلِ درود ہیں، اہلِ عشق ہیں کہ ان مجالس میں نبی کریم (ﷺ) اِن کے ساتھ ابھی موجود ہیں۔ تم جو کچھ بھی کرتے ہو ، کیا تمہیں لگتا ہے کہ وہ اسے پسند فرمائیں گے اگر وہ برا عمل اور بد اخلاقی ہے؟ اور اسی وجہ سے طریقت بہترین کردار کا درس دیتی ہے۔ کہ اگر تم برائی کرنا چاہو اور اندھیرے کی طرف راستہ اختیار کرنا چاہو تو اللہ (عزوجل) کا عذاب تمہاری طرف بڑھ رہا ہے۔ آپ جسے بھی اللہ (عزوجل) کے عذاب میں(گرفتار) محسوس کریں اس سے دور رہیں۔ کیونکہ یہ وہ زمانہ نہیں ہے کہ تم آ بیل مجھے مار سے ( عذاب کو ) دعوت دو۔ یہ وہ وقت ہے جب تمہیں خود کو خوبصورت اور خوشبودار بنانا ہے۔
Hum ne guzashta raat bayan kya tha ke tum hamesha khud ko syedna Muhammad (ﷺ) ke huzoor tasawwur karte raho. aur yeh tasawwur qaim rakho ke nabi kareem (ﷺ ) ke huzoor, abhi woh (Aqa ﷺ ) hamaray sath mojood hain., yeh Ahl e mohabbat hain, ahl e duroood hain, ahl e ishhq hain ke un majalis mein nabi kareem (ﷺ ) inn ke sath abhi mojood hain. tum jo kuch bhi karte ho, kya tumhe lagta hai ke woh usay pasand farmaen ge agar woh bura amal aur bad ikhlaqi hai? aur isi wajah se tareeqat behtareen kirdaar ka dars deti hai. ke agar tum buraiee karna chaho aur andheray ki taraf rasta ikhtiyar karna chaho tou Allah ( azzwajal ) ka azaab tumhari taraf barh raha hai. aap jisay bhi Allah ( azzwajal ) ke azaab mein ( girftar ) mehsoos karen ous se daur rahen. kyunkay yeh woh zamana nahi hai ke tum aa bail mujhe maar se ( azaab ko ) dawat do. yeh woh waqt hai jab tumhe khud ko khobsorat aur khushbodar banana hai .
We said last night that, 'you always visualize yourself at the presence of Sayyidina Muhammad ﷺ'. And thinking that in the presence of Prophet ﷺ he's with us now. These are the Ahle muhabbat (people of love), the people of salawats and love in these majlis (association) that Prophet ﷺ is with them now. Whatever you do, do you think he is approving if it's a bad action and bad character. And that's why the tariqah (spiritual path) comes to teach the best of character. That if you should do bad and take a path towards darkness then Allah's (AJ) azab is moving towards you. Stay clear of anyone whom you feel is under Allah's (AJ) azab. Because these are not the time to put a bullseye on your head. These are the times in which to make yourself to be beatific and fragrant.
اور یہ صلوات ظاہر کرتے ہیں کہ یہ میرا عمل نہیں ہے۔اے میرے رب! میں یہاں یہ سوچ کر نہیں بیٹھا کہ میں نے نماز پڑھی ،میں نے زکوٰۃ دی، کیونکہ میری قرآٔت آپکو متاثر کر رہی ہے یا آپ کو متاثر نہیں کر رہی۔ میں یہ سوچ کر بیٹھا ہوں کہ میں نے سب غلط کیاہے لیکن، میں آپ کے رحم و کرم کی بھیک مانگ رہا ہوں۔ یا ربی مجھے اپنی رحمت سے ملبوس فرما۔ مجھے صرف ایک اچھا کردار عطا فرما دے تاکہ تو ان غلطیوں کو نظرانداز فرما دے جو مجھ سے سرزد ہوئیں یا میری عبادت میں جو(کچھ) تیری رضا کے مطابق نہیں۔یہ ایک بالکل مختلف قسم کا کردار ہے۔ اپنی تمام تر صلاحیتوں ، اپنے تمام تر اعمال کی تردید کریں اور یہ کہیں کہ ، "میں صرف تیری رحمت کے فضل سے موجود ہوں۔ مجھے اچھا کردار عطا فرما تاکہ تو میرے تمام غلط کاموں کو معاف فرما دے۔ بمقابلہ وہ جنہوں نے اپنی بنیاد، اپنے اعمال پر ، اپنی نیکیوں پر ،اپنی نمازوں پر ،اپنی قرات پر ،اپنے حفظ پر ،اپنی یادداشت پر رکھی ہے۔ ہر وہ بات جو وہ کہنے والے ہیں ،کیا اس سے وہ اللہ (عزوجل) کے قریب ہوجاتے ہیں؟ کیسے؟ اگر یہ(سب عمل)شیطان کو نہیں بچا پایا تو یہ آپ کو کیسے بچائے گا؟ اس نے سجدہ کیا ، اور ( 70) ستر ہزار سال کی عبادت کے لئے ہر ایک جگہ پر سجدہ کیا۔علم میں تکبر اور برے کردار کی بنا پر بڑھا۔اتنا کہ اس نے فرشتوں کے علم کو آلودہ کردیا۔ اور اللہ (عزوجل) کی طرف سے ایک حکم، (ایا) ،اور وہ گر گیا اور اس کے پیچھے آنے والے سب گر گئے۔
Aur yeh salwat zahir karte hain ke yeh mera amal nahi hai. ae mere rab! mein yahan yeh soch kar nahi betha ke mein ney namaz parhi, mein ney zakat di, kyunkay meri qirat apko mutasir kar rahi hai ya aap ko mutasir nahi kar rahi. mein yeh soch kar betha hon ke mein ney sab ghalat kiya hai lekin, mein aap ke reham o karam ki bheek maang raha hon. ya rabbi mujhe apni rahmat se malbos farma. mujhe sirf aik acha kirdaar ataa farma day taakay to un ghaltion ko nazar andaz farma day jo mujh se sarzad huien ya meri ibadat mein jo ( kuch ) teri Raza ke mutabiq nahi. yeh aik bilkul mukhtalif qisam ka
kirdaar hai. apni tamam tar salahiyaton, –apne tamam tar aamaal ki tardeed karen aur yeh kahein ke," mein sirf teri rahmat ke fazl se mojood hon. mujhe acha kirdaar ataa farma taakay tou mere tamam ghalat kamon ko maaf farma day. ba muqabla woh jinhon ney apni bunyaad, –apne aamaal par, apni nakiyon par, apni namazon par, apni qirat par, –apne hifz par, apni yad dasht par rakhi hai. har woh baat jo woh kehnay walay hain, kya is se woh Allah ( azzwajal ) ke qareeb ho jatay hain? kaisay? agar yeh ( sab amal ) shetan ko nahi bacha paaya to yeh aap ko kaisay bachaaye ga ?
is naay sajda kya, aur ( 70 ) sattar hazaar saal ki ibadat ke liye har aik jagah par sajda kya. ilm mein taqqabur aur buray kirdaar ki bina par barha. itna ke is naay firshton ke ilm ko aaloda kardiya. aur Allah ( azzwajal ) ki taraf se aik hukum, ( aya ), aur woh gir gaya aur is ke peechay anay walay sab gir gaye .
And of these salawats show it's not my amal (deeds).
Ya Rabbi I'm not sitting here thinking that because I prayed, I gave zakat (charity) because my Qirat (recitation) is impressive to you or not impressive to you. I'm sitting here thinking I did everything wrong but I'm begging for your Rahmah (mercy) and your mercy. Dress me from your Rahmah, ya Rabbi. Let me just to have good character so that you'll overlook what I did wrong or was not pleasing to you in my worshipness." That's a whole different type of character. Negate all your actions, all your abilities and say that, "I'm only existing by the mercy of your grace Ya Rabbi. Let me have good character so you forgive all my wrong doings." Versus the one whom is going to build themselves on their doings, on their actions, their prayers, their Qirat (recitation), their hifzh, their memory. Everything they're gonna say that, that brings them close to Allah (AJ)? How? How will it save you if it didn't save shaitan (satan)? He made a sujood (prostration), and made sajdah every single space from a hands distance for 70 thousand years of worshipness. Raised in knowledges based on pride and bad character. Such that it contaminated the knowledges of the angels. And one order from Allah (AJ) and he fell and all those whom followed fell.
لہذا ، طروق اچھے اخلاق سکھانے آتے ہیں۔واحد درجہ بندی جو ان کے پاس ہونی چاہئے۔ ان کے کوائف وتجربات میں صرف ایک چیز یہ (جو ضروری) ہے ، 'کیا ان کا اخلاق اچھا ہے؟ کیا شیخ کے پاس اچھے اخلاق ہیں اور کیا انھوں نے اپنے طلباء کو اچھے آداب سکھائے ہیں؟ یہاں تک کہ لوگ آتے ہیں اور کہتے ہیں ، "دیکھو وہ وضو غلط کرتے ہیں ، وہ نماز غلط پڑھتے ہیں ، وہ غلط ، غلط ، غلط ، غلط ، غلط ، غلط ، بہت غلط" تلاوت کرتے ہیں لیکن وہ انتہائی مہربان اور نہایت اچھے لوگ ہیں۔ یہ حقائق کی اکیڈمی ہے۔ کہا گیا ہے اگر ، 'ایک ہزار علماء (اسکالرز) آپ سے نفرت نہیں کرتے ، تو آپ ولی (بزرگ) نہیں ہیں۔ اگر ایک ہزار علماء آپ کی مخالفت میں نہیں آرہے، تو آپ ولی نہیں ہیں۔ 'کیوں؟ کیونکہ علماء، اولیائے کرام کے کردار اور ان کے اعمال کو سمجھ نہیں سکتے۔ (کیونکہ ) وہ (اولیا) کبھی شریعت سے باہر نہیں نکلے۔ لیکن انھوں نے اپنے کسی عمل کو تکبر کی نگاہ سے نہیں دیکھا ، نہ ہی(اعمال کو) اہم سمجھا۔ یہاں تک کہ ان کی ظاہری شکل اور ان کی شبیہہ بھی کچھ ظاہری علما (کہتے ہیں) اچھا آپ …. "یہ عجیب لگتے ہیں۔ آپ اس شخص میں بڑی خاص بات کیا دیکھتے ہو ؟" اپنی ظاہری آنکھوں سے ہم ان کی جانب دیکھتے ہیں اور کچھ (خاص )نہیں دیکھ پاتے۔ لیکن اللہ (عزوجل) نے خبردار فرمایا ہے: " صورت کی طرف مت دیکھو ،مادیت پر نہ جاؤ،کیونکہ اللہ (عزوجل) محض دل کی طرف متوجہ ہے۔" اللہ (عزوجل) اپنی تخلیق کی شکل کو نہیں دیکھتا۔وہ اس پر نظر رکھتا ہے جو دلوں میں ہے۔اور کیا اس دل میں وہ عشق و محبت ، اچھا اخلاق ،سیدنا محمد (ﷺ) کی محبت نظر آتی ہے؟
lehaza, Tarooq achay ikhlaq sikahnay atay hain. wahid darja bandi jo un ke paas honi chahiye. un ke kawaif tajarubat mein sirf aik cheez yeh ( jo zurori ) hai,' kya un ka ikhlaq achaaa hai? kya Shaykh ke paas achay ikhlaq hain aur kya unhon ne –apne talba(mureedein) ko achay aadaab sikhayiye hain? yahan taq ke log atay hain aur kehte hain," dekho woh wudu ghalat karte hain, woh namaz ghalat parhte hain, woh ghalat, ghalat, ghalat, ghalat, ghalat, ghalat, bohat ghalat" talawat karte hain lekin woh intehai meharban aur nihayat achay log hain. yeh haqayiq ki academy hai. kaha gaya hai agar,' aik hazaar ulama ( scholars ) aap se nafrat nahi karte, tou aap walii ( buzurag ) nahi hain.agar aik hazaar ulama aap ki mukhalfat mein nahi arhay, to aap walii nahi hain.' kyun? kyunkay ulama, Awliya e karaam ke kirdaar aur un ke aamaal ko samajh nahi satke. ( kyunkay ) woh ( Awlia ) kabhi Shariat se bahar nahi niklay. lekin unhon naay –apne kisi amal ko taqqabur ki nigah se nahi dekha, na hi ( aamaal ko ) eham samjha. yahan taq ke un ki zahiri shakal aur un ki Shabih bhi kuch zahiri ulama ( kehte hain ) acha aap …." yeh ajeeb lagtay hain. aap is shakhs mein barri khaas baat kya dekhte hu? apni zahiri aankhon se hum un ki janib dekhaty hain aur kuch ( khaas ) nahi dekh paatey. lekin Allah ( azzwajal ) ny khabardaar farmaya hai :" soorat ki taraf mat dekho, madiyat par na jao, kyunkay Allah ( azzwajal ) mehez dil ki taraf mutwajjeh hai." Allah ( azzwajal ) apni takhleeq ki shakal ko nahi daikhta. woh is par nazar rakhta hai jo dilon mein hai. aur kya is dil mein woh ishhq o mohabbat, achaa ikhlaq, syedna Muhammad (ﷺ ) ki mohabbat nazar aati hai ?
So, taruqs (spiritual paths) come to teach good manners. Only classification they're supposed to have. Only thing on their resume is, 'Do they have good manners? Does the shaykh have good manners and did he teach his students good manners? Even people come and say, "look they do wudu (ablution) wrong, they pray wrong, they recite wrong, wrong, wrong, wrong, wrong, wrong, wrong" but they're extremely kind and nice people that's it. That's an academy of realities. Said if, 'Not one thousand Ulema (scholars) hating you, you're not a Wali (saint). If not one thousand Ulema coming against you, you're not a Wali.' Why? Because the Ulema couldn't understand the characters and the actions of Awliya. Never that they're outside of Sha'riah (Diivne law). But they never saw it with their eyes of pride of any action, any value in it. Even their look and their image to some of the external Ulema well you're…. "This one looks ajeeb (strange). What do you make such a big deal about this person?" With our external eyes we look at them and see nothing. But Allah (AJ) warned, "Don't look to the Surah, don't look to the form for Allah (AJ) only interested in the heart." Allah (AJ) doesn't look at the form of his creation. He looks to what's within the heart. And within that heart does He see muhabbat and love, good character, love of Sayyidina Muhammad ﷺ.
رات بھر مسلسل دعا کرتے رہیں ، 'اے میرے رب! میری برائی ٹھیک فرما دے، میری برائیوں کو درست فرما دے۔ مجھے میری زندگی میں مٹھاس عطا فرما، میری زندگی میں اچھا اخلاق عطا فرما۔ 'لوگ سمجھتے ہیں کہ وہ یہاں شیخ کی آزمائش کرنے آئے ہیں لیکن اِس کے لیے اعلیٰ سطح کے شیخ کی ضرورت ہے ، آپ کوئی نہیں ہیں جو شیخ کو آزمائیں۔ یہ اصل میں الٹا ہے۔ شیخ آپ کو آزما رہے ہیں۔ اور اگر آپ بری خصلت ظاہر کررہے ہیں تو ، آپ بہت تیزی سے(درجات میں) نیچے جارہے ہیں۔ اور یہ وہ وقت نہیں ہے جس میں نیچے جایا جائے۔ یہ وہ زمانہ نہیں ہے جس میں عذاب کو اپنے سر دعوت دی جائے۔کیونکہ اب صرف سب سے چھوٹا مائکروب(کرونا وائرس) آپ کی سمت آرہا ہے ، کوئی بڑی شے نہیں۔ یہ صرف ایک مائکروب(وائرس)ہے، جسے آپ دیکھ بھی نہیں سکتے اور اگر اللہ (عزوجل) آپ کے کردار سے راضی نہیں اور یہ دیکھتا ہے کہ آپ بری خصائل دیکھا رہے ہیں تو، گویا آپ عذاب کو دعوت دے رہے ہیں کہ 'اے میرے رب ! آ میں تجھے للکار رہا ہوں۔ ، مجھے سزا دے۔ 'کیوں؟ ، کیوں کوئی ایسا کرنا چاہے گا؟ اور بس یہ مائکروب(وائرس)آنا شروع ہوجاتا ہے۔ لہذا ہم ایک ایسے زمانے میں جی رہے ہیں جس میں اللہ (عزوجل) ہمارے اندر چھپی ہوئی ساری چیزیں سامنے لانے والا ہے۔ یا ربی ، جب آپ ہمیں جنجھوڑنے لگیں۔ ہم نے بیان کیا تھاکہ ، یہ لرزش کا مہینہ ہے ، ہر طرح کی آزمائش اور سنگینی اور جو کچھ آپ سے ظاہر ہوتا ہے وہ پاگل پن ، جھگڑا اور غصہ اور جارحیت ہے۔ اور پھر آپ کے پاس آپ کے تصور کے مقابلے میں زیادہ آنا شروع ہوتا ہے۔ لیکن اگر آپ کے تمام لرزنے اور کچلنے سے، اللہ (عزوجل) کی فطرت کی طرح، اچھائی ظاہر ہو۔ آپ درخت کو ماریں، تو پھل ملتا ہے۔ آپ پھول نچوڑیں ، خوشبو آتی ہے۔ آپ بخور کو جلائیں اور خوبصورت خوشبوئیں جاری ہوتی ہیں۔ہماری دعا ہے کہ اللہ (عزوجل) ہمیں ایک اچھا اخلاق عطا فرمائے۔
Raat bhar musalsal dua karte rahen,' ae mere rab! meri buraiee theek farma day, meri buraiyon ko durust farma day.mujhe meri zindagi mein mithaas ataa farma, meri zindagi mein acha ikhlaq ataa farma.' log samajte hain ke woh yahan Shaykh ki azmaish karne aye hain lekin iss ke liye aala satah ke Shaykh ki zaroorat hai, aap koi nahi hain jo Shaykh ko azmayen. yeh asal mein ulta hai. Shaykh aap ko aazma rahay hain. aur agar aap buri khaslat zahir kar rahay hain to, aap bohat taizi se ( darjaat mein ) neechay jarahay hain. aur yeh woh waqt nahi hai jis mein neechay jaya jaye. yeh woh zamana nahi hai jis mein azaab ko –apne sir dawat di jaye. kyunkay ab sirf sab se chota microbesm( corona virus ) aap ki simt araha hai, koi barri shay nahi. yeh sirf aik microbe ( virus ) hai, jisay aap dekh bhi nahi satke aur agar Allah ( azzwajal ) aap ke kirdaar se raazi nahi aur yeh daikhta hai ke aap buray khasayel dekha rahay hain tou, goya aap azaab ko dawat day rahay hain ke' ae mere rab! aa mein tujey lalkaar raha hon., mujhe saza day.' kyun ?, kyun koi aisa karna chahay ga? aur bas yeh microbe ( virus ) aana shuru hojata hai. lehaza hum aik aisay zamane mein jee rahay hain jis mein Allah ( azzawajjal) hamaray andar chhupi hui saari cheeze samnay laane wala hai. ya rabbi, jab aap hamein jhanjorne lagein. hum ny bayan kya tha keh, yeh larzish ka maheena hai, har terhan ki azmaish aur sangeeni aur jo kuch aap se zahir hota hai woh pagal pan, jhagra aur gussa aur jarhiyat hai. aur phir aap ke paas aap ke tasawwur ke muqablay mein ziyada aana shuru hota hai. lekin agar aap ke tamam larazne aur kuchalnay se, Allah ( azzwajal ) ki fitrat ki terhan, achai zahir ho. aap darakht ko marain, to phal milta hai. aap phool nichorein, khusbhoo aati hai. aap Bukhoor ko jalayen aur
Khoobsorat khusboein jari hoti hain. Hmari dua ha ke Allah ( azawajjal ) hamein acha ikhlaq ata farmae.
Continuously praying all night long, 'Ya Rabbi fix my badness, fix my badness. Give me a sweetness in my life, a good character within my life.' People think they're here to test the shaykh but that needs a high level shaykh, you're not anyone to test a shaykh. It's actually the reverse. The shaykh is testing you. And if you're exhibiting bad characteristics, you're going down very fast. And this is not a time in which to go down. This is not a time in which to try to pull a bullseye on your head. Because just the smallest microbe is now heading in your direction, nothing big. It's just a microbe that you can't see and if Allah (AJ) not pleased with your character and sees that you're exhibiting characteristics of badness it's as if you're putting a bullseye that 'Come Ya Rabbi I'm challenging you, punish me.' Why, why would anyone want to do that? And just this microbe begin to come. So we live in a time in which Allah (AJ) is going to bring out all that is hidden within us. Ya Rabbi, as you begin to shake us. We said, 'This is a month of shaking, every type of testing and aggravation and all that comes out of you is craziness and belligerence and anger and aggression. And then you got more coming to you than you can imagine. But if through all your shaking and all your crushing is goodness, like Allah's (AJ) nature. You hit the tree, the fruit comes. You squeeze the flower, the fragrance comes. You burn the bakhoor (incense) and beatific fragrances are released. We pray that Allah (AJ) give us a good character.
کہ یہ زلزلے کا مہینہ اس لئے اہم ہے کیونکہ اب یہ ماہِ حج کی ابتدا ہے۔ اے ہمارے رب ہم نیت کر رہے ہیں کہ ہمیں ایک حقیقی حجرت عطا فرما۔ کہ یاربی ہمارے جسموں کو وہاں قریب کہیں ہونے کی ضرورت نہیں ہے لیکن جب '' لبیک '' کی صدا ہو تو، میری روح کو اپنے مقدس کعبہ میں داخل فرما دے۔روح کو مقدس کعبے کی حقیقت میں داخل فرما اور صفا مروہ سے یا ربی ملبوس فرما، ہمیں حقیقت کے 7 چشمے عطا فرما۔ ہمیں اسلام ، ایمان ، مقام الاحسان عطا فرما۔ ہمیں اس طواف کی حقیقت اور اس کا لباس عطا فرما کیونکہ امام(صاحب الزماں سیدنا مھدی علیہ السلام) تشریف لا رہے ہیں۔
Ke yeh zalzalay ka maheena is liye ahem hai kyunkay ab yeh mah e hajj ki ibtida hai. ae hamaray rab hum niyat kar rahay hain ke hamein aik haqeeqi hijrat ataa farma. ke ya rabbi hamaray jismon ko wahan qareeb kahin honay ki zaroorat nahi hai lekin jab' ' labaik' ' ki sada hou to, meri rooh ko –apne muqaddas kaaba mein daakhil farma day. rooh ko muqaddas kaabay ki haqeeqat mein daakhil farma aur Safa marwah se ya rabbi malboos farma, hamein haqeeqat ke 7 chashmay ataa farma. hamein islam, imaan, maqam al ihsan ataa farma. hamein is tawaf ki haqeeqat aur is ka libaas ataa farma kyunkay imam ( sahib az zaman syedna mahdi Alayhi salam) taskreef laa rahe hain.
That this month of Zalzalah (earthquakes) is important because it's opening now the month of Hajj (Pilgrimage). We're making intention Ya Rabbi grant us a real hijrah (pilgrimage). That our bodies don't need to be anywhere near there Ya Rabbi but when 'Labailk' starts put my soul within your Holy ka'bah. Bring the soul right into the reality of the holy ka'bah and dress Ya Rabbi from Safa Marwa, grant us the 7 springs of reality. Grant us Islam, Iman (faith) wa Maqam ul-Ihsan (station of moral excellence). Grant us the reality of that tawaf (circumambulation) and the dressing of that tawaf because Ya Rabbi Imam (religious leader) is coming.
سیدنا مھدی (علیہ السلام) تشریف لارہے ہیں۔ کیا آپ کو لگتا ہے کہ آپ اس آمد کے لیے تیار ہیں؟ 86 سال کے بعد جب انہوں نے آیا صوفیہ (Hagia Sophia) میں اذان دی۔اس کا مطلب یہ ہے کہ یہ، امتِ محمدیہ (ﷺ) [ملتِ اسلامیہ] کا مرکز ہے۔نہ کہ دوسرے لوگ جو(کسی شے کے نگہبان نہیں لیکن)حجاز کے مقدس نگہبان ہونے کا دعویٰ کرتے ہیں۔ وہ کسی بھی چیز کے متولی نہیں ہیں۔ تالیاں مارنے اور پانی(آبِ زم زم) بانٹنے سے وہ متولی نہیں بن جاتے۔نگہبان سلطنتِ عثمانیہ تھی۔جو عربوں کو (امامت ) ديا گیا تھا، اُسے سیدنا محمد (ﷺ) نے واپس لے لیا اور ترک قوم کو عطا فرما دیا گیا، سلطنت عثمانیہ کو دے دیا گیا تھا اور مولانا شیخ (ق) نے بیان فرمایا تھا کہ ، "جب وہ اپنی نمازِ جمعہ کے لیے اس مسجد(آیا صوفیہ) میں واپس آجائیں، یہ سیدنا امام مھدی( علیہ السلام) کی آمد کا ایک اشارہ تھا اور اس تکبیر کے ساتھ بہت ساری چیزیں کھلیں گی۔" لہذا ، جب وہ آج اذان کہتے ہیں تو اس زمین پر بہت ساری چیزیں کھلیں گی۔ کیا آپ اللہ (عزوجل) کے ساتھ اچھے ہیں؟ کیا آپ سیدنا محمد (ﷺ) کے ساتھ اچھے ہیں؟ کیا آپ تمام اولیاء اللہ کے ساتھ اچھے ہیں؟
Sayyedna Mahdi ( aleh salam ) tashreef larhe hain. kya aap ko lagta hai ke aap is aamad ke liye tayyar hain? 86 saal ke baad jab unhon naay ( hagia sophia ) mein azaan di.iss ka matlab yeh hai ke yeh,ummat e Muhammadiyah (ﷺ ) [ millat e islamia ] ka markaz hai. na ke dosray log jo ( kisi shai ke nigehbaan nahi lekin ) Hijaz ke muqaddas nigehbaan honay ka daawa karte hain. woh kisi bhi cheez ke matwalli nahi hain. taliyan maarny aur pani ( aab e zam zam ) baantane se woh matwalli nahi ban jatay. nigehbaan saltanat e usmaniya thi.jo arbon ko ( imamat ) dia gaya tha, ussay sayyedna Muhammad (ﷺ ) naay wapas le lia aur Turk qoum ko ataa farma diya gaya, saltanat e usmaniya ko day diya gaya tha aur Mawlana Shaykh ( Q ) ney bayan farmaya tha ke," jab woh apni namaz-e jumma ke liye is masjid ( Hagia Sophia ) mein wapas ajayeen, yeh syedna imam Mahdi ( aleh salam ) ki aamad ka aik ishara tha aur is takbir ke sath bohat saari cheezein khilen gi." lehaza, jab woh aaj azaan kehte hain tou is zameen par bohat saari cheeze khulen gi. kya aap Allah ( azzwajal ) ke sath achay hain? kya aap sayyedna Muhammad (ﷺ ) ke sath achay hain? kya aap tamam Awlia Allah ke sath achay hain ?
Sayyidina Mahdi (AS) is coming. Do you think that you are ready for that arrival after 86 years they called the Azan (call for prayer) in Ayat Sofia (Hagia Sophia). Means this is the center of the Islamic Muhammadan nation. Not the other guys that claim to be the holy custodians of nothing. They are not custodians of anything. The clapping and dispensing of water does not make them custodians. The custodians was the Ottoman Empire that, that was given from the Arabs was taken away by Sayyidina Muhammad ﷺ and given to the Turkish nation, given to the Ottoman Empire and Mawlana Shaykh (Q) described that, "When they return to their Jummah (Friday prayer) in that masjid was a sign of the arrivals of Sayyidina Mahdi (AS) and many things will be opening with that Takbir". So, when they call the Azan today many things will be opening upon this earth. Are you good with Allah (AJ)? Are you good with Sayyidina Muhammad ﷺ? Are you good with all Awliyaullah?
کہ اولیا اللہ کی اصطلاح گلشنِ گلاب(گلاب کا باغ) ہے اور جب آپ دوسرے مریدین اور دیگر شیوخ سے گفتگو کرتے تھے اور وہ ایک مثال دیتے تھے کہ ، 'آپ کس باغ سے آئے ہیں؟' انہوں نے انٹرنیٹ پر پوسٹ کیا (کہ)، جب ایک شیخ ،دوسرے شیخ کے مرید سے پوچھتے تو فرماتے:"آپ کس باغ سے آئے ہیں؟ آپ کس گلشنِ گلاب سے ہیں؟۔ 'یہ نہیں ،' اوہ! میں ایک شیخ ہوں ، آپ کا شیخ کوئی شیخ نہیں ہے۔ 'اب یہ سب بدترین عادتیں ہیں، جہاں ہر ایک کافر ہے سوائے اپنے شیخ کے، لیکن اس سے پہلے آدب و آداب کیا تھے؟وہ یقین رکھتے تھے کہ یہ ساری مجالسِ ذکر گلاب کے باغ ہیں اور ان کے مرید اس باغ کے گلاب ہیں اور وہ پوچھتے ، '' آپ کس باغ سے آئے ہیں؟ '' مطلب یہ کہ سیدنا محمد (ﷺ) کی محبت کا کیا(عظیم الشان)ادب و احترام ہے اور یہی ہمارا راستہ ہے۔ کہ یہ سارے شیوخ سیدنا محمد (ﷺ) کے باغ میں گلاب ہیں۔ ہماری دعا ہے کہ اللہ (عزوجل) ہمیں بہترین کردار ، بہترین محبت عطا فرمائے۔یاربی صرف ہمارے کردار ہی ہمیں آپ کے جلال سے بچاسکتے ہیں۔ اگر آپ ہر قسم کی مشکلات کا مقابلہ کرنے کے لیے ہمارے لئے اچھا کردار لکھیں اور عطا فرمائیں تو ہم واقعتاً کامیاب ہوں گے اور ہمیں ایک ایسی زندگی عطا فرمائیں جس میں ہم سیدنا مھدی( علیہ السلام )کی آمد کو دیکھ سکیں۔ ان شاء اللہ ۔
بِحُرْمَةِ مُحَمَّدِ الْمُصْطَفیٰ وَبِسِرِّ سُوْرَةَ الْفَاتِحَةْ
Ke Awliya Allah ki istilaah gulshan e ghulaab ( ghulaab ka baagh ) hai aur jab aap dosray murideen aur deegar shayookh se guftagu karte thy aur woh aik misaal dete thy ke,' aap kis baagh se aae hain ?' unhon ne internet par post kya ( ke ), jab aik Shaykh , dosray Shaykh ke mureed se puchte tou farmatay :" aap kis baagh se aae hain? aap kis gulshan e ghulaab se hain ?.' yeh nahi,' oh! mein aik Shaykh hon, aap ka Shaykh koi Shaykh nahi hai.' ab yeh sab bad tareen adaten hain, jahan har aik kafir hai siwaye –apne Shaykh ke, lekin is se pehlay aadab o aadaab kya thy? woh yaqeen rakhtay thy ke yeh saari Majalis zikar ghulaab ke baagh hain aur un ke mureed is baagh ke ghulaab hain aur woh puchhte,' ' aap kis baagh se aae hain ?' ' matlab yeh ke syedna Muhammad (ﷺ ) ki muhabbat ka kya ( azeem ul shan ) adab o ehtram hai aur yahi hamara rasta hai. ke yeh saaray shayookh Sayyedna Muhammad ( ﷺ )ke baagh mein ghulaab hain. hamari dua hai ke Allah ( azzwajal ) hamein behtareen kirdaar, behtareen mohabbat ataa farmaiye.ya Rabbi sirf hamaray kirdaar hi hamein aap ke jalal se bcha skte hain. agar aap har qisam ki mushkilaat ka muqaabla karne ke liye hamaray liye acha kirdaar likhain aur ataa farmaen tou hum waqiyatan kamyaab hon ge aur hamein aik aisi zindagi ataa farmaen jis mein hum sayyedna Mahdi ( aleh salam ) ki aamad ko dekh saken.In shaa Allah .
Bi hurmati Muhammad al-Mustafa wa bi sirri surat Al-Fatiha 🌸✨
That the term for Awliyaullah is a rose garden and when you talk to other students and other shaykhs and they used to give an example that, 'From what garden do you come?' They posted on the internet, when one shaykh would ask students of another shaykh they say, 'From what garden do you come? What rose garden do you come from?.' Not that, 'Oh! I am a shaykh, your shaykh is not a shaykh.' All of the worse characteristics now, where everyone is a unbeliever except that one shaykh but how the manners and the adab (manners) was before that they believed all these majlis of zikrs were rose gardens and their students, roses from that garden. And they would ask, 'From what garden you came?' Mean what a ihteram and a respect for the love of Sayyidina Muhammad ﷺ. And that's our way. That these shaykhs all roses in the garden of Sayyidina Muhammad ﷺ . We pray that Allah (AJ) give us best of character, best of love Ya Rabbi. Only our character can save us from your anger. If you grant us and write for us good characteristic in the face of every type of difficulty we will truly be successful and grant us a life in which to see the arrival of Sayyidina Mahdi (AS). Insha'Allah.
Bi Hurmati Muhammad Al-Mustafa wa bi Siri Surat Al-Fatiha.✨
یہ بیان اس لنک پر دیکھا جا سکتا ہے۔
Link to watch this Suhbah:
www.facebook.com/shaykhnurjanmirahmadi/videos/327169068290764
یوٹیوب چینل سبسکرائب کرنے کیلئے:
Subscribe Now: The Muhammadan Way Sufi Realities
www.youtube.com/channel/UC4E8QX7OgwYDgyuuXTBMrcg
شیخ سید نورجان میراحمدی نقشبندی (ق)کا آفشیل فیس بک پیج لائک کیجیئے:
Official Page: Shaykh Nurjan Mirahmadi|Please Like and Share
facebook.com/shaykhnurjanmirahmadi/
مضامین کے اُردو ترجمہ پڑھنے کیلیئے:
Read His Articles Translated in Urdu