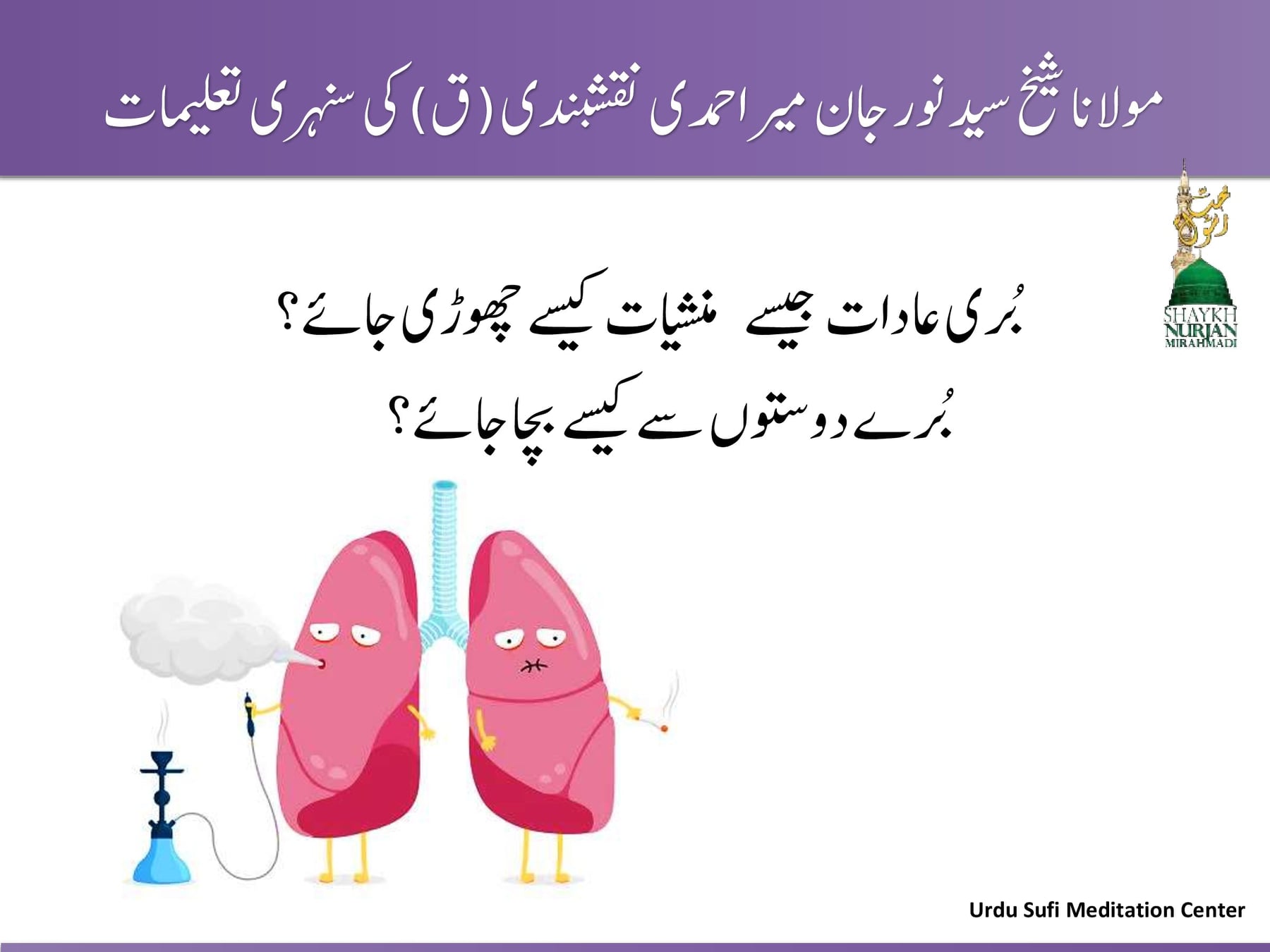 Urdu – سوال و جواب| 'پرو ایکٹیو' (متحرک ) وہ لوگ ہیں ، جو محبت کی وجہ سے کام …
سوال و جواب| 'پرو ایکٹیو' (متحرک ) وہ لوگ ہیں ، جو محبت کی وجہ سے کام کرتے ہیں۔ 'ریکٹیو' وہ خوف اور سزا کی وجہ سے کام کرتے ہیں۔ محبت کا راستہ 'پرو ایکٹیو' کردار والوں کا راستہ ہے جو حدیث قدسی ہے| بری عادتوں ،نشے سے چھٹکارا حاصل کرنا|
|Sawal-o-jawab |ProActive ( mutharrak ) woh log hain, jo mohabbat ki wajah se kaam karte hain. ReActive, woh khauf aur saza ki wajah se kaam karte hain. Mohabbat ka rasta ProActive kirdaar walon ka rasta hai jo Hadith Qudsi hai | Buri aadato, Nashay se chhutkara haasil karna |
𝐐&𝐀 𝐏𝐫𝐨𝐀𝐜𝐭𝐢𝐯𝐞 𝐚𝐫𝐞 𝐏𝐞𝐨𝐩𝐥𝐞 𝐭𝐨 𝐃𝐨 𝐅𝐨𝐫 𝐋𝐨𝐯𝐞. 𝐑𝐞𝐀𝐜𝐭𝐢𝐯𝐞 𝐭𝐡𝐞𝐲 𝐎𝐩𝐞𝐫𝐚𝐭𝐞 𝐟𝐫𝐨𝐦 𝐅𝐞𝐚𝐫 𝐚𝐧𝐝 𝐏𝐮𝐧𝐢𝐬𝐡𝐦𝐞𝐧𝐭. 𝐓𝐡𝐞 𝐏𝐚𝐭𝐡 𝐨𝐟 𝐋𝐨𝐯𝐞 𝐢𝐬 𝐏𝐫𝐨𝐀𝐜𝐭𝐢𝐯𝐞 𝐂𝐡𝐚𝐫𝐚𝐜𝐭𝐞𝐫 𝐭𝐡𝐚𝐭 𝐢𝐬 𝐭𝐡𝐞 𝐇𝐚𝐝𝐢𝐭𝐡 𝐐𝐮𝐝𝐬𝐢 | 𝐁𝐫𝐞𝐚𝐤𝐢𝐧𝐠 𝐁𝐚𝐝
𝐇𝐚𝐛𝐢𝐭𝐬/ 𝐀𝐝𝐝𝐢𝐜𝐭𝐢𝐨𝐧𝐬 |
Part-II
اَعُوْذُ بِاللہ مِنَ الشَّیْطٰنِ الرَّجِیْمِ ۞
بِسْمِ اللہ الرَّحْمٰنِ الرَّحِیْمِ ۞
اَلَّھُمَّ صَلِّ عَلَی سَیَّدِنَا محَمَّدٍ ﷺ وَعَلَی آلِ سَیَّدِنَا محَمَّدٍ ﷺ
سوال: جب میں مراقبہ اور میڈِٹیشن کرتا ہوں تو میرا رابطہ کس سے ہورہا ہے ؟
| مولانا شیخ سید نورجان میراحمدی نقشبندی ق|
آپ اپنے دل کی سنیں ، اس طرح کے سوال کیلئے آپکو اپنے دل کی پیروی کرنی ہو گی ، آپ کس سے رابطہ کرنا چاہتے ہیں؟ کوئی بھی شیخ ایسا نہیں کہہ سکتا کہ 'مجھ سے رابطہ کرو' لیکن آپکو اپنے شیخ سے محبت ہونی چاہئے اور وہ جو آپکو تعلیم دیتا ہے اور آپکی رہنمائی کرتا ہے اور پھر جب آپ اپنے دل سے رابطہ قائم کرنا چاہیں ، آپ سلطان الاولیاء کی طرف توجہ کریں ، پھر شیخ ناظم (ق) ، شیخ داغستانی (ق) سے فیض پانے کی درخواست کریں ۔ تو الحمدللہ، آپ اپنے دل کی پیروی کریں۔ اگر آپ کہتے ہیں، اچھا آپ نے تمام تعلیمات پڑھ لی ہیں اور آپ ابھی بھی یہ سوال پوچھ رہے ہو تو آپ جو کرنا چاہو، وہ کرو ۔ بصورت دیگر یہ درس بالکل واضح ہے۔
|Sawal : jab mein muraqaba aur meditation karta hon to mera rabita kis se ho raha hai ?
| Mawlana Shaykh Sayed Nurjan Qs: aap apne dil ki sunen, is terhan ke sawal ke liye aapko apne dil ki pairwi karni ho gi, aap kis se rabita karna chahtay hain? Koi bhi Shaykh aisa nahi keh sakta ke' mujh se rabita karo' lekin aapko apne Shaykh se mohabbat honi chahiye aur woh jo aapko taleem deta hai aur apkee rahnumai karta hai aur phir jab aap apne dil se rabita qaim karna chahain, aap Sultanul-Awliya ki taraf tawajah karen, phir Shaykh Nazim (Qs), Shaykh Dagestani (Qs) se faiz panay ki darkhwast karen. Toh, Alhamdulilah, aap apne dil ki pairwi karen. agar aap kehte hain, acha aap ne tamam talemaat parh li hain aur aap abhi bhi yeh sawal pooch rahay ho to aap jo karna chaho, woh karo. Ba'sorate deegar yeh dars bilkul wazeh hai .|
𝐐𝐮𝐞𝐬𝐭𝐢𝐨𝐧: When I do the meditation and muraqabah, who am I connecting to?
𝐒𝐡𝐚𝐲𝐤𝐡 𝐍𝐮𝐫𝐣𝐚𝐧 𝐌𝐢𝐫𝐚𝐡𝐦𝐚𝐝𝐢: You follow your heart, that type of question you have to follow your heart, who do you want to connect to? There's no shaykh that can say 'Connect to me,' but you have to have your love for your shaykh and the one whom teaching you and guiding you and then when you want to connect your heart you look for Sultanul Awliya (King of Saints) then ask to be dressed by Shaykh Nazim (Q), Shaykh Dagestani (Q). So alhamdulillah you follow your heart. If you say, well you read all the teaching and you're still asking that question so do what you want to do otherwise the teaching is very clear.
سوال: بری عادات توڑنے کے احسن طریقے کیا ہیں ، عادات جیسے مثال کے طور پر 'منشیات ' چھوڑنا؟
|مولانا شیخ سید نورجان میراحمدی نقشبندی ق |
جی ہاں بری عادت، یہ سوچیں کہ مشکلات کی دنیا میں اور ایسی دنیا میں جہاں ہر کوئی سانس نہ آنے سے مر رہا ہے اور اگر آپ سگریٹ نوشی کرنا چاہتے ہیں اور پھیپھڑوں کو آلودہ کرنا چاہتے ہیں اور اپنی تمام تر روحانی اینرجی ختم کرنا چاہتے ہیں اور روحانی نشوونما نہیں کرتے تو ان ' ریکٹیو' لوگوں میں سے ایک بن جائیں گے جنہیں مشکل پیش آنا لازم ہو جاتاہے، تاکہ فرد (بری عادات سے ) باز رہے ۔ لہذا ہمیں یہ سوچ اپنانی ہوگی کہ یہ ایسی دنیا نہیں جہاں ہم جو مرضی کریں۔ لوگ مر رہے ہیں لوگ مشکل کا شکار ہیں ، اگر مجھے اچھے اعمال کرنے اور (روحانی )پرواز کیلئے انسپائر کیا گیاہے تو مجھے اپنے کردار کی پاکیزگی پہ نظر رکھنی ہوگی، اپنے دل کو صاف رکھنا ہوگا ، اپنے پھیپھڑوں کو صاف رکھنا ہو گا— یہ سب اس لئے کہ نورِ الہی (میرے دل ) میں داخل ہو –
کیسے باز آئیں؟ آپ درود پڑھیں ، صلوات (درود شریف ) پڑھیں، اپنا وضوبرقرار رکھیں اور اچھی کمپنی ( اچھےدوست) رکھیں۔ آپ جیسی کمپنی رکھتے ہیں وہ بہت اہم ہے، آپ جانتے ہیں اگر آپ ان لوگوں کی صحبت رکھتے ہیں جو خود کو بہتر بنانے کی کوشش کر رہے ہیں بجائے وہی دوستوں کی صحبت کے ، جو ہمیشہ خود کو نقصان پہنچانے کی کوشش کر تے ہیں۔ ایسی ( عادات چھوڑنا) معجزے سے نہیں ہو گا۔اگر آپ ان لوگوں کے ساتھ ہینگ آوٹ کریں (گھومیں پھریں ) گے تو وہی کام کرو گے جو وہ (لوگ) کرنا چاہتے ہیں ۔ اگر آپ اس خیال سے خود کو بے وقوف بناتے ہیں کہ ، 'نہیں میں اس سے باز رہوں گا'۔
لہذا، ہمیں تمام طرز زندگی تبدیل کرنا ہو گا کہ اُن لوگوں کے ساتھ رہیں جو اچھے عمل کرنا چاہتے ہیں ، اور مجھے اپنی سوچ بدلنی ہو گی کہ اچھا چاہوں اوراچھے کام کرنے کا خواہاں ہوں، انشاء اللہ ۔ اور اللہ (عزوجل) مدد بھیجتا ہے اور پھر ہم اپنی صلوات (درود شریف )پڑھتے ہیں ، اپنی اینرجی کے عمل کرتے ہیں ، سب کچھ کرتے ہیں۔ خواں یہ منشیات ہوں، اور خود کو زہر دینا، فحش مواد اور نامناسب تصاویر ، بری عادتیں اور انٹرنیٹ پر فلرٹنگ اور فلرٹنگ اور ٹائپنگ ، یہ سب چیزیں، آپ جانتے ہیں لوگوں کی زندگیوں میں مشکلات لاتی ہیں اور یہ وہ 'رد عمل' ہے جہاں انہیں مشکلات کا سامنا ہے اور دروازے نہیں کھل رہے ۔ اور پھر اللہ (عزوجل) اُنہیں سزا دیتا ہے اور پھر اس شخص کو سکھائے گا 'ایسا نہ کرو' اور پھر انہیں استغفار کرنا پڑے گا(معافی مانگنی ہو گی) اور پھر اس مقام تک پہنچنے کی کوشش کرنا ہوگی جہاں اللہ ( عزوجل) اُن کو پہنچانا چاہتا ہے۔ لیکن بہتر ہے اپنا محاسبہ کیا جائےاور یہ کہا جائے کہ 'مجھے یہ چیزیں کرنے کی ضرورت نہیں ، کہ یا ربی مجھے ایک بہتر انسان بنادیجئے ، میں ایک بہتر انسان بننا چاہتا ہوں تاکہ میں امانت تک پہنچ جاؤں اور ایک امین کردار کا بن جاوں، جس میں میں قابل اعتبار ہوں'۔ انشاء اللہ ۔
|sawal: Buri aadaat tornay ke ahsen tareeqay kya hain, aadaat jaisay misaal ke tor par' manshiyaat' chhorna ?
Mawlana Shaykh Q: Jee haan buri aadat, yeh sochen ke mushkilaat ki duniya mein aur aisi duniya mein jahan har koi saans nah anay se mar raha hai aur agar aap cigarette noshi karna chahtay hain aur pehphron (lungs) ko aaloda karna chahtay hain aur apni tamam tar ruhani energy khatam karna chahtay hain aur ruhani nashonuma nahi karte to un Reactive logon mein se aik ban jayen ge jinhein mushkil paish aana lazim ho jata hai, taakay fard ( buri aadaat se ) baz rahay. Lehaza hamein yeh soch apnani hogi ke yeh aisi duniya nahi jahan hum jo marzi karen. Log mar rahay hain log mushkil ka shikaar hain, agar mujhe achay aamaal karne aur ( Ruhani ) parwaaz ke liye inspire kya gaya hai to mujhe apne kirdaar ki pakizgee pay nazar rakhni hogi, apne dil ko saaf rakhna hoga, apne pehphron (lungs) ko saaf rakhna ho ga— yeh sab is liye ke Nur-e illahi ( mere dil ) mein daakhil ho. Kaisay baz ayen? aap duroood parheen, salawat ( durood shareef ) parheen, apna wazu barqarar rakhen aur achi company ( achay dost ) rakhen. Aap jaisi company rakhtay hain woh bohat ahem hai, aap jantay hain agar aap un logon ki sohbat rakhtay hain jo khud ko behtar bananay ki koshish kar rahay hain bajaye wohi doston ki sohbat ke, jo hamesha khud ko nuqsaan pohanchanay ki koshish kar te hain. Aisi ( aadaat chorna ) moajezae se nahi ho ga. Agar aap un logon ke sath hang out karen ( ghumain phiren ) ge to wohi kaam karo ge jo woh ( log ) karna chahtay hain. Agar aap is khayaal se khud ko bewaqoof banatay hain ke,' nahi mein is se baz rahon ga'. Lehaza, hamein tamam tarze-zindagi tabdeel karna ho ga ke unn logon ke sath rahen jo achay amal karna chahtay hain, aur mujhe apni soch badalni ho gi ke acha chahoon aur achay kaam karne ka khwahan hon, Insha'Allah . Aur Allah (AJ) madad bhejta hai aur phir hum apni salawat ( durood shareef ) parhte hain, apni energy ke amal karte hain, sab kuch karte hain. Khwan yeh manshiyat hon, aur khud ko zeher dena, fehash mawaad (pornography) aur na munasib tasaveer, buri adaten aur internet par flirting aur flirting aur typing, yeh sab cheeze, aap jantay hain logon ki zindagion mein mushkilaat latayen hain aur yeh woh' radde amal (reactive)' hai jahan inhen mushkilaat ka saamna hai aur darwazay nahi khil rahay. Aur phir Allah (AJ) unhen saza deta hai aur phir is shakhs ko sikhayiye ga' aisa nah karo' aur phir inhen astaghfar karna parre ga ( maffi maangni ho gi ) aur phir is maqam tak pounchanay ki koshish karna hogi jahan Allah (AJ) unn ko pahunchana chahta hai. Lekin behtar hai apna muhasba kya jaye aur yeh kaha jaye ke' mujhe yeh cheeze karne ki zaroorat nahi, ke ya Rabbi mujhe aik behtar insaan bana dijye, mein aik behtar insaan ban'na chahta hon taakay mein amanat tak pahonch jaoon aur aik amin kirdaar ka ban jaun, jis mein mein qabil-e-aitbaar hon '. Insha'Allah .|
𝐐𝐮𝐞𝐬𝐭𝐢𝐨𝐧: What are good ways to break the habits, bad habits like for example 'Weed'?
𝐒𝐡𝐚𝐲𝐤𝐡 𝐍𝐮𝐫𝐣𝐚𝐧 𝐌𝐢𝐫𝐚𝐡𝐦𝐚𝐝 : Yeah the bad habit is to think that in a world of difficulty and in the world where everyone's dying with no breath and if you want to smoke and contaminate the lungs and destroy all your spiritual energy and no spiritual growth, then you're going to be one of those reactive ones where difficulty has to come to motivate the person to stop. So we have to come to the mentality this is not a world in which we can just do whatever we want, people are dying people are in hardship, if I'm inspired to do good and to elevate then I have to look at the purity of my character, purity of my heart, purity of my lungs, all of that for the Divine light to enter in. How to stop – making your durood your salawats (praises upon Prophet Muhammad), keeping your wudu and keeping you know the good company. The company you keep is very important you know if you keep the company of people who are trying to improve themselves versus you know the company of the same friends that are always trying to harm themselves, it's not you know going to be miraculous if you hang around people who want to do that, you're going to do that. If you fool yourself thinking, 'No I'll abstain from it.' So we have to change our whole lifestyle to be around the people who want to do good and 'I have to change what my understanding is to want to be good and want to do good,' inshAllah. And Allah (AJ) gives the support and then we do our salawats, do our energy practices, do everything. Whether it's marijuana and poisoning yourself, pornography and inappropriate images, characteristics and flirting on the internet and flirting and typing, all of these things are going to bring you know difficulty into people's lives and that's again that 'Reactive' where they have difficulties and things are not opening for them and then Allah (AJ) is going to have to punish and then teach the person 'Don't do that' and then they have to make a istighfar (seek forgiveness) and then try to reach towards where Allah (AJ) wants them to reach. But it's better to do an accounting of oneself and say 'I don't need to do these things, that Ya Rabbi make me a better person, I want to be a better person so that I can reach to a trust and reach to a trustworthy character in which I'm trustworthy.' InshaAllah.
سوال: اسلام علیکم سیدی، اسی بارے میں ایک اور سوال پوچھا گیا ہے ، ان برے دوستوں سے بچنے کا بہترین طریقہ کیا ہے؟
|مولانا شیخ سید نورجان میراحمدی نقشبندی ق|
برے دوستوں سے بچنے کا بہترین طریقہ کیا ہے ، اپنے دوست تبدیل کر دیں۔ آپ جانتے ہیں کہ آپ کو دوستوں کا ایک نیا سیٹ بنانا پڑے گااور آپ اکیلے نہیں (جو ایسا کریں گے) ، آپ جانتے ہیں، طریقت (روحانی راستہ) میں ہر ایک کو خلوۃ (تنہائی ) میں جانا ہوتا ہیں —یہ قصہ سورۃ یوسف میں تھا ۔ لہذا، جب آپ راہِ طریقت سمجھنا چاہتے ہیں، تو آپ سورۃ یوسف، قرآن مجید کی ۱۲سورۃ پڑھیں ، اور اس میں ساری حکمت ہے ۔ آپ جانتے ہیں، اگرچہ اُن کے بھائی انبیاء تھے، لیکن اللہ (عزوجل) ان کی حقیقت کیلئے کچھ مختلف چاہتے تھے اور اللہ (عزوجل) نے اُنہیں کنویں میں پھینک دیا، اور اانؑ کے بھائیوں نے انہیںؑ پھینکا تھا ، لیکن (دراصل) اللہ (عزوجل ) اُنہیں کنویں میں ڈالنا چاہتا تھا کیونکہ وہ اُنہیں ایک مختلف گروہ میں بھیجنا چاہتا ہے کہ ایک مختلف شخص کے زریعے تربیت دی جائے ، نہ اُنکےوالدؑ سے اور نہ ہی اُنکے بھائیوں سے۔ تو تنہائی کا ایک مقام آتا ہے، ایک مقام ، جہاں ہم اپنی جان پہچان کے لوگوں کا حلقہ چھوڑ دیتے ہیں ، جب تک کہ ہم ۔۔اپنی تنہائی (خلوۃ) نہ اختیار کر لیں اور اہل طریقت کے حلقوں میں، اہل حقائق میں، اور وہ لوگ جو اپنی تعمیر (پختہ ) کرنا چا ہتے ہیں اور خود کو کامل بنانا چاہتے ہیں۔ خودکو پختہ کرنا نہایت مشکل ہے اگر آپ ایسے افراد سے گھرے ہوئے ہوں جو خودکو نقصان پہنچانا چاہتے ہیں۔ اور خود کو تعمیر (پختہ )کرنا نہایت مشکل ہے جب آپ کا گھیراؤ ایسے لوگوں سے ہو جو کہتے ہیں کہ آپکو یہ سب چیزیں کرنے کی ضرورت نہیں کیونکہ یہ وہ لوگ ہیں جن کا یقین یہ ہے کہ کچھ بھی اہم نہیں اور آپ کو یہ چیزیں کرنے کی ضرورت نہیں ۔ لہذا آپ اپنے خلاف کام کر رہے ہیں اور ہر چیز مشکل بنا رہے ہیں ، اس لئے ، آپ ایک ایسی رفاقت (دوست) اختیار کرنے کی کوشش کریں اور الحمدللہ ، اب اللہ ( عزوجل) نے اسے آسان بنا دیا ہے کیونکہ سب آیسولیٹ ( کرونا کی وجہ سےتنہا) ہیں۔ ہر شخص صرف الگ تھلگ ہے۔ اور آپ اپنےلایئوگروپ میں جائیں اور ذکر سُنیں اور تمام بیان سُنیں ، چینل کو سبسکرائب کریں، تاکہ ہر روز ایک بیان آتا ہے ، وہ ہر روز ایک ویڈیو لگاتے ہیں، اور ہر روز آپ کیلئے ایک سبق ہے اور جب آپ یہ ختم کرلیں ، آپ مزید اسباق دیکھ سکتے ہیں اور طریقت کے بارے میں سیکھ سکتے ہیں۔ اب زیادہ وقت باقی نہیں رہا ، اس بات کو یقینی بنائیں کہ آپ اپنے دل سے رابطہ جوڑ رہے ہیں اور آپ کو یہ تعلیمات مل رہی ہیں اوراصل میں وبائی بیماری لوگ ہیں اور اصل بیماری لوگ ہیں، لوگوں کی آلودگی، جو لوگ اپنے دلوں اور دماغوں سے آلودگی بھیجتے ہیں— ان کی کرپشن ، اور خیالات اور ان کی خواہشات اور کیسے وہ دوسرے لوگوں پر دکھیلتے ہیں، خاص طور پر اب نوجوان، سب مشکل سے دوچار کہ یہ لوگ کیا پوسٹ کررہے ہیں اور اسی لئے ہم نے یہ سارا بیان شروع کیا، کسی کو کوئی بھی اپیل نہیں کر رہا ، کیونکہ وہ انسٹاگرام کی طرف دیکھ رہے ہیں اور سوشل میڈیا پر دیکھ رہے ہیں اورہر چیز کا موازنہ ایک دوسرے سے کر رہے ہیں اور جو زندگی میں اُن کے پاس ہے وہ اس پر مطمئن نہیں ہیں ۔
|Sawal : As'salam Alikum Sayedi, isi baray mein aik aur sawal poocha gaya hai, un buray doston se bachney ka behtareen tareeqa kya hai ?
| Mawlana Shaykh Q: buray doston se bachney ka behtareen tareeqa kya hai, apne dost tabdeel kar den. Aap jantay hain ke aap ko doston ka aik naya set banana parre ga aur aap akailey nahi ( jo aisa karen ge ), aap jantay hain, Tareqat ( ruhani rasta ) mein har aik ko khalwa ( tanhai ) mein jana hota hain — yeh qissa Surah Yousuf mein tha. Lehaza, jab aap raah-e tareqat samjhna chahtay hain, to aap Surah Yousuf , Quran Majeed ki 12 Surah parheen, aur is mein saari hikmat hai. Aap jantay hain, agarchay unn ke bhai Anbiya thay, lekin Allah (AJ) un ki haqeeqat ke liye kuch mukhtalif chahtay thay aur Allah (AJ) ne unhen kunvey mein pheink diya, aur unke bhaiyon ne inhen phenka tha, lekin ( darasal ) Allah (AJ) unhen kunvey mein daalna chahta tha kyunkay woh unhen aik mukhtalif giroh mein bhejna chahta hai ke aik mukhtalif shakhs ke zariye tarbiyat di jaye, nah kay unke waalid se aur nah hi unke bhaiyon se. Toh tanhai ka aik maqam aata hai, aik maqam, jahan hum apni jaan pehchan ke logon ka halqa chore dete hain, jab tak ke hum. . apni tanhai ( khalwa ) nah ikhtiyar kar len aur Ahle tareqat ke halqon mein, Ahle haqayiq mein, aur woh log jo apni taamer ( pukhta ) karna chahtay hain aur khud ko kaamil banana chahtay hain. Khodko pukhta karna nihayat mushkil hai agar aap aisay afraad se ghiry hue hon jo khodko nuqsaan pahunchana chahtay hain. Aur khud ko taamer ( pukhta ) karna nihayat mushkil hai jab aap ka gherao aisay logon se ho jo kehte hain ke aapko yeh sab cheeze karne ki zaroorat nahi kyunkay yeh woh log hain jin ka yaqeen yeh hai ke kuch bhi ahem nahi aur aap ko yeh cheeze karne ki zaroorat nahi. Lehaza aap apne khilaaf kaam kar rahay hain aur har cheez mushkil bana rahay hain, is liye, aap aik aisi rafaqat ( dost ) ikhtiyar karne ki koshish karen aur, Alhamdulilah, ab Allah (AJ) ne usay aasaan bana diya hai kyunkay sab isolate ( Corona ki wajah se tanha ) hain. Har shakhs sirf allag thalag hai. Aur aap apne live group mein jayen aur zikar sunain aur tamam bayan sunain, [Youtube.com/Nurmir] channel ko subscribe karen, taakay har roz aik bayan aata hai, woh har roz aik video lagatay hain, aur har roz aap ke liye aik sabaq hai aur jab aap yeh khatam karlen, aap mazeed asbaq dekh satke hain aur tareqat ke baray mein seekh satke hain. Ab ziyada waqt baqi nahi raha, is baat ko yakeeni banayen ke aap apne dil se rabita jor rahay hain aur aap ko yeh talemaat mil rahi hain aur asal mein wabai bemari log hain aur asal bemari log hain, logon ki aloodgi, jo log apne dilon aur dimaghon se aloodgi bhaijtay hain — un ki corruption, aur khayalat aur un ki khwahisaat aur kaisay woh dosray logon par dakhailty hain, khaas tor par ab nojawan, sab mushkil se dochar ke yeh log kya post kar rahay hain aur isi liye hum ne yeh sara bayan shuru kya, kisi ko koi bhi appeal nahi kar raha, kyunkay woh Instagram ki taraf dekh rahay hain aur social media par dekh rahay hain aur hr cheez ka mawazna aik dosray se kar rahay hain aur jo zindagi mein unn ke paas hai woh is par mutmaen nahi hain .|
𝐐𝐮𝐞𝐬𝐭𝐢𝐨𝐧: As Salaamu Alaykum Sayyidi, There was another question someone was asking related to this, What's the best way to avoid these bad friends?
𝐒𝐡𝐚𝐲𝐤𝐡 𝐍𝐮𝐫𝐣𝐚𝐧 𝐌𝐢𝐫𝐚𝐡𝐦𝐚𝐝 : What's the best way to avoid the bad friends, is just change your friends. You know you have to make a whole new set of friends and you're not the only one, everyone in tariqah (spiritual path) you know you go into isolation, that was the story of the Surahtul Yusuf. So when you want to understand tariqah, read Surahtul Yusuf the 12th surah (chapter) of Holy Qu'ran, and that's a whole understanding that you know even his brothers are Prophets but Allah (AJ) wants something different for his reality and Allah (AJ) throws him into a well, and his brothers throw him in but Allah (AJ) wanted him in the well because He wants to send him to a different group, a different person to be trained, not his father and not his brothers. So there's a point of isolation, there's a point in which we leave the circles of people that we know until we can you know go into our own isolation and the circles of the people of tariqah and the people of haqqaiqs (realities) and people who want to build themselves and perfect themselves. Very difficult to build yourself if you're surrounded by people who want to harm themselves and very difficult to build yourself when you're surrounded by people who say you don't need to do all of these things because those are the people of you know, belief that nothing matters and you don't need to do these things. So you're working against your yourself and making everything difficult so that's why you tried to find a fellowship and now alhamdulillah Allah (AJ) made it easy because everybody's isolated. Everybody just isolated and go into you're your live group and listen to the zikr (Divine remembrance) and listen to all the talks, subscribe to the channel [Youtube.com/Nurmir] so that a talk comes every day, they load a video every day and every day you have a lesson and when you finish that you can go into more lessons and learn the tariqah. There's not much time left, to make sure that you can connect your heart and that you're getting these understandings and that the real pandemic are people and the real sickness are people and people pollution of what people send from their hearts and from their minds of their pollution, their sort of corruption and thoughts and their desires and how they put that upon other people, especially the youth now they're all in difficulty of you know what these people are posting and that's how we started this whole talk, nothing is appealing to anyone because they're looking at Instagram and looking at social media and comparing everything with you know somebody else and they're not just content with what they have in life.
یہ بیان اس لنک پر دیکھا جا سکتا ہے
Watch this Bayan on YouTube
https://www.youtube.com/watch?v=AfOsy5tVAYU
حصہ اول( First Part)
https://web.facebook.com/SMCURDU/posts/513504463374032
اپنے سوالات اور دعا کی درخواست ای میل کیجئے
Ask Your Questions or Need Prayers
Email: helpme@nurmuhammad.com
2/3