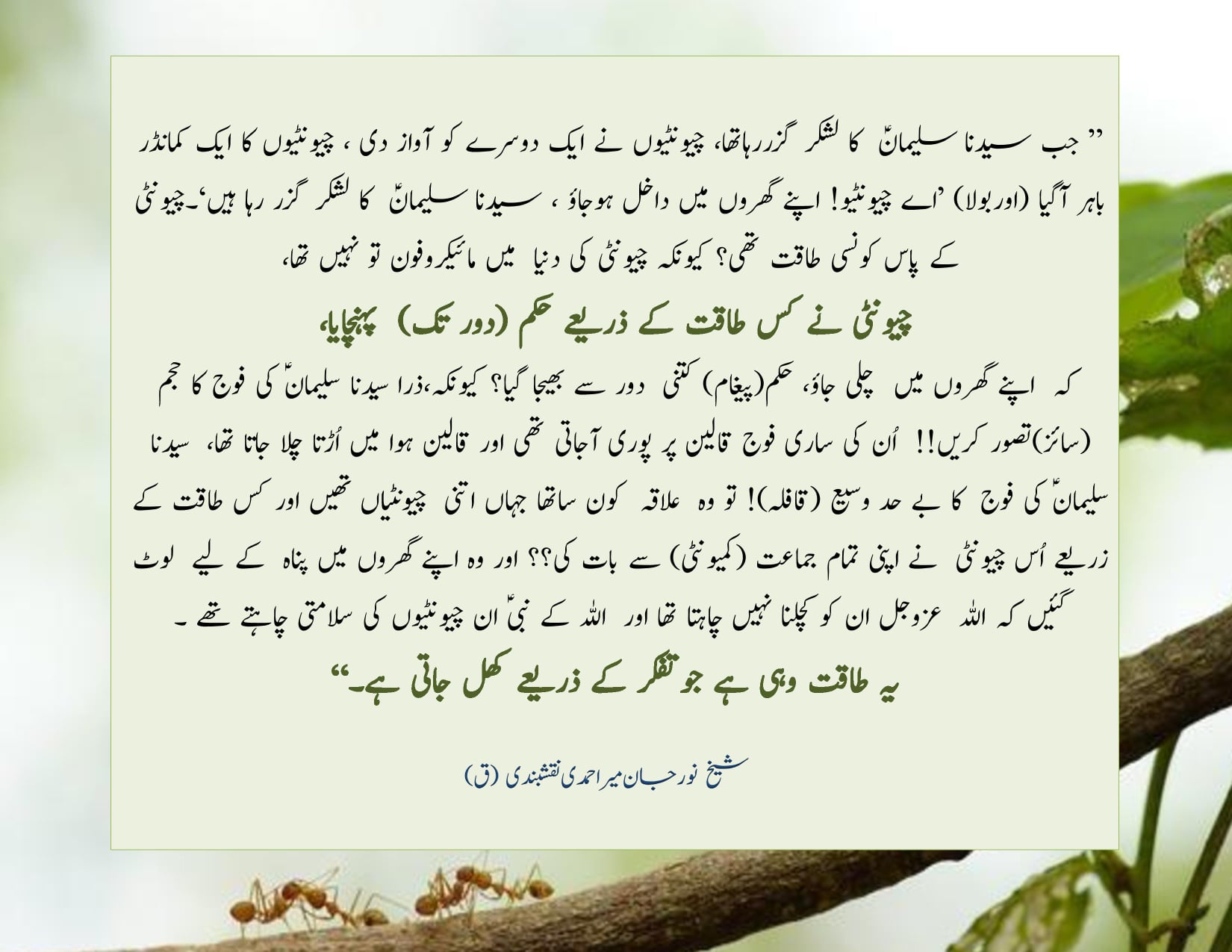 Urdu – Heart vs head Superpower in Ants …." وہ پوچھتے ہیں کہ چیونٹی اتنی اہم…
Heart vs head
Superpower in Ants
…."
وہ پوچھتے ہیں کہ چیونٹی اتنی اہم کیوں ہے کہ اللہ عزوجل نے چیونٹی کے متعلق ایک پوری سورۃ(النمل) نازل فرمائی۔ چیونٹی کی اہمیت اس لئے ہے کیونکہ اُسکا کوئی سر(دماغ) نہیں ہے– جتنا بڑا سر، اُتنا بڑا مسئلہ! سر(دماغ)جتنا بڑا ہو ، اُتنا ہی سوچتا ہے کہ اسے کچھ معلوم ہے، وہ کچھ کرسکتا ہے اور اپنے سارے دماغ اور مغز سے سوچتا رہتا ہے کہ یہ کچھ چیز ہے اور اللہ عزوجل ہمیں اشارہ دیتا ہے اور ہمیں سمجھ عطا کرتا ہے کہ ، نہیں ، نہیں ، اس چیونٹی کے بارے تم یہ بھی نہیں جانتے کہ اسکا سامنے کا حصہ کس طرف ہے اور اسکی پیٹھ کس طرف ہے لیکن یہ چیونٹی اپنے وزن سے دس گنا زیادہ بوجھ اُ ٹھاسکتی ہے ، وہ چیونٹی ایک جماعت (کمیونٹی) کی مانند ہے جو پوری تحریک جیسا کام کرتی ہے۔ وہ اکٹھے ہوتے ہیں ، مل کر کام کرتے ہیں۔، ان میں اتفاق کے ساتھ ایک ہو کر کام کرنے کی سوچ ہے ، خواہ وہ لاکھوں اور ہزاروں کی تعداد میں ہوں۔
پھر اللہ عزوجل اس مقدس مہینے میں جو کہ تیسرا قمری مہینہ ہے جس کی طاقت3*9=27 ہے، سورۃ النمل قرآن مجید کی 27 ویں سورۃ ہے اور اس مقدس مہینے کی پہلی فراست سیدنا سلیمانؑ کے لشکر ہیں، جب سیدنا سلیمانؑ کی فوجوں کا قافلہ گزر رہا تھا–اللہ عزوجل نے ایک آیت نازل فرمائی، جس سے اس (واقعہ) کی بےحد اہمیت کا اندازہ ہوتا ہے کہ چیونٹیوں نے ایک دوسرے کو آواز دی ، چیونٹیوں کا ایک کمانڈر باہر آگیا(اور بولا) "اے چیونٹیو! اپنے گھروں میں داخل ہوجاؤ ، سیدنا سلیمانؑ کا لشکر گزر رہا ہیں"۔ چیونٹی کے پاس کونسی طاقت تھی؟ کیونکہ چیونٹی کی دنیا میں مائیکروفون تو نہیں تھا ، چیونٹی نے کس طاقت کے ذریعے حکم (دور تک) پہنچایا کہ اپنے گھروں میں چلی جاؤ، یہ حکم(پیغام) کتنی دور سے بھیجا گیا؟
کیونکہ،ذرا سیدنا سلیمانؑ کی فوج کا حجم (سائز)تصور کریں!! اُن کی ساری فوج قالین پر پوری آجاتی تھی اور قالین ہوا میں اُڑتا چلا جاتا تھا ۔ سیدنا سلیمانؑ کی فوج کا بے حد وسیع (قافلہ)! تو وہ علاقہ کون سا تھا جہاں اتنی چیونٹیاں تھیں اور کس طاقت کے زریعے اُس چیونٹی نے اپنی تمام جماعت (کمیونٹی) سے بات کی؟؟ اور وہ اپنے گھروں میں پناہ کے لیے لوٹ گئیں، اللہ عزوجل ان کو کچلنا نہیں چاہتا تھا اور اللہ کے نبیؑ ان چیونٹیوں کی سلامتی چاہتے تھے ۔ یہ طاقت وہی ہے جو تفکر کے ذریعے کھل جاتی ہے۔ "
شیخ نورجان میر احمدی نقشبندی (ق)
"…they say why is the ant so important that Allah (AJ) made a whole Surah regarding the ant. It's because its importance is that it has no head, the bigger the head; the bigger the problem. The bigger the head the more it thinks it knows something, it can do something and thinks through all of its magz and its head that it's something and Allah (AJ) gives us isharat and gives us an understanding, no, no, this ant you don't even know its front and its back is which side. But that ant can lift ten times its weight, that ant is a community acts as an entire movement. They come together, they work together, they have a mentality in which they operate as one but there may be millions and thousands, hundreds of thousands of them and then Allah (AJ) in this holy month is the third lunar month with the power of 9 is 27.
Surat al Naml is the 27th Surah of holy Quran and the first understanding of that holy month is that the armies of Sayyidina Suleman (A.S) when they were marching the armies of Sayyidina Suleman (A.S) Allah (AJ) gives even an ayat to show its immense importance that the ants yelled to each other, the commander of the ants came out "oh ants enter into your homes, the armies of Sayyidina Suleman are now moving". What power did the ant have?
Because there was no microphone for the ant world, with what power the ant gave a command that enter into your homes, how far was the command? Cause imagine now the size of Sayyidina Suleman's army (A.S), his whole army fit on a carpet and the carpet went into the air. The immensity of the army of Sayyidina Suleman (A.S) so what was the area being covered by this ant and with power he spoke to all his community and they entered into their homes to seek refuge. So that Allah (AJ) didn't want them crushed and the prophet of Allah (A.J) wanted them to be safe. That power is what this taffakur is supposed to be opening.
🌺 Sh. Nurjan Mirahmadi Naqshbandi 🌺
Watch here: https://www.youtube.com/watch?v=eztpRLiOj08