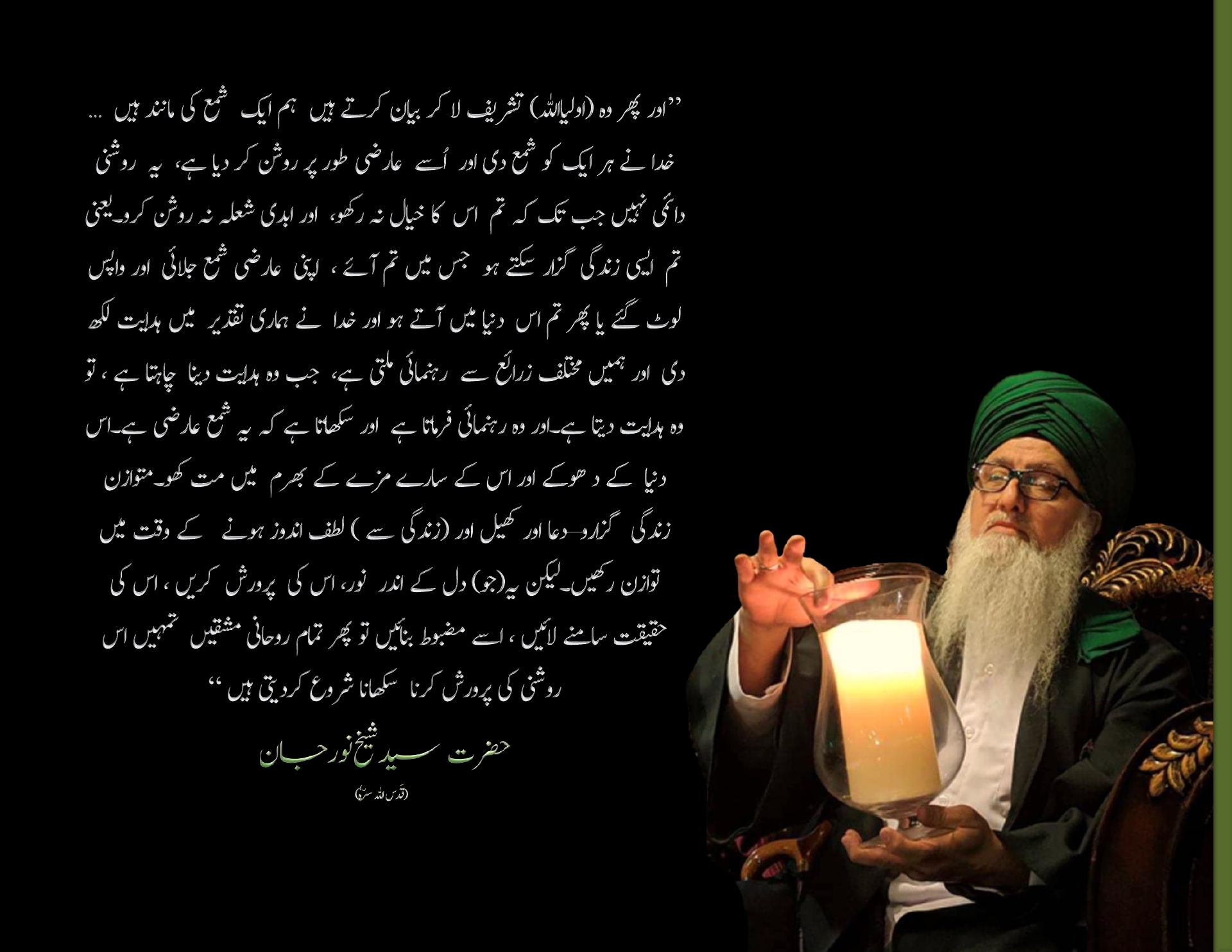 Urdu – One Circle of Creation, One Power that power is Divine Love [Part-1] (حصہ اول…
One Circle of Creation, One Power that power is Divine Love
[Part-1]
(حصہ اول)
ان شاء اللہ
استغفار اورخدا کی مغفرت کے طالب ہیں، اللہ (عزوجل) کےقادرمطلق نام کا واسطہ دیتے ہیں کہ خدائے بُزرگ برتر ہمارے بُرے کردار اور بُرے اعمال معاف فرما دےجن سے وہ راضی نہیں ۔ اور آواز کی طاقت کا تصور کرنا ناممکن ہے ۔ ہمیشہ ان انجمنوں میں دعاگو ہیں اور جب گھر جاتے ہیں ( تب بھی دعا مانگتے ہیں کہ ) اہل ِتفکر، مراقبہ اور غور و فکر کرنے والوں میں شامل ہوجائیں۔ لوگ اسے جس مرضی زبان میں پکارنا چاہیں، ایک ہی بات ہے۔ یہ ایک ایسا نور ہے جو ہر انسان ، ہر مخلوق کے دل میں بستا ہے۔ اس دنیا میں، ہماری ذمہ داری ہے کہ اس نور کی پرورش کریں۔ صاحبِ دانش اور گرو ، سب انبیاء کرام کے حقائق سامنے لانے کیلئے آتے ہیں ۔ یہ ریڈیس radiuses کی مانند ہیں جو مرکز سے نکلتے ہیں۔ ان سب کا قطر circumference میں پہنچنے کا ایک مساوی فاصلہ ہے۔ لہذا ، امرِرسول تمام انبیاء سے محبت ہے اور ان کی اخوت ، ان کی حقیقت– سب کچھ ایک دائرے میں علامتی ہے کہ یہاں ایک ہی مرکز ہے ، ایک نیوکلئس ہے جہاں یہ ساری مخلوق صرف ایک ایٹم – آدم – انسان میں پوری آجاتی ہے۔ اس ایک ایٹم کا صرف ایک ہی مرکز ہے۔ اس کے پانچ مراکز نہیں جو قطر circumference تک پہنچنے کیلئے لڑتے ہوں اور یہ ایک مرکز طاقت کا منبع ہے۔ باطن سے ظاہر کنٹرول ہوتا ہے۔ نیوکلئس (مرکز) کی باطنی طاقت الیکٹرانوں کو انرجی بھیج رہی ہے۔ ہماری شکل کے مابین کوئی فرق نہیں ہے۔ یہ شکل نہیں جو سب کنٹرول کر رہی ہے ،بلکہ باطنی انرجی ( کو اختیار حاصل ) ہے۔ اگر دل سے یہ انرجی نہ آئے–کیونکہ ہمارے جسم کا مرکز دل ہے– اگر دل سے یہ انرجی نہ آئے تو یہ ظاہری شکل بکھر جائے اور مر جائے۔لہذا، تمام روحانی پیشوا اور روحانی اساتذہ کے آنے کا مقصد، اس بات پر زور دینا ہے کہ دل پر محنت کرنی ہوگی ۔ نیوکلئس پر بھی ایک طرح کی محنت درکار ہے۔. وہ طاقت اور وہ قوت جو اس مرکز سے پھوٹ رہی ہے، یہ روشنی کا چھوٹا سا قطرہ جو خدا نے ہمیں دیا، اسی کی ہمیں پرورش کرنی ہے ۔
اور پھر وہ (اولیااللہ) تشریف لا کر بیان کرتے ہیں ہم ایک شمع کی مانند ہیں … خدا نے ہر ایک کو شمع دی اور اُسے عارضی طور پر روشن کر دیا ہے، یہ روشنی دائمی نہیں جب تک کہ تم اس کا خیال نہ رکھو، اور ابدی شعلہ نہ روشن کرو۔ یعنی تم ایسی زندگی گزار سکتے ہو جس میں تم آئے ، اپنی عارضی شمع جلائی اور واپس لوٹ گئے یا پھر تم اس دنیا میں آتے ہو اور خدا نے ہماری تقدیر میں ہدایت لکھ دی اور ہمیں مختلف زرائع سے رہنمائی ملتی ہے، جب وہ ہدایت دینا چاہتا ہے ، تو وہ ہدایت دیتا ہے۔ اور وہ رہنمائی فرماتا ہے اور سکھاتا ہے کہ یہ شمع عارضی ہے۔ اس دنیا کے د ھوکے اور اس کے سارے مزے کے بھرم میں مت کھو۔ متوازن زندگی گزارو–دعا اور کھیل اور (زندگی سے ) لطف اندوز ہونے کے وقت میں توازن رکھیں۔ لیکن یہ دل کے اندر نور، اس کی پرورش کریں ، اس کی حقیقت سامنے لائیں ، اسے مضبوط بنائیں ہے تو پھر تمام روحانی مشقیں تمہیں اس روشنی کی پرورش کرنا سکھانا شروع کردیتی ہیں۔
اور یہ نیوکلئس نے وقت کے ساتھ ساتھ ریڈیس radiuses بھیجے ہیں ، جسے ہم خدا کے رسول پیغمبر کہتے ہیں۔ خدا قادر مطلق ایک ریڈیس مدار میں بھیجتا ہے اور اُنھیں نیوکلئس کی یاد دلاتا ہے۔ انہیں ان کی بنیاد یاد دلاتا ہے۔ انہیں اُن کے طاقت کا منبع یاد لاتا ہے۔ کیونکہ اگر الیکٹران یہ سوچے کہ اُس کی اپنی طاقت ہے تو وہ کھو جائے گی۔ یہ اپنا مدار چھوڑ دے گا۔ یہ دراصل مرکز کے گرد چکر لگا رہا ہے کیونکہ یہ اس کو کھینچنے اور اپنی طرف راغب کرنے والی طاقت کا ذریعہ ہے۔ اگر نیوکلئس نے اس کی پرواہ نہیں کی ، تو وہ اپنی توجہ ہٹا دے گا اور وہ الیکٹران کسی گم نام وادی میں کھو جائے گا۔ یعنی پھر ہمارے ساری مشقیں اس باطنی مرکز اور اندرونی حقیقت کے بارے میں ہیں۔ لیکن جب ہم بیٹھے ہو اور اس نورکی پرورش کرنے کی کوشش کر رہے ہو جب ہم خود کو روشنی کے سمندر میں، اپنے سامنے ، ہمارے دائیں طرف ، ہمارے بائیں طرف ، اپنے اوپر ، ہمارے نیچے– اور تمام چھ سمتوں میں سے دیکھتے ہیں ( تو دعا مانگیں ) یا ربی ، میرے رب مجھے نور سے فیض دیجئے ۔ مجھے اپنے نور سے بھردیجئے۔ مجھے اپنے فضل اور عظمت سے پُر کردیجئے اور میری مشکلات دور کر دیجئے۔ ہم نے پہلے بھی تذکر ہ کیا تھا کہ ہر مذہب کے تمام اعمال جو تم جانتے ہو ، تم جو بھی کام کرتے ہو وہ تمہارے دماغ سے سر انجام ہوتے ہیں۔ لہذا ، بہت سے لوگ نماز پڑھتے ہیں ، بہت سے لوگ روزہ رکھتے ہیں اور تمام مختلف مذاہب میں اور یہ سب (اعمال ) ان کے دماغ سے ہوسکتے ہیں۔ یہ خدا کا تحفہ نہیں ہے کیونکہ وہاں ایسے دہشتگرد موجود ہیں جو سارا دن نماز پڑھتے رہتے ہیں اور یہ خدا کا تحفہ نہیں تھا۔ یہ صرف اپنے دماغ کا استعمال کررہے۔ انہوں نے اپنی عقل استعمال کی اور ایک ایسے مذہب کا انتخاب کیا جس میں شاید انکا پاگل پن اور جو بھی ( جنونی )عقیدہ تھا وہ ایڈجسٹ ہو جائے اور وہ اس پر عمل شروع کردیتے ہیں اور وہ اس دماغی عمل کے ذریعے سوچتے ہیں کہ کہیں پہنچ جائیں گے۔ لیکن نہیں ، جسے خدا واقعتا پیار کرتا ہے اور جسے وہ دائمی خزانوں سے نوازتاہے ، وہ لوگ ہیں جن کے دل میں نور اورمحبت ہے ، خواہ مرد ہو یا عورت ۔ بہت سے لوگ ہیں جو اپنے دماغ کے ذریعہ دعا کرتے ہیں۔ سارا دن وہ دعا کرتے ہیں لیکن ان کے اندر مکمل اندھیرہ ہے۔ تو یہ محض عمل نہیں تھا جو خدا پسند کرتا ہے ، یہ لیبل نہیں جو لوگ خود کو دیتے ہیں– کیونکہ اب ہر (مذہب ) ایک لیبل ہے۔ ہر ایک کے پاس اپنے اوپر ڈیزائنر کا لیبل ہوتا ہے۔ اللہ (عزوجل) ایسا نہیں ہے کہ لوگوں کو لیبل لگائے کیونکہ پھر یہ مختلف کردار کے لوگوں کانظامِ ذات پات جیساہو جائے گا ۔ لیکن جو اس کے اندر ہے اور اللہ (عزوجل)کی دلچسپی اس میں ہے کہ" میں تمہاری ظاہری شکل نہیں دیکھتا " لیکن وہ مومن کے دل کی طرف دیکھتا ہے اور دل محبت اور شفقت سے بھرا ہوا ہونا چاہئے۔ اگر دل میں محبت اور شفقت ہے تو اسے نرمی کے ساتھ ، محبت کے ساتھ ، اچھے کردار کے ساتھ بات کرنی چاہئے۔ ہر عمل جو بندہ کر رہا ہے، اس محبت اور شفقت کی مثال ہونی چاہئے ۔ لہذا ، ہم جو بھی ظاہری اعمال کرتے ہیں، بارگاہِ الہی میں اہم وہ ہے جو ہمارے باطن میں ہورہاہے ۔ کیا تم رحم و کرم اور محبت سے عاری ہو تو پھر اس لیبل کی کیا اہمیت ؟ تو ، پھر یہ روحانی پروگرام باطنی حقیقت کو پروان چڑھانے کیلئے ہیں، ابھی جو دل کے چھوٹے سے نیوکلئس میں ہے اس کی پرورش کریں– یہ (نور ) ایک چھوٹی سی ہلکی سی روشنی جیساہے ، یہ ایک شعلہ ہے کہ' میرے رب ، یہ بہت قیمتی شعلہ ہے'۔ اگر تم چیخو اور چلاؤ گے اور برے کام کرو گے ، تو ایسا ہے جیسے تم نے اس شعلہ کو بجھا دیا۔ اس کی لطافت پر تفکر کریں۔ نبی کریم ﷺ کا فرمان ہے: ، "یہ مت سمجھو کہ ایمان عطا ہوا ہے اور تمہیں ہمیشہ حاصل رہے گا۔" ہر لمحہ دعا کریں کہ اللہ (عزوجل) تمہیں ایمان کی حالت میں رکھے اور تمہارا ایمان بڑھائے ۔ ایمان معمولی شئے نہیں ہے کہ تم آئے اور جیسے تمہیں لاٹری کا ٹکٹ مل گیا ہو ، جو تمہارے پاس ہمیشہ رہے گا۔ بہت سے لوگ ایمان چھوڑ دیتے ہیں جو بھی ان کے ایمان کا پس منظر ہو۔ یہ ایک عطیہ ہے ، یہ ایک تحفہ ہے ، یہ ایک نعمت ہے۔ "یا ربی اگر میرے پاس بس یہی ایمان ہے تو براہ کرم مجھے اور زیادہ عنایت کیجئے۔ جو کچھ آپ نے اچھا کردار نوازاہے ،مجھے ( اور ) زیادہ عطا کیجئے ، جو آپ نے محبت عطا کی ، وہ مجھے زیادہ عنایت کیجئے" اور پھر یہ نیک لوگ ہماری زندگی میں آتے ہیں اور فرماتے ہیں کہ اس چھوٹے سے آگ کےشعلہ کی نگہداشت کرو ۔ اس کوبہت احتیاط سے رکھو۔ برے کردار اور غصے اور اس دنیا کی تمام خواہشات اسے بجھا نہ پا ئیں–کیونکہ سب یہ شعلہ بجھانا چاہتے ہیں، اورپھر تمہارا دل سیاہ ہو جائے ، دل تاریک ہو جائے ۔، اور سب کچھ خالی محسوس ہو۔ سب کچھ منفی ہو۔ تمہاری آنکھیں ویکیوم کی مانند ہر شئے کو ویمپائر ( کھنچنے لگ جائیں )۔۔نگلنے کی آواز۔۔ ہر شئے جو یہ نگل سکتی ہیں کھنیچ لیں۔
اور وہ (اولیااللہ ) تشریف لا کر ، بیان کرتے ہیں: نہیں، نہیں ، اس شعلے کی پرورش کیجئے ، اس نور کی دیکھ بال کیجئے ۔ ایسی مشقیں ڈھونڈیں جس سے اس نور کو تقویت مل سکے اور عام طور پر ایسے کامبے لوث ہوتے ہیں۔ جب تم باہر جاکر نادار لوگوں کو کھانا کھلاتے ہو ۔ باہر جاکر لوگوں کو (صدقہ ) دو۔ باہر جاکر لوگوں کی خدمت میں حاضر ہوں۔ یہ حضرات جو یہاں آتےہیں وہ خدمت کیلئے حاضر ہیں یہی وجہ ہے کہ وہ اپنی ٹکٹ خریدنے کیلئے اپنے پیسہ خرچ کرتے ہیں ، جو بھی اس کا متحمل ہوسکتا ہے ، وہ یہاں خدمت کیلئے آتے ہیں اور انہیں کوئی ( دنیاوی ) معاوضہ نہیں ملتا۔ ہم کسی بھی چیز میں حصہ نہیں مانگتے لیکن ہماری زندگی بے غرضی اور خدمت کیلئے ہے، جو اس شعلہ کو تقویت بخشتی ہے کیونکہ یہ نور الٰہی اور برکت لاتی ہے۔
حضرت شیخ سید نورجان (قَدس اللہ سِرّہٗ)
Insha'Allah that Istighfar and asking God's forgiveness by the name of his almightiness that Allah (AJ), God almighty to wash away the bad character and the bad actions that he's not pleased with and the power of sound is something that can't be imagined. That always asking in these associations and when we go home to be from the people of taffakur, the people of meditation and contemplation. Whatever language people want to call it, it's all the same. it's a light that deposited within the heart of every human being, every creation. Our responsibility on this earth is to nourish that light and Wiseman, Gurus come to bring the realities of the Prophets of the divine. There are like radiuses that emanate from the center. They all have an equal distance to reach to the circumference. So, Amr-e-Rasool is that love all the Prophets and that their brotherhood, their reality cause everything is symbolic in a circle that there's only one center, one nucleus where all of this creation reduce into one atom, Adam, Insan. This one atom has only one center. It doesn't have five centers fighting over the circumference and this one center is the source of power. The inside controls the outside. The inside power of the nucleus is sending the energy to the electrons. There's no difference between our form. This form is not the one controlling anything, is the energy inside. If this energy doesn't come from the heart, the nucleus of our body is the heart. If this energy doesn't come from the heart this form falls apart and is dead. So, then all these spiritual masters and spiritual teachers was to come and emphasize that the heart has to be worked on. The nucleus has to be sort of worked no. That power and that emanation that is emanating in that center is what we have to nourish that little drop of light that God gave us and then they come and describe like we're a candle that God everybody gave, God gave everybody a candle and lit a temporary light. It was not permanent until you nourish it and light the eternal flame. Means that you can live a life in which you just come, you burn out your candle and you go or you come into this world and God destines us to guide us through many different avenues we find guidance. When he wants to guide, he guides and he guides and teaches that this candle is temporary. Don't be lost by the illusion of this, this world and all its fun. Balance your life to have fun and pray and play. But that light within the heart nourish it, bring its reality out, strengthen it so then all spiritual practices begin to teach you nourish that light.
And that nucleus has sent out over time radiuses, radiuses what we call Rasool, messengers of the God. God almighty sends a radius to the circumference and remind them of this nucleus. Remind them of their origin. Remind them of their source of power. For if the electron should think it has its own power it will be lost. It will leave its orbit. It's actually orbiting around the nucleus because it is the source of power pulling it and attracting it. if the nucleus didn't care for it, it would release its attraction and that electron would go flying out into never-never-land. Means then everything of our practices is about that inner core and that inner reality. But when we're sitting and trying to nourish that light as we ask to see ourself in an ocean of light in front of us, to the right of us, to the left of us, behind us, above us and below in all six directions that Ya Rabbi, my lord dress me form light. Fill me with your light. Fill me with your grace and your majesty take away my difficulties. We said before that all the actions of every religion you know, every actions that you do is through your head. So, many people pray, many people fast and of all different religions and that can be through their brain. It's not a gift from God because there are terrorists out there who are praying and reading all day long and that wasn't a gift by God. That was just using their brain. They used their brain; they pick a religion that maybe accommodates their craziness or whatever the belief is and they start to do it and they think through that brain-action they'll get somewhere. But no whom God really loves and whom he's granted the treasures of all eternity is one whom he's granted light and love within his heart or her heart.
There are many people who pray through their head. All day long they pray but they're completely dark within the inside so it wasn't the action that was pleasing to god. It wasn't the label in which what people call themselves because now everybody is a label. Everybody has a designer label upon themselves. Allah (AJ) is not like that labelling people because that would be like a caste system of different characters of people but what only contains and what only Allah (AJ)'s interest is that I don't look to your, your form but it look to the heart of the believer and that heart should be heart filled with love and compassion. If the heart has love and compassion it should speak with a softness, with the loveness, with a good character. That love and compassion should be exemplified with every action that the servant is doing. So, means whatever practices we do to the outside the most important to divinely presence is what's happening inside. Are you devoid of compassion and mercy and love then what's the importance of that label? So, then these spiritual programs are to develop the inner reality, to nourish what's in that little nucleus in the heart right now. It's like a small little light, a flame that my lord it's a very precious flame for if you should yell and scream and do bad things as if you've blown out that flame. Think of the subtlety and Prophet ﷺ, "Don't think faith is something just granted, you're always going to have it." at every moment pray Allah (AJ) keep you in faith and increase you in faith.
Faith isn't just something you come, it's like you've got a lottery ticket you'll always have it. many people leave faith whatever their faith background is it's a grant, it's a gift, it's a nehmat. Ya Rabbi if this is what I have is faith then please give me more. What you granted of good character give me more, what you granted of love give me more and then these pious people come into our lives and describe that little flame nourish it. Be very careful with it. don't let the bad character and anger and all the desires of this world to extinguish it cause that's all it wants to do is extinguish the flame and then you become black hearted, dark hearted. Everything is like a void. Everything is negative. Your eyes become like a vacuum of vampiring everything, just 'swooh' swallowing up everything it can and they come and describe no, no nourish that flame, nourish that light. Find practices that will empower that light and those are usually selfless practices. When you go out and feed people. Go out and give to people. Go out and be of service to people. These gentlemen who are coming here they're being of service cause that's the training they spend their own money to buy their ticket whoever can afford it, they come to be of service they're not going to get any reward. We don't share in anything but our life was to be of service to give, to be selfless that empowers the flame cause that brings a divinely light and blessing.
Hazrat Shaykh Sayed Nurjan (Qs)🙏