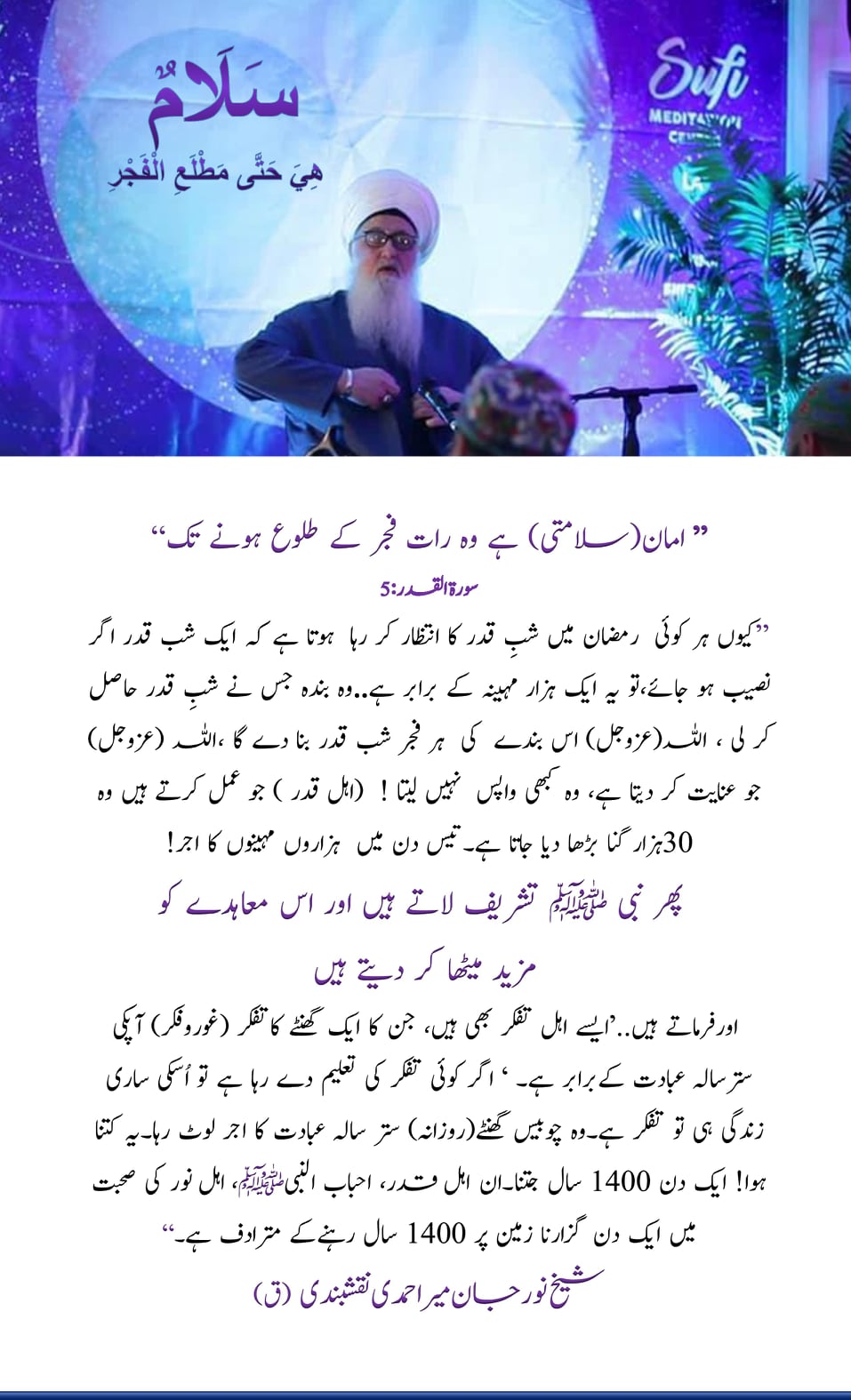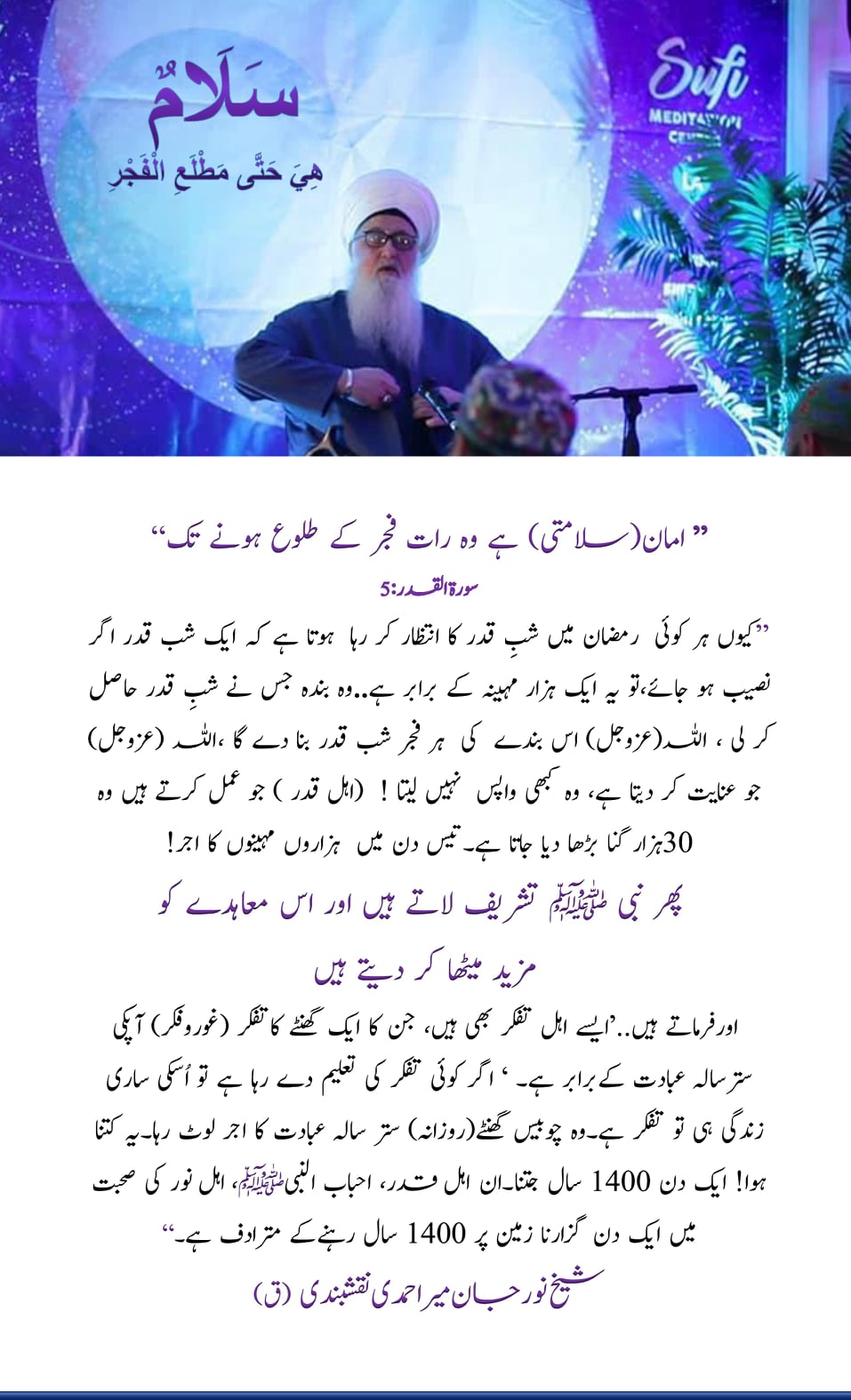 Urdu – One day with people of Light (Ahbabun Nabiﷺ ) is equivalent of 1400 years: اِس …
One day with people of Light (Ahbabun Nabiﷺ ) is equivalent of 1400 years:
اِس انجمن سے اُن کی حُضوری میں، اُنکے اذکار ، اُنکے انوار اور ، اُنکے تحائف وصول کریں جو ارواح ان میں سے عنایت کرنا چاہیں، خواہ وہ نبی کریم ﷺ خود عطا فرمائیں یا اولیاءاللہ عطا فرمائیں اور صرف ان تمام (عظیم) شخصیات کا تصور کریں جو ان انجمنوں میں ہمارے اوپر حاضر ہیں، ہر ایک کی ایک حقیقت ہے اور اُنھیں کچھ لوگوں سے اُنس ہے جو آج رات یہاں ہیں۔ وہ انھیں اس محفل میں جانے کی ترغیب دیتے ہیں کیونکہ وہ انجمنیں دراصل ملکوت سے ہیں ، یہ مُلک( عالمِ ناسوت ) کے لوگ نہیں ہیں۔ وہ یہاں اس امید پر نہیں بیٹھے کہ (اچانک تُکے سے) ہم کسی (ماورائی) چیز سے جُڑ جائیں گے ، ہم ہزار سال بیٹھ سکتے ہیں لیکن ہم کسی چیز (ماورائی علم ) تک رسائی حاصل نہیں کرسکتے تھے لیکن یہ اہل ِملکوت اس ماورائی دنیا میں قدم رکھ چکے ہیں، اللہ(عزوجل) انہیں دنیا میں واپس بھیج دیتا ہے، تاکہ واپس جاکر اب لوگوں کی رہنمائی کرو اور آپ (اہل ِملکوت) جہاں بھی بیٹھو گے تو وہ عالمِ نور کی مجلس ہے۔ جیسے ہی تم ان (اہل ِملکوت) کے ساتھ بیٹھو گے ، تم (عالم نور میں بھی ) ان کی حاضری میں ہو گے ، ان کی ارواح تمہارے دل اور تمہاری حقیقت کو فیض دیں گیں وہ تمام انوار جو نبی کریم ﷺ عطا کرنا چاہتے ہیں۔ تم ہزار زندگیاں گزار لو، اس حقیقت کو (خود )حاصل نہیں کر سکتے… جب اللہ(عزوجل) نے سورۃ القدر میں یہ اشارہ دیا تھا اور کیوں ہر کوئی رمضان میں شبِ قدر کا انتظار کر رہا ہوتا ہے کہ ایک شب قدر اگر نصیب ہو جائے( تو یہ ایسا ہے کہ ) آپ نے اللہ(عزوجل) کی طرف سے طاقت کا سمندر حاصل کر لیا، یہ گویا ایک ہزار مہینہ کے برابر ہے۔ لہذا ، اس سے مراد یہ ہے کہ وہ بندہ جس نے شبِ قدر حاصل کر لی ، اللہ(عزوجل) ہر فجر اس بندے کے لئے شب قدر بنا دے گا ،اللہ (عزوجل) جو عطا کر دیتا ہے، وہ کبھی واپس نہیں لیتا ! اگر کوئی تم سے جھوٹ بولے اور کہے کہ اللہ(عزوجل) نے عطا کر کے واپس لے لیا ، تو یہ جھوٹ ہے ، عنایت کبھی واپس نہیں لے جاتی ۔ اللہ(عزوجل) ہر گز غلطی نہیں فرماتا ۔ اللہ(عزوجل) اپنے بندے کے ساتھ وہی معاملہ رکھتا ہےجو وہ کرنا چاہتا ہے۔ جو اللہ عزوجل عنایت کر دے وہ کبھی واپس نہیں لیا جاتا ، وہ ہمارے جیسا نہیں ہے۔ ہم گھٹیا ہیں ، ہم لوگوں سے غصہ کرتے ہیں ، اگر ہم کسی کو پسند نہ کریں تو اگلے دن ہی ہاتھ روک لیں۔ لیکن اُن (اولیاء اللہ ) کی دعا یہ ہوتی ہے : "اے میرے رب! جو کچھ بھی آپ نے عطا کیا ہے، مجھے اور عنایت کیجئے ، ھَلْ مِنْ مَّزِیْدْ، جو کچھ آپ نے عطا کیا ہے میری جھولی اور بھر دیجئے"، ان کی شب قدر، ہر فجر ایک شب قدر ہے، وہ جو عمل کرتے ہیں وہ 30 ہزار گنا بڑھا دیا جاتا ہے۔ تیس دن میں ہزاروں مہینوں کا اجر ۔
سَلَامٌ هِيَ حَتَّى مَطْلَعِ الْفَجْرِ
" امان (سلامتی) ہے وہ رات فجر کے طلوع ہونے تک"
سورة القدر : 5
اُس فجر کے وقت ، اللہ (عزوجل ) انہیں فجر کے ایک ہزار مہینوں جتنے اعمال کا ( ثواب ) دے گا ، ہزاروں مہینہ یعنی 30 ہزار مہینے ، ضرب دے کر حاصل ہوئے… وہ دو رکعت نماز پڑھتے ہیں گویا تمہاری 30ہزار رکعات کے برابر ادا کیں ۔ وہ ایک ڈالر دیتے ہیں جیسے تمہارے 30 ہزار کے برابر دیے ہوں ۔ تو ، اس سے مراد یہ ہے کہ اللہ (عزوجل) ان اہل قدر کو ضرب دے کر (کئی گنا زیادہ ) عطا کرتا ہے ، اللہ (عزوجل) جسے چاہے عنایت کرتا ہے ، اور کوئی اُسے انکار کرنے کی مجال نہیں کر سکتا کہ اللہ(عزوجل) نے اسے عطا نہیں کیا ! اللہ (عزوجل) جو کچھ بھی دینا چاہتا ہے، نواز دیتا ہے ۔ ان کی ضرب تیس ہزار گنا ہے پھر نبی ﷺ تشریف لاتے ہیں اور اس معاہدہ کو مزید میٹھا کر دیتے ہیں اور فرماتے ہیں: نہیں، ایسے اہل تفکر بھی ہیں، جن کا ایک گھنٹے کا تفکر آپکی ستر سالہ عبادت کے برابر ہے ! یہ احباب ، یہ اہلِ نور ،ان کا ایک گھنٹے کا تفکر گویا آپکی ستر سالہ عبادت جتنا ہے ۔ اگر کوئی تفکر کی تعلیم دے رہا ہے تو ، اس کی ساری زندگی تفکر ہی تو ہے! وہ چوبیس گھنٹے ستر سالہ عبادت کا اجر لُوٹ رہا ہے ، یہ کتنا ہوا! ، ایک دن 1400 سال جتنا! ، یہ حدیث نبویﷺ ہے!ایسے اہل تفکر ہیں جن کا ایک گھنٹہ ، ستر سالہ عبادت جتنا ہے ۔ ذرا تصور کریں کہ دن میں چوبیس گھنٹے انکی حقیقت جاری رہتی ہے ، یہ پرانے زمانے کی طرح نہیں کے نمبر ملا کر رابطے کا انتظار کرنا پڑے ، ان کا ہر وقت براہ راست رابطہ ہے ، براہ راست(ملکوتی) نشریات ہے ، براہ راست معلومات حاصل ہوتی ہیں حقائق، ہر وقت رواں ہیں اور انوار کا نزول جاری ہے –اور یہ ایک دن میں ستر سالوں سے ضرب دینے پر 1400 سال (جتنا اجر ) بنتا ہے ۔
ان(اولیاءاللہ ) کی صحبت میں ایک دن گزارنا زمین پر 1400 سال رہنے کے مترادف ہے ، ایک دن (اولیااللہ ) کے ساتھ اور سب لوگ یہی حدیث پڑھتے ہیں ، لیکن وہ موتیوں کو ایک دھاگے میں ساتھ نہیں پُرو پاتے ! یعنی یہ اہل قدر ( قدری) جنہیں اللہ (عزوجل) نے گوہر عطا کیے ہیں ، انکے تمام اعمال کئی گنا بڑھ جاتے ہے۔ یہ اہل تفکر ، خاص طور پر وہ لوگ جو تفکر سکھاتے ہیں، ہر روز جب آپ ان کے ساتھ بیٹھتے ہیں تو یہ 1400 سالہ عبادت جتنا ہے۔ کیا آپ زندگی میں یہ خود پاسکتے ہیں… نہیں؟ ہم کہتے ہیں کہ یہ اللہ (عزوجل) کی طرف سے ایک عطیہ اور ایک تحفہ ہے، اللہ (عزوجل) جسکو ہدایت دیتا ہے اُسے واقعتاً ہدایت ملی ہے۔ اللہ (عزوجل) جس کی رہنمائی نہیں کرتا ہے ، ہدایت یافتہ نہیں ہے۔ اور ولیٌ مرشدٌ – جو نورِ محمدیہ کی حقیقت تک پہنچتا ہے نہ صرف وہ ولی ہے بلکہ انہیں ہدایت بھی ملی ہے کہ وہ راشدین ہے ، وہ مَہْدِیِّیِّنْ ہے اور وہ کاملین کے سمندروں میں غوطے کھا رہا ہے یعنی جیسے ہی آپ ان کی محفلوں میں بیٹھتے ہیں انکا نور روح کو کھینچ رہا ہے ،( شیخ نورجان اوپر کی طرف اشارہ کرتے ہوئے فرماتے ہیں) ارواح اس نور کی انجمن میں داخل ہوجاتی ہیں اور انھیں فیض دیا جائے گا اور انھیں برکات عطا ہوں گی۔ روح اور قلب کو جو انوار دیے گئے ہیں جو ہم کبھی بھی اپنی جسمانی(عقلی ) صلاحیت کے ساتھ حاصل نہیں کرسکتے ہیں۔ تو ، پھر سب سے بڑا گناہ یہ ہے کہ تم خود کو اس(انجمن ) تک رسائی دینے سے روک دو۔ ہم کہتے ہیں کہ میں(محفل میں ) شرکت نہیں کروں گا، یہ ( محفل )میرے لئے تھوڑی دور ہے ، میں تھوڑا سا تھکا ہوا ہوں۔ تم نہیں جانتے کہ اللہ تمہاری روح پر کس نور کی بارش کرنا چاہتا ہے، رسول اللہ ﷺ تمہای روح کو کیا تحفہ دینا چاہتے ہیں ، اولیاء اللہ کیا عنایت کرنا چاہتے ہیں لیکن اللہ (عزوجل ) کیا چاہتا ہے؟ ایک قدم اٹھاؤ۔ تم حضرت مریمؑ کی طرح نہیں ہو! کہ (نورانی تحائف ) تمہارے کمرے میں آ جائیں گے ۔ وہ فرماتا ہے کہ عاجز رہو! اس طرف ایک قدم بڑھاؤ ، ان تمام شیطانوں سے لڑو جو تمہیں ورغلاتے ہیں، 'میں آج کی رات نہیں جا رہا ' ، حالانکہ وہ یہاں نزدیک رہتے ہیں ، ان لوگوں کا تو مت سوچیئے جو اپنی رقم اور اپنا وقت خرچ کر کے 3000 میل دور سے اس نعمت کو باٹنے کیلئے آرہے ہیں لیکن (جو شرکت نہیں کرتے)وہ یہاں ایک گلی (بلاک ) کے فاصلے پر رہتے ہیں ، 'میں آج کی رات تھک گیا ہوں' ، اوہ تمہارا شیطان تم پر اتنا حاوی ہے کہ تمہیں اس نعمت اور برکات کو حاصل کرنے جانے بھی نہیں دیتا؟
یہ رجال نہیں ہے!
رجال وہ ہے جو اپنے تمام شیطانوں سے لڑتے ہیں اور وہ ہزاروں میل دور جاتے ہیں۔ ان کے پاس زبردست 'ہمہ ' ہے ، ان کو حقیقت تک پہنچنے سے کوئی چیز نہیں روکتی ! ، کوئی چیز انھیں اُس تک پہنچنے سے نہیں روکتی جو اللہ (عزوجل ) اُنہیں حاصل کرانا چاہتا ہے کیونکہ وہ جانتے ہیں کہ یہ محفل ایک مقدس انجمن ہو گی ۔ وہ جانتے ہیں اس انجمن میں حمد و ثناء (جسکے بارے میں ہم نے وینکوور میں گفتگو کی تھی) ، جب آپ کسی سے محبت کرتے ہو، آپ اُنھیں محظوظ کرنے کے لئے گیت گاتے ہو! آپ ہر طرح کے گیت گاتے ہو۔ اس حقیقتِ محمدیہ کا سب سے بڑا عاشق کون ہے؟ اللہ (عزوجل)!
شیخ نورجان میراحمدی نقشبندی (ق)
(2nd Part)
In their presence receiving their zikrs, their lights and their gifts from that association which one of these souls wants to bestow whether it's Prophet ﷺ directly bestowing, the Awliyyah bestowing and just imagine all of these personalities that are above us in these associations. Each one has a reality and a attachment to certain people who are here tonight. They inspire them go into that association because those associations are real from malakut, these are not the people of mulk. They're not sitting here hoping we're going to tap into something, we could sit a thousand year but we couldn't tap into anything but these people of malakut means they entered into that realm, Allah sends them back in the dunya and now go and guide people and anywhere you sit is a association of the world of light. Soon as you sit with them, you're in their presence, their souls are bestowing you're your heart and your reality, all the lights that Prophet ﷺ wants to bestow. You live a thousand lives and you can't achieve that reality. We gave the numbers before, when Allah (AJ) just gave a hint to insan that Surat al-Qadr and why everyone's' waiting in Ramadan for Layla tul-Qadr that one Layla tul-Qadr if you should achieve this ocean of power from Allah (AJ), it's as if a thousand months. So, means that, that servant who achieved Layla tul-Qadr Allah (AJ) will make every Fajr a Layla tul-Qadr for that servant, what Allah gives، he never takes away, if anyone lies to you and says something was taken away that Allah has granted, it's a lie, it's never taken. Allah (AJ) doesn't make a mistake. Allah (AJ) deals with his servant how he wants to deal with his servant, what Allah gives is never taken away, he's not like us. We're cheap, we're angry with people, we don't like someone say I'm not giving it to you tomorrow. Their dua is Ya Rabbi whatever you gave, increase me, hilm al-mazeed, give me more what you have granted, their Layla tul-Qadr every Fajr is a Layla tul-Qadr that every amal they do is multiplied by 30,000. Thousand months is what in thirty day. Salaamun hiya hattaa mat la'il fajr.
سَلَامٌ هِيَ حَتَّى مَطْلَعِ الْفَجْرِ
Peace! (All that night, there is Peace and Goodness from Allah to His believing slaves) until the appearance of dawn. [97:5]
That on that Fajr time, Allah (AJ) will grant them the amal of one thousand months coming on that Fajr time, thousand months is 30,000 as a multiplier cause thousand months 30 days. So, their multiplier is 30,000. They pray two rakats it's as if 30,000 rakats you have to pray; they give one dollar as if you have to give 30,000. So, means the multiplier of what Allah (AJ) grants from these Qadiri people whom Allah granted, whom Allah wants to grant, he grants and nobody says no, Allah doesn't grant it, Allah grants whatever he wants to grant. Their multiplier thirty thousand then Prophet ﷺ comes and sweetens the deal and says no, there are people of taffakur that one hour of their taffakur is seventy years of your worshipness, one hour of taffakur from them, these ahbab, these people of light, it's as if seventy years of your worshipbness. If somebody's teaching taffakur, his whole life is taffakur, he's in twenty-four hours times seventy years, what's that, 1400 years is one day of them, this is from hadith of Prophet ﷺ. There are people of taffakur their one hour, seventy years. Imagine that twenty-four hours a day their reality is live, it's not like internet dial up anymore, they have a live connection, live streaming, live information, live realities and lights coming to them and that multiplier seventy years is in one day is 1400 years.
One day with them is equivalent of 1400 years you'd have to live on this earth, for one day with them and people they read the same hadith, they just don't put the beads together. So, means these Qadiri people whom Allah (AJ) dressed all their amal is multiplied. These people of ahlul-taffakur especially ones teaching taffakur, every day you sit with them is 1400 years of worship. Can you get that in life… no. that's we say it's a grant and a gift rom Allah (AJ), whom Allah guides is truly guided. Whom Allah (AJ) does not guide, is not guided and Waliyun-murshidun that not only is Wali that reach that reality of light but is also been granted guidance that he's Rashideen, he's Mahdiyeen and he's moving through the oceans of Kamileen. Means as soon as you sit in their associations their lights are pulling the souls, the souls enter into that (the shaykh points up) association of light and they'll be dressed and they'll be blessed. Lights that been given to the soul and to the heart that we can never achieve with our physicality. So, then the greatest sin is to deny yourself access to that. We say I'm not gonna (going to) go, it's a bit too far for me, I'm a bit tired. You don't know what lights Allah wants to deposit upon your soul, what gift that Prophet ﷺ wants give unto the soul, what Awliyyah Allah want to bestow but Allah (AJ) want what, take one step. It's not like your Hazrat Maryam and he's going to come into your bedroom. He says be humble, make a step towards that, fight all the devils that tell you "I'm not going tonight", even they live across the block, forget about those who are coming 3000 miles to spend their own money and their time to deliver this nehmat but even they live one block away, "I'm tired tonight", oh your shaytan is so heavy on you that eh don't even let you go to get this nehmat and this blessing.
This is not Rijal, Rajil they fight all their devils and they move thousands of miles; they have a tremendous himmah, nothing stops them from reaching that reality, nothing stops them from reaching what Allah (AJ) wants them to achieve cause they know that in that association is going to be a holy association. They know in that association these praisings we talked about in Vancouver, is when you love someone, you serenate them, you sing all sorts of songs. Who's the greatest lover of that reality: ALLAH (AJ).
🐠Sh. Nurjan Mirahmadi Naqshbandi (Q)🐠