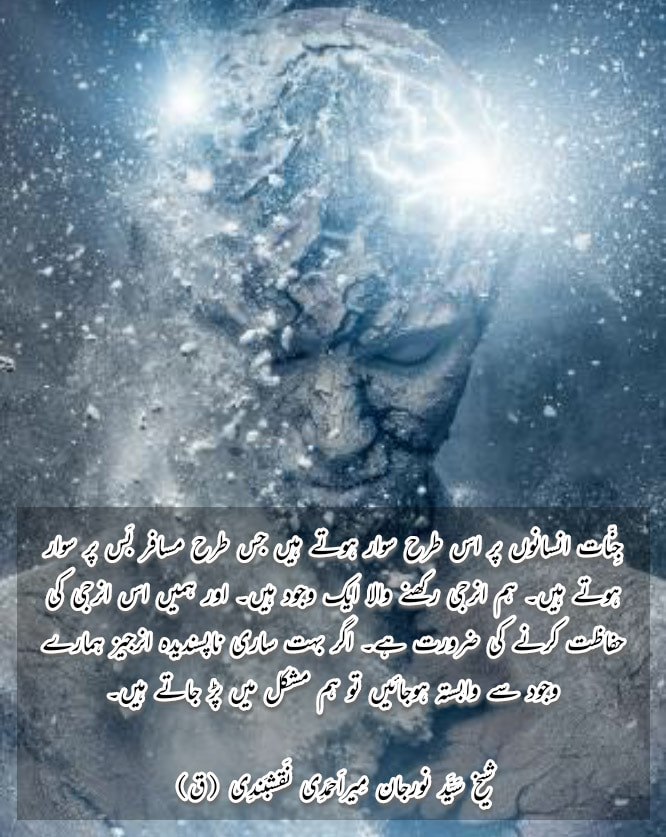 Urdu – ShaykhTalk # 6 – Jinn Ride Upon Humans Like Passengers on a Bus! بِسْمِ اللَّـه…
ShaykhTalk # 6 – Jinn Ride Upon Humans Like Passengers on a Bus!
بِسْمِ اللَّـهِ الرَّحْمَـٰنِ الرَّحِيمِ
اَلَّھُمَّ صَلِّ عَلَی سَیَّدِنَا محَمَّدٍ ﷺ وَعَلَی آلِ سَیَّدِنَا محَمَّدٍ ﷺ
شیخ سَیَّد نورجان مِیراَحمَدِی نَقشبَندِی (ق) کی سنہری تعلیمات سے اقتباس
جِنّات انسانوں پر اس طرح سوار ہوتے ہیں جس طرح مسافر بَس پر سوار ہوتے ہیں!
ہمارا جسمانی وجود ایک بس کی طرح ہے۔ کہ ہم جہاں کہِیں بھی جاتے ہیں، ہم اُن مسافروں (انرجیز) کو خود پر سوار کر رہے ہوتے ہیں جنہیں ہم سوار کرنا چاہتے ہیں۔ لیکن زیادہ تر ان مسافروں (انرجیز) کو جنہیں ہم سوار نہیں کرنا چاہتے (یعنی منفی انرجیز جیسے جِنّات اور شیاطِین)۔ کیونکہ اگر آپ کے پاس اپنی اِنَرجِی کو آگے بڑھانے (اپنی انرجی کو تقوِیَت دینے اور مضبوط بنانے) اور اپنی اِنَرجِی پر قابو پانے اور اس بَس (اپنے وجود) پر جو کچھ سوار ہو رہا ہے اس پر قابو پانے کی صلاحیت نہیں ہے، تو آپ کو یہ جان لینا چاہیے کہ آپ بہت ضعیف ہیں، کہ آپ بہت کمزور ہیں، کہ اگر آپ اپنی طاقت کا جائزہ لیں تو آپ یہ جنگ پہلے ہی ہار چُکے ہیں۔ کہ میری دنیاوی خواہشات اور وہ سب کچھ جو مجھ میں داخل (مجھ پر سوار) ہو رہا ہے، یہ ساری (منفی) مخلوقات اور اِنَرجِیز (منفی وجود)، مجھ میں چھلانگ لگا کر (میرے اندر) داخل ہو رہے ہیں اور میرے وجود پر قابو پا رہے ہیں۔ اگر ان میں سے کافی (زیادہ منفی) اِنَرجِیز (ہمارے) وجود میں کُود پڑیں تو، وہ انسان کی اِنَرجِی کو تبدیل کرنا (ہمارے وجود پر اثرانداز ہونا) شروع کردیتی ہیں۔ تو اگر ہم یہ نہیں سمجھتے کہ ہم ایک اِنَرجی رکھنے والا وجود ہیں تو ہم مشکل میں پڑ جاتے ہیں۔ مطلب کہ مسافروں نے بس ڈرائیور پر قابو پا لیا ہے۔
URDU TRANSLITERATION:
Jinnaat Insanon Pr Is Tarah Sawaar Hotay Hain Jis Tarah Musaafir Bus Pr Sawaar Hotay Hain!
Hamara Jismaani wajood aik bus ki Tarah Hai. Kay hm jahan kahin bhi jaatay hain, hm un musaafiron (energies) ko khud pr Sawaar kr rahay Hotay hain Jinhen hm Sawaar krna chahtay hain. Lekin zyadatar un musaafiron (energies) ko jinhen hm Sawaar nahin krna chahtay (yaani manfi energies jesy Jinnaat aur Shayateen). Kyun Kay agr aap k paas apni energy ko aagay barhanay (apni energy ko taqwiyat Dainay aur mazboot bananay) aur apni energy pr qaboo paanay aur is bus (apny wajood) pr jo kuch Sawaar ho raha Hai us pr qaboo paanay ki salaahiyat nahin Hai, tou aap ko ye jaan laina chahiye k aap bohat zaeef hain, k ap boht kamzor hain, k agr ap apni taaqat ka jaaiza len tou ap ye Jang pehly he haar chukay hain. Kay meri duniyavi Khwahishaat aur wo sab kuch jo mujh may daakhil (mujh pr Sawaar) ho raha Hai, ye saari (manfi) Makhluqaat aur energies (manfi wajood), mujh may chalaang laga kr (mere andar) daakhil ho rahay hain aur mere wajood pr qaboo paa rahay hain. Agar in may say kaafi (zyada manfi) energies (hamaray) wajood may kood parain tou, wo insan ki energy ko tabdeel krna (hamaray wajood pr asar andaaz hona) shuru kr deti hain. Tou agar hm ye nahin samajhtay Kay hm aik energy rakhny waala wajood hain tou hm mushkil may pr jaatay hain. Matlab Kay musaafiron ny bus driver pr qaboo paa Liya Hai.
TRANSCRIBED LECTURE:
Jinn Ride Upon Humans Like Passengers on a Bus!
We are a physical being like a bus. That everywhere we go, we are picking up passengers that we wanted to pick up. But mostly whom we didn't want to pick up. Because if you don't have the ability to push your energy and control your energy and control what's coming onto this bus, then you must know that you are very Zaeef, that you are very weak, that if you overestimate your strength you have already lost the battle. That my Duniya desires and everything that coming into me, all these beings and energies are jumping into me and overtaking me. If enough of them jump into the being, they begin to alter the energy of the person. So if we don't understand that we are an energy creation then we fall into difficulty. Means that passengers have overtaken the bus driver.
🌹 💝 🌹 Shaykh Syed Nurjan Mirahmadi Naqshbandi (q) 🌹 💝 🌹
Watch Lecture Here:
https://youtu.be/FXuJ5xxE6o4