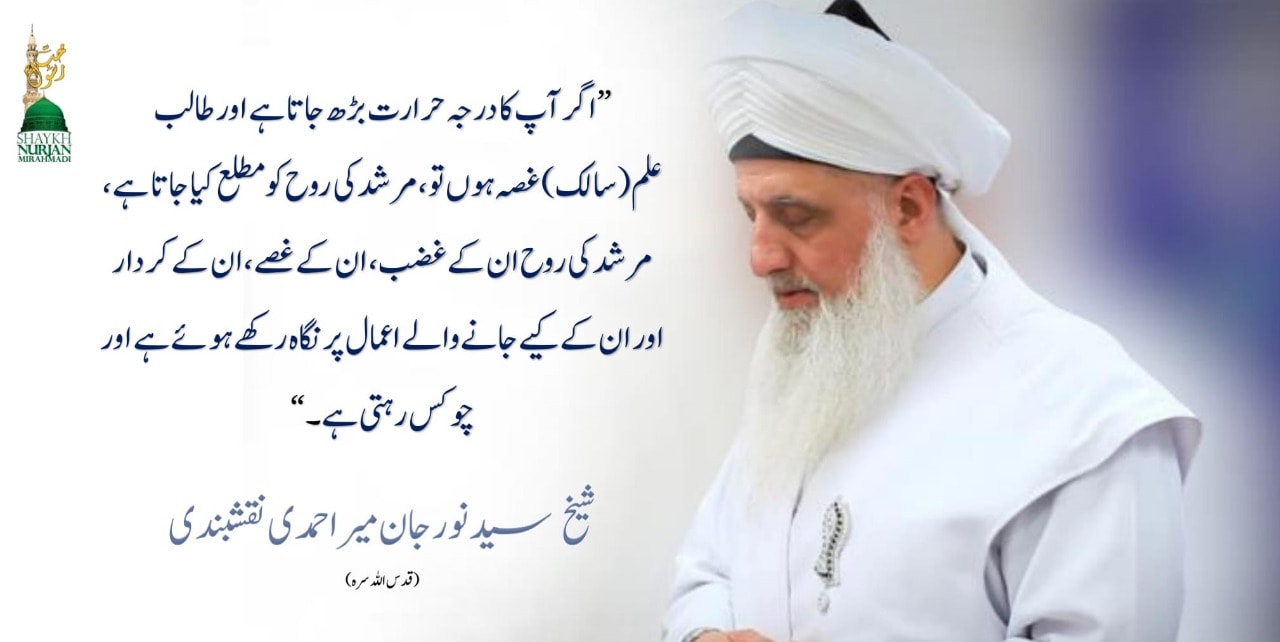 Urdu – The Soul is Given the Secrets and Doesn't Trust the Body اسرار روح کو عطا …
The Soul is Given the Secrets and Doesn't Trust the Body
اسرار روح کو عطا ہوئے ہیں اور وہ جسم پر بھروسہ نہیں کرتی!!
🕊 یہ آپ کا جسم نہیں جو پرواز کررہا ہے۔ سب کچھ روح کو عطا ہوا ہے۔ ہر ایک تحفہ اور خزانہ جو اللہ عزوجل عطا فرمانا چاہتا ہے ، روح کو عطا فرماتا ہے اور روح جسم کو اس راز کے قابل نہیں سمجھتی اور روح جسم پر بھروسہ نہیں کرتی کہ اُس کے راز اِسے دیئے جائیں اور (روح)جانتی ہے کہ جسم کی صلاحیت بہت کمزور ہے۔ لہذا یہ سیدنا محمدﷺ کے نور کے ذریعے، اللہ (عزوجل) کی طرف سے اشارے کی منتظر ہے کہ کچھ(جلوہ)دکھائیں!حکم آتا ہے اور کشف عطا ہوجائے گا ، حال ، کہ اس بندے کو، خواہ مرد ہو یا عورت ، کچھ محسوس ہونے دو۔ یہ اجازت سے رُونما ہورہا ہے کیونکہ روح آگاہ ہے کہ نہیں! نہیں! ، اگر ہم اِس جسم کو (اسرار ) دیتے ہیں تو یہ سب کچھ عیاں کر سکتا ہے۔ان چیزوں کے بارے میں جن کے بارے انھیں بولنے کی اجازت نہیں تھی۔
It's not your body moving up. Everything is given to the soul. Every gift and treasure that Allah AJ want to bestow, bestows to the soul and the soul doesn't find the body to be worthy of that secret. And the soul doesn't trust the body to be given its secrets. And knows that the capacity of the body is very weak. So it waits for isharat from Allah (AJ) through the Holy Light of Sayyidina Muhammad ﷺ, show something! The order comes and kashaf will be granted, Haal, let him to, or her to feel something. It's coming by a permission because the soul knows that no no, if we give this body it may give everything away. Things that they had no permission to speak about.
لہذا (اسرار ) اجازت کے ذریعے عیاں ہونگیں۔اُن کی اجازت کے ساتھ ظاہر ہونگیں۔ اور تمام نور اور ہر تحفہ جو اُس کو عطا ہورہا ہے ، اگر روح جسم پر(یہ) اینرجی بھیجنے کا فیصلہ کرے تو وہ جسم کو گرا/جھکا سکتی ہے، اس کی طاقت اور آنے والی اینرجی بہت وسیع ہے۔ جب آپ بخار میں مبتلا ہوتے ہیں، جب آپ اختلاجِ قلب میں مبتلا ہوتے ہیں۔ یہ سب روح سے جسم میں آنے والی اینرجیز ہیں۔ اگر یہ بہت زیادہ بھیجے تو اس شخص کی ریڑھ کی ہڈی ٹوٹ جاتی ہے بسبب اس عزہ کے جو ریڑھ کی ہڈی پر نازل ہورہی ہے ۔
So has to come by a permission. Has to come with their ijazah. And every light and every gift that coming to it ,if a soul decides to send an energy onto the body it can collapse the body, it's might and the energy that coming is so immense. When you enter into a fever, you enter into a heart palpitations. All of these are the energies from the soul coming on to the body. If it send too much it collapse spine of the person because of the izzah coming on the spine.
تو مطلب یہ ہے کہ ہر چیز روح پر وارد ہوتی ہے۔ روح انتہائی اعلیٰ حقیقت ہے۔ جب ہم تلاوت کرتے ہیں۔
قُلۡ اَعُوۡذُ بِرَبِّ النَّاسِ﴿۱﴾مَلِکِ النَّاسِ﴿۲﴾
رَبِّ النَّاسِ وہ ہے جسے جسم حاصل کرنے کی کوشش کر رہا ہے۔ رَبَّانِیُّوْنْ میں سے ہونا۔ اللہ عزوجل فرماتا ہے رَبَّانِیُّونْ بنو! انھوں نے کتاب سیکھی اور انھوں نے کتاب کی تعلیم دی۔اللہ عزوجل ایک ہی لقب مطلوب فرماتا ہے۔نقشبندیون ، چشتیون ، قادریوون نہیں۔ ہرگز نہیں! اللہ عزوجل کا مطلوب لقب رَبَّانِیُّونْ ہے۔
قُلۡ اَعُوۡذُ بِرَبِّ النَّاسِ﴿۱﴾ پھر
مَلِکِ النَّاسِ﴿۲﴾
So means that everything coming to the soul. The soul is such a high reality. That When we recite
قُلۡ اَعُوۡذُ بِرَبِّ النَّاسِ﴿۱﴾مَلِکِ النَّاسِ﴿۲﴾
Rabbin'Naas is what the physicality is trying to achieve. To be Rabbaniyoon. Allah AJ says Be Rabbaniyooon. They learnt the book and they taught the book is the only title for Allah AJ. Not Naqshbandiyoon, Chishtiyoon, Qadiriyooon. Not! Allah AJ's only title Rabbaniyooon.
قُلۡ اَعُوۡذُ بِرَبِّ النَّاسِ﴿۱﴾
Then
مَلِکِ النَّاسِ﴿۲﴾
اگر وہ ولایت اور بزرگی تک پہنچ جاتے ہیں تو ، اللہ (عزوجل) نے انھیں بادشاہوں کی مانند بننے کی توفیق عطا فرمائی ہے اور اسی وجہ سے اللہ عزوجل بیان فرماتا ہے کہ ان میں کچھ ایسے ہوں گے جو محشر کے دن اور بارگاہِ الہیٰ میں کرسی پر بیٹھتے ہیں ،کچھ کاؤچ پر بیٹھتے ہیں یا تخت پر تشریف فرما ہیں۔ اس کا مطلب ہے کہ وہ اپنی روح کی حقیقت کی سلطنت تک پہنچ گئے ہیں اور پھر مزید گہری حقیقت میں۔
If they reach to Wilayat and sainthood, Allah (AJ) grant them to be like kings and that's why Allah AJ describes ,they are going to be some they sit on a chair, they sit on coach or sit on a throne on 'Youm ul Mahshar' and in Divinely presence. so means they reach to a Sultanat in their reality of their soul and then the Deep reality
اِلٰہِ النَّاسِ ﴿۳﴾
اِلٰہِ النَّاسِ-الہٰیات اور خدائی نور جو اللہ عزوجل روح پر نازل فرماتا ہے۔ اس کا مطلب ہوا چنانچہ یہ آلوہی نور صرف اللہ (عزوجل) کے دریائے وحدت سے ہے۔ کہ یہ کوئی جسمانی عمل نہیں ہے جسے کبھی سمجھا یا کیا جاسکتا ہے۔ یہ الوہیت ہے۔
The Ilaahiyat and the Divinely Godly Light that Allah AJ gives to the soul. Means that when that divinely light is only from the ocean of one-ness of Allah (AJ). That it is not a physical action that could ever be understood or done. It is the Ilaahi-ness.
اور یہی وجہ ہے کہ جب دوسری قوموں کو یہ سمجھ نہیں آیا، تو وہ اپنے لوگوں کو خدا کہنے لگے۔ استغفراللہ!خدا صرف ایک (اللہ عزوجل) ہے۔ لیکن ولایت و بزرگی اور پیغمبروں کے معجزات عطائے خداوندی تھے۔ کہ ان کی روح کی حقیقت کیا ہے اور ان کی روح کو جو عطا کیا گیا اس کی ذمہ داری، انتہائی وسیع ہے، یہ محض ایک خدائی طاقت ہے جو اللہ (عزوجل) کی بارگاہِ حضوری سے عطا ہوتی ہے۔انھیں غلط فہمی ہوگئی انھوں نے دیکھا کہ یہ انسان خدائی صفات کا حامل ہے اور ایک خدا ہے استغفراللہ۔
And that's why other nations when they didn't understand it, they call their people gods. Astaghfirullah! There is only One God. But Walayat and sainthood and the miracles of prophets was an ilaahi dress. That the reality of what their soul and the responsibility of what their soul was given, so immense, it's only a Divinely Power that comes from Allah (AJ)'s Divinely Presence. If misunderstood they saw this person was like a godly person. A god person Astaghfirullah.
لیکن ایسی عطائے خداوندی( روحانی پوشاک ) اور اسی وجہ سے ہم نے کل رات کہا کہ روح بہت سے کام سر انجام دے رہی ہے۔ اللہ عزوجل نے اپنے امر سے روح کو جو بھی (حکم)عطا فرمایا اور اِن(اجسام) پر نگاہ رکھنے کے لئے،اِن کو دیکھنے کیلئے، اِن کے لئے دعا کرنے کو، روح ایک لمحے میں یہ سب کر رہی ہے،ایک ایسی طاقت کے ساتھ جو اللہ عزوجل نے اسے عطا فرمائی، روح تمام طلباء جو اس کے ذمے ہیں کا،پلک جھپکنے میں مشاہدہ کرلیتی ہے اور یہ روح سے کچھ نہیں لیتا (کچھ نہیں گھٹتا) ۔روح کے پاس اُس قدرتِ الہی سے بےپناہ طاقت ہے جو اللہ عزوجل عطا فرمانا چاہتا ہے۔یہ اللہ عزوجل کے لامحدود بحر القدرہ سے ہے۔جتنا بھی یہ لیں،ایسا ہے جیسے اس سمندر کو کبھی چھوا ہی نہیں گیا؛ سب تک پہنچے؛ سب کو دیکھا۔
But such an ilaahi dress and that's why we said the last night what the soul is doing, many actions. Whatever Allah (AJ) gave the soul of its command and to watch over them, keep a nazer over them ,to pray for them. The soul is doing in an intense in the power that Allah AJ gave to it ,The Soul is witnessing all the students that, that soul is responsible for, within a blink of an eye. And it takes nothing from the soul. The Soul has infinite more power from whatever Allah (AJ) want to send it of power. It's from Allah (AJ)'s infinite oceans. As much as it takes as if that ocean was never touched; reached everyone; watched everyone.
میں پہلے بھی بیان کر چکا کہ اس زمین پر آپکے پاس جو بھی ٹیکنالوجی ہے اللہ عزوجل نے ان کو پہلے پہنچائی۔اب مانیٹرنگ سسٹمز ہیں،اگر آپ کا درجہ حرارت بڑھ جاتا ہے اور طالب علم غصہ ہو تو ،مرشد کی روح کو مطلع کیا جاتا ہے ، مرشد کی روح ان کے غضب، ان کے غصے ، ان کے کردار اور ان کے کیے جانے والے اعمال پر نگاہ رکھے ہوئے ہے اور چوکس رہتی ہے۔ اور روح جسم پر اعتماد نہیں کرتی۔ تو مطلب ہے راز اور روح کو عطا کیا گیا ہے۔ اس دھرتی پر ہماری زندگی یہ اعتماد حاصل کرنے کے لئے ہے کہ" یا ربی میں ایک قابلِ بھروسہ انسان ہوں" تو پھر اچھے بنو،" میں ایک قابلِ اعتبار شخص ہوں" پھر نیک بنو!
I have said before every technology you have on this earth Allah AJ get to them first. Monitoring systems now, if your temperature goes up and the student becoming angry, the soul is notified ,of the Guide and the Guide's soul is watching and vigilant over their gadab, their anger, their character and the actions they are about to do. And the soul doesn't trust the body. So means the trust and the secret is given to the soul. Our life on this earth is to gain that trust that Ya Rabbi i'm a trustworthy person then be good, I'm a trustworthy person then be kind!
جیسے ہی آپ اپنا کردار کھوئیں گے اور برائی کے سمندروں میں داخل ہوں گے تو روح قفل (تالا ) لگا دیتی ہے۔ اس کا مطلب یہ نہیں ہے کہ آپ نے جو کچھ حاصل کیا وہ حاصل نہیں کیا .اس روح نے جو کچھ حاصل کیا حاصل کیا ، اس کا مطلب صرف یہ ہے کہ روح اُس جسم کو وہ راز نہیں عطا کرے گی جو برے کاموں میں مشغول ہو جب تک کہ اللہ عزوجل قبول نہ کرے اور اس حقیقت سے دوبارہ رابطہ نہ جوڑے۔لیکن روح جو حاصل کرتی ہے، وہ روح کو حاصل رہتا ہے۔ جسم مستقل طور پر اچھا ، صاف ستھرا ، اعلیٰ کردار والا ، محبت کرنے والا ہونا چاہیے تاکہ جب بھی وہ اچھا ہو اللہ عزوجل اجازت عطا فرمائے کہ اب علم عطا فرمائیں، حقیقت نازل فرمائیں، بندے پر فیض جاری ہو۔ لہذا ہماری پوری زندگی کا عمل ، اچھا ہونا اور سننا ہے، اچھے کردار کا حامل ہونا ہے۔کیوں؟ تاکہ آپ کی روح آپ کو آپکا اعتماد فراہم کرے تاکہ وہ اپنے "عہد " تک پہنچ جائیں۔ وہ اس تک پہنچے جس کا انہوں نے اللہ عزوجل سے وعدہ کیا تھا۔
As soon as you lose your character and enter into the oceans of badness that soul locks off. Doesn't mean you didn't achieve what you achieve .That soul achieved whatever it achieved, it just means that soul no longer going to send the secret to that body that engaged in bad things until a time Allah AJ accepts and may reconnect that reality. But what the soul achieves the soul achieves. The body is continuously be good, be clean, be of good character, be of loving character so that every time he is good Allah AJ send the permission now send the knowledge, send the reality, send the dress upon the servant. So our whole life's practice is to be good and to listen, to have a good character. Why? So that your soul can begin to give you your trust. That they reach their Ahad. They reached what they promised Allah AJ.
پھر روح کہتی ہے کہ یہ سیکیورٹی کلیئرنس کلئیر ہوگئی ، نبی اکرم(ﷺ ) اجازت دے رہے ہیں۔ کہ یہ رہی آپ کی انرجی ، یہ رہے آپ کے علوم ،یہ رہا ان حقائق سے سب کچھ جو آپ کا جسم سنبھال سکتا ہے اور جس سے یہ دنیا مستفید گی۔ ہم دعا کرتے ہیں کہ اللہ عزوجل ہمیں ہمت عطا فرمائے کہ جس سے ہم اس حقیقت تک پہنچ سکیں کہ مادیت کو سدھا سکیں اور اس تحفے تک پہنچ سکیں جو اللہ عزوجل چاہتا ہے۔ اور اللہ (عزوجل) کی عظمت یہ ہے کہ اب وہ اپنی ساری تخلیق کو خلوت میں ڈال رہا ہے۔ یہ اللہ کی قدرت اور عظمت ہے۔ وہ انصاف پسند ہے۔اُس (عزوجل) کا کہنا ہے کہ میں صرف مسلمانوں کو پسند نہیں کرتا کہ یہ تو نسل پرست ہونا ہوگا لیکن مجھے اپنی ساری تخلیق پسند ہے اور میں ان کے القاب کو قبول نہیں کرتا ہوں جو میں قبول کرتا ہوں وہ ان کی محبت اور تسلیم ہے۔ ہر شخص ایک بگڑے بچے کی طرح اپنے کمرے میں چلا جائے۔ کیونکہ اب بچے بہت شرارتی ہیں ، ہم بچے ہیں۔ آپ اپنے شرارتی چھوٹے بچوں کے ساتھ کیا کرتے ہیں؟ اپنے کمرے میں جاؤ!! پھر انہوں نے نہیں سنا اور واپس آگئے .. تو اللہ (عزوجل) نے اب سب کو اپنے کمروں میں بھیج دیا۔ اور کتنے لوگ لاتیں مار رہے ہیں ، چیخ رہے ہیں ، چِلَّا رہے ہیں۔ وہ صرف ٹوائلٹ پیپرز میں مشغول ہیں۔یہ آپ کو دکھاتا ہے کہ ان کا دماغ (توجہ )کہاں ہے۔ ان کی (توجہ )تسبیح میں نہیں ، یہاں تک کہ کھانا کیا کھایا جائے(اس میں بھی نہیں)، وہ صرف ٹوالیٹ پیپرز کی فکر میں ڈوبے ہیں(مسکراہٹ)…لاحول!!
سُبْحَانَ رَبِّکَ رَبِّ الْعِزَّۃَ عَمَّا یَصِفُوْنَ وَالسَّلامُ عَلَی الْمُرْسَلِیْنَ وَالْحَمْدُ لِلّٰہِ رَبِّ الْعَالَمِیْنَ وَبِحُرْمَةِ مُحَمَّدِ الْمُصْطَفیٰ وَبِسِرِّ سُورَۃِ الْفَاتِحَه
Then the soul says this security clearance is cleared, Prophet ﷺis giving permission. Here is your energy, here is your knowledges, here is everything of these realities that your physical body can handle and that this duniya will benefit from. we pray that Allah AJ give us a himmah in which to reach to that reality. That to tame the physicality and to reach to this gift that Allah AJ want. And Allah (AJ)' Greatness is that He is now putting the whole of His creation into seclusion. That's Allah's Might and Majesty. He is Just. He says I don't just like the Muslim people that would be kind of racist. But I love all my creation and I don't accept their titles what I accept is their love and submission. Everybody go to your room like a bad kid. Because now kids are very naughty, we are the kids. What you do with your naughty little kids? Go to your room!! Then they didn't listen and came back out.. So Allah (AJ) sent everybody now into their rooms. And how many people are kicking, yelling, screaming. They are only preoccupied with toilet papers. Shows you where their mind is. Not their prayer beads, not even what food to eat, they are only occupied with Toilet Papers (Laughter)…La Hawla…
Subhana rabbika rabbil 'izzati amma yasifun wa salamun alal mursalin wal hamdulillahi rabbil 'alamin Bi hurmati Muhammad al Mustafa wa bi siri surat al Fatiha.
شیخ سید نورجان میراحمدی نقشبندی( قدس اللہ سرہ)