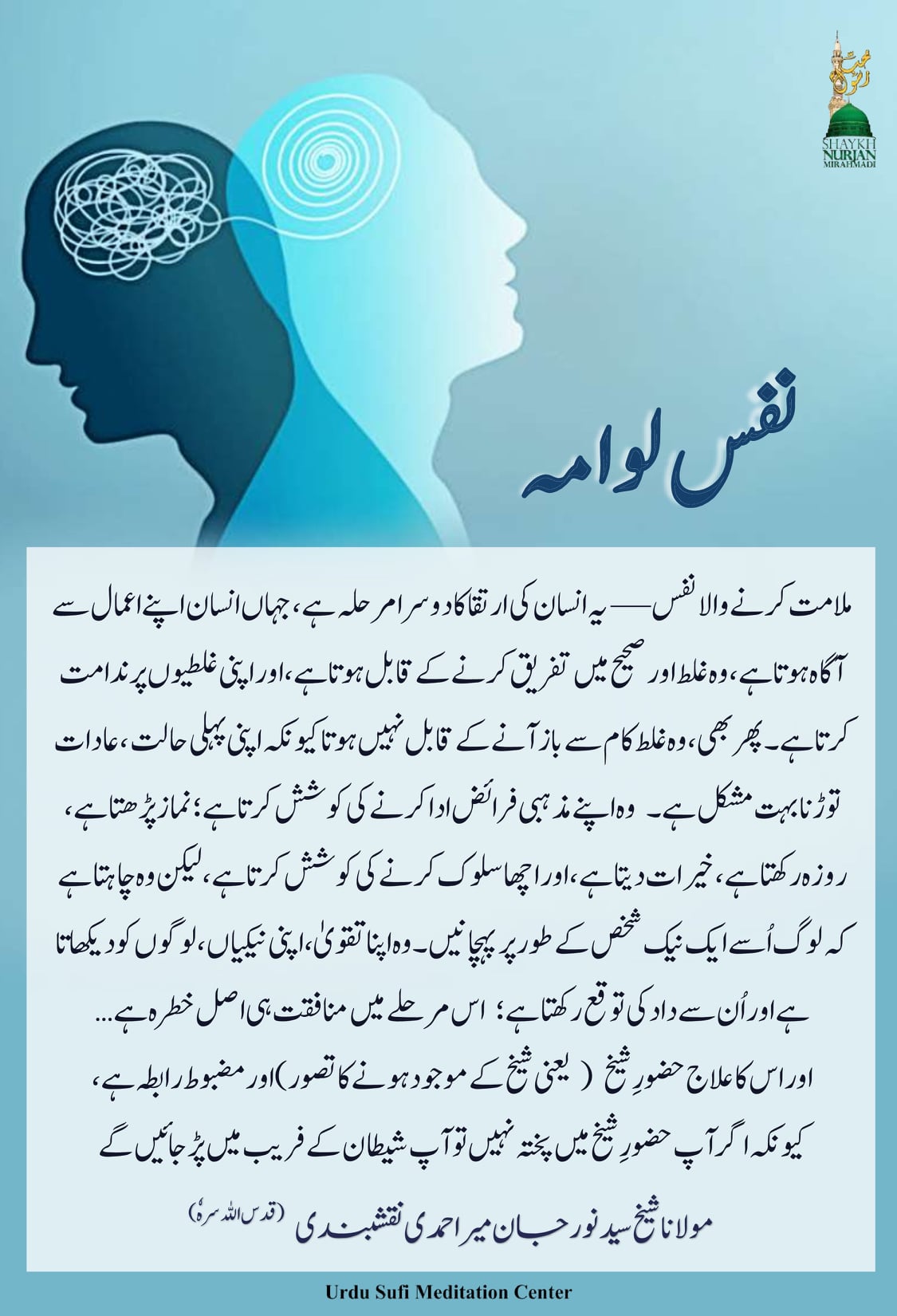 Urdu – دوسرا درجہ : نفسِ لوامہ ( ملامت کرنے والا نفس) |Dosra Darja: Nafs al-Lawama (Ma…
دوسرا درجہ : نفسِ لوامہ ( ملامت کرنے والا نفس)
|Dosra Darja: Nafs al-Lawama (Malamat Karne wala Nafs)
𝐋𝐞𝐯𝐞𝐥 𝐓𝐰𝐨: 𝐍𝐚𝐟𝐬 𝐀𝐥-𝐋𝐚𝐰𝐰𝐚𝐦𝐚 (𝐓𝐡𝐞 𝐁𝐥𝐚𝐦𝐢𝐧𝐠 𝐒𝐞𝐥𝐟)
|مولانا شیخ سید نورجان میر احمدی نقشبندی ق|
نفس لوامہ، اب اگر ہم برے کردار (نفسِ امارہ) سے نکل جاتے ہیں ، تو پھر 99 فیصد لوگ، جو طریقت (روحانی راستے) پر ہیں ،اس زمرے میں رہنے کی کوشش کر رہے ہیں۔
منافقت کے خطرات سے ہوشیار رہیں
|Munafqat ke khatraat se hoshiyar rahen|
𝐁𝐞𝐰𝐚𝐫𝐞 𝐭𝐡𝐞 𝐃𝐚𝐧𝐠𝐞𝐫𝐬 𝐨𝐟 𝐁𝐞𝐢𝐧𝐠 𝐚 𝐇𝐲𝐩𝐨𝐜𝐫𝐢𝐭𝐞
|قاری|
ملامت کرنے والا نفس— یہ انسان کی ارتقا کا دوسرا مرحلہ ہے ، جہاں انسان اپنے اعمال سے آگاہ ہوتا ہے ، وہ غلط اور صحیح میں تفریق کرنے کے قابل ہوتا ہے، اور اپنی غلطیوں پر ندامت کرتا ہے۔ پھر بھی ، وہ غلط کام سے باز آجانے کے قابل نہیں ہوتا کیونکہ اپنی پہلی حالت، عادات توڑنا بہت مشکل ہے۔
وہ اپنے مذہبی فرائض ادا کرنے کی کوشش کرتا ہے ؛ نماز پڑھتا ہے ، روزہ رکھتا ہے ، خیرات دیتا ہے ، اور اچھا سلوک کرنے کی کوشش کرتا ہے، لیکن وہ چاہتا ہے کہ لوگ اُسے ایک نیک شخص کے طور پر پہچانیں۔ وہ اپنا تقویٰ ، اپنی نیکیاں ، لوگوں کو دیکھا تا ہے اور اُن سے داد کی توقع رکھتا ہے۔ یہ طرز عمل منافقانہ بن جاتا ہے۔ کبھی کبھاراُسے احساس ہوجاتا ہےاور ندامت کا اظہار کرتا ہے اور بدلنے کی کوشش کرتا ہے۔ اس مرحلے میں منافقت ہی اصل خطرہ ہے۔
Mawlana Shaykh Q: Nafs Lawama, ab agar hum buray kirdaar ( Nafse Ammara) se nikal jatay hain, to phir 99 feesad log, jo tareqat ( Rohani rastay ) par hain, is zamray mein rehne ki koshish kar rahay hain. Qa'ari: malamat karne wala nafs— yeh insaan ki irtiqa ka dosra marhala hai, jahan insaan apne aamaal se aagah hota hai, woh ghalat aur sahih mein tafreeq karne ke qabil hota hai, aur apni ghaltion par nedamat karta hai. Phir bhi, woh ghalat kaam se baz aajane ke qabil nahi hota kyunkay apni pehli haalat, aadaat torna bohat mushkil hai .Woh apne mazhabi faraiz ada karne ki koshish karta hai ؛ namaz parhta hai, roza rakhta hai, khairaat deta hai, aur acha sulooq karne ki koshish karta hai, lekin woh chahta hai ke log ussay aik neak shakhs ke tor par pehchanen. woh apna taqwa, apni naikian, logon ko dekha taa hai aur unn se daad ki tawaqqa rakhta hai. Yeh tarz amal munafiqana ban jata hai. Kabhi kabhar usay ehsas hojata hai aur nedamat ka izhaar karta hai aur badalny ki koshish karta hai. Is marhalay mein munafqat hi asal khatrah hai.
Mawlana Shaykh Nurjan Mirahmadi (Q): Nafs al-Lawwama. Now that if we rise from that bad characteristic, then 99% of those in tariqahs (spiritual paths) are trying to stay in this category.
Beware the Dangers of Being a Hypocrite
Reader: The Blaming Self. This is the second step in the development of man, where man becomes aware of his actions, is able to differentiate right from wrong, and regrets his wrongdoings. Yet, he is not able to totally stop doing wrong because it is very difficult to break the habits of his previous state.He tries to follow the obligations of his religion and he prays, fasts, pays alms, and tries to behave properly. But he wants to be known as a reformed person. He publicizes his piety, his good deeds, and expects appreciation from people. This makes his behavior hypocritical. Sometimes he realizes this, regrets it, and tries to change. Hypocrisy is the principal danger in this state.
شرمندگی منافقت سے روک دیتی ہے
|Sharmindagi munafqat se rok deti hai|
𝐒𝐡𝐚𝐦𝐢𝐧𝐠 𝐒𝐭𝐨𝐩𝐬 𝐘𝐨𝐮𝐫 𝐇𝐲𝐩𝐨𝐜𝐫𝐢𝐬𝐲
|مولانا شیخ ق|
یہ اہم سبق ہے—منافقت۔ لیکن یہ اس لئے نہیں کہ تم نسخہ بدل دو ، وہ چاہتے ہیں کہ تم ( منافق) بنو اور اپنی منافقت تسلیم کرو ۔ یہ نہیں کہ آپ اسے (امیج) تبدیل کریں اور کہیں ، 'میں اپنا (اسلامی ) حلیہ تبدیل کروں گا اور ہر برا کام کروں گا۔' نہیں ، وہ چاہتے ہیں کہ آپ لمبی داڑھی والے ، پرہیز گار نظر آنے والے فرد بنیں جو ہر شخص سے بدظن اور غصہ ہوتا ہے تاکہ آپ شرمندہ ہوسکیں، شرمندگی آپ کو اس (منافقت) سے روک دے گی۔
لہذا ، بڑے ہوتے ہوئے ، ہم نے جلد ہی داڑھی رکھ لی۔ جیسے ہی میری والدہ مولانا (ق) کو ملتیں تو وہ (میرے بارے میں ) پوچھتیں: 'داڑھی والے اس نوجوان کو ، انہیں اتنا غصہ کیوں آتا ہے؟' ہر موقع پہ ، ایک بار بھی ایسا نہیں ہوا کہ وہ مجھے تمام لوگوں، چالیس سے پچاس افراد کے سامنے شرمندہ نہ کریں ، ' مولانا ، مولانا ، میرا ایک سوال ہے، اُن کی داڑھی اور ٹوپی ہے اور وہ (پھر بھی) اتنے غصے والے کیوں ہیں؟ '
علاج یہ نہیں کہ آپ اپنی ٹوپی اتار دیں، داڑھی صاف کر دیں اور یہ کہیں: 'نہیں میں غصے والا شخص ہی رہنا چاہتا ہوں ، بس یہ نہیں چاہتا کسی کو پتہ چلے۔' نہیں ، یہ (امیج) میری حفاظت تھی اور میری منافقت کی یاد دہانی تھی ۔ اور کسی موقع پر آپ یوں محسوس کریں گے کہ یہ (منافقت) خوفناک ہے ، یا ربی ، اور آپ روتے ہیں کہ مجھے ایسا نہ بننے دیں، کہ میں منافقانہ حالت میں مرجاوں، کہ میرا ایسا امیج ہو جہاں میری داڑھی ہو، میرا عمامہ ہو ، میں اپنے شیخ کے ہمراہ ہوں، میں ان تمام(نیک) چیزیں کے ساتھ ہر قسم کے خوفناک افعال کر رہا ہوں۔
وہ (اولیااللہ )چاہتے ہیں کہ آپ اپنی منافقت محسوس کریں اور وہ اللہ (عزوجل) سے فریاد کرتے ہیں :'میری ذات سے منافقت نکال دیجئے تاکہ جس چیز کی پیروی کرنے کی میں کوشش کر رہا ہوں اور جو امیج دیکھانے کی کوشش کر رہا ہوں میں اس قابل ہو جاؤں '۔ لیکن شیطان آتا ہے ، سرگوشی کرتا ہے، ہم اب وسوسوں میں گھِر جاتے ہیں ، 'اسے اتار نہیں، منافقت چھوڑ دو' ۔ منافقت چھوڑنے سے تمہارا کیا مطلب ہے؟ تم مجھے دوبارہ مجرم بننے کا کہہ رہے ہو ، ڈاکو بن جاؤں؟ نہیں ، منافقت چھوڑنے کا مطلب ہے برےکام نہ کرو۔ ایسا نہیں کہ میں برے کام جاری رکھوں گا لیکن میں محمدن ( جیسا) نظرنہیں آنا چاہتا۔
| Mawlana Shaykh Q :yeh ahem sabaq hai —munafqat. Lekin yeh is liye nahi ke tum nuskha badal do, woh chahtay hain ke tum (munafiq) bano aur apni munafqat tasleem karo. Yeh nahi ke aap usay (image) tabdeel karen aur kahin,' mein apna (islami) huliya tabdeel karoon ga aur har bura kaam karoon ga.' Nahi, woh chahtay hain ke aap lambi daarhi walay, parhaiz gaar nazar anay walay fard banin jo har shakhs se badzan aur ghussa hota hai taakay aap sharminda hosakin, sharmindagi aap ko is (munafqat) se rokkk day gi .Lehaza, barray hotay hue, hum ne jald hi daarhi rakh li. Jaisay hi meri walida Mawlana (Q) ko miltin to woh ( mere baray mein ) pochtin:' daarhi walay is nojawan ko, inhen itna ghussa kyun aata hai ?' har mauqa pay, aik baar bhi aisa nahi hwa ke woh mujhe tamam logon, 40 se 50 afraad ke samnay sharminda nah karen,' Mawlana, Mawlana, mera aik sawal hai, unn ki daarhi aur topi hai aur woh ( phir bhi ) itnay ghusse walay kyun hain? ' Ilaaj yeh nahi ke aap apni topi utaar den, daarhi saaf kar den aur yeh kahin :' Nahi mein ghusse wala shakhs hi rehna chahta hon, bas yeh nahi chahta kisi ko pata chalay.' nahi, yeh ( image ) meri hifazat thi aur meri munafqat ki yaad dehani thi. Aur kisi mauqa par aap yun mehsoos karen ge ke yeh ( munafqat ) khofnaak hai, ya Rabbi, aur aap rotay hain ke mujhe aisa nah ban'nay den, ke mein munafiqana haalat mein mar jaon, ke mera aisa image ho jahan meri daarhi ho, mera amamah ho, mein apne Shaykh ke hamrah hon, mein un tamam ( naik ) cheeze ke sath har qisam ke khofnaak afaal kar raha hon .Woh( awliya-Allah) chahtay hain ke aap apni munafqat mehsoos karen aur woh Allah ( azzwajal ) se faryaad karte hain :'meri zaat se munafqat nikaal dijiye taakay jis cheez ki pairwi karne ki mein koshish kar raha hon aur jo image dikhane ki koshish kar raha hon mein is qabil ho jaoon'. Lekin Shaytan aata hai, sargoshi karta hai, hum ab waswason mein ghar jatay hain,' usay utaar nahi, munafqat chore do'. Munafqat chorney se tumhara kya matlab hai? Tum mujhe dobarah mujrim ban'nay ka keh rahay ho, daku ban jaoon? nahi, munafqat chorney ka matlab hai buray kaam nah karo. aisa nahi ke mein buray kaam jari rakhon ga lekin mein Muhammadan ( jaisa ) nazr nhin aana chahta|
Mawlana Shaykh Nurjan Mirahmadi (Q): This is important understanding – the hypocrisy. But it's not for you to change the prescription. They want you to be and to acknowledge your hypocrisy, not you change it. You say, 'I'll change my image and do every bad thing.' No, they want you to be a long-bearded, pious-looking person being obnoxious and angry with everybody so that you can feel shame. The shaming will stop you from it. So, when growing up, we grow our beard real quick. As soon as my mom would see Mawlana (Q) she would say, 'Why this guy with this beard, he gets so angry?' Every single time. There was not a time she could spare me from humiliation in front of everybody, 40-50 people, 'Mawlana, Mawlana I have a question. Why they have beard and hat and they're so angry?' Solution wasn't you take your hat off and shave your beard and say, 'No I want to be an angry person, just don't want anyone to know it.' No, this was a protection and a reminder of my hypocrisy. And at some point you feel like this is horrible, ya Rabbi, and you cry that don't let me be and to die as a munafiq (hypocrite) where I have this image of my beard, my turban, I accompany my shaykh, I'm doing all these things and doing every type of horrific act. They want you to feel your hypocrisy and they cry out to Allah (AJ), 'Remove this hypocrisy from me so that I'm worthy of what I'm trying to follow and the image I'm trying to display.' But shaitan comes, whispers. Now we'll go into the whispers, 'Don't take it off. Leave hypocrisy.' What do you mean leave hypocrisy? Then you're telling me to be a criminal again, be a robber? No, leave hypocrisy means don't do the bad actions. Not I'm going to continue to do the bad actions but I just don't want to look like a Muhammadan.
نفسِ لوامہ کے اوصاف—
نفس پر شیطانی اثر غصے اور تکبر کا باعث بنتا ہے
|Nafs Lawama ke Awsaf.
Nafs par shaytani assar ghusse aur takkabur ka baais bantaa hai|
𝐂𝐡𝐚𝐫𝐚𝐜𝐭𝐞𝐫𝐢𝐬𝐭𝐢𝐜𝐬 𝐨𝐟 𝐍𝐚𝐟𝐬 𝐀𝐥-𝐋𝐚𝐰𝐰𝐚𝐦𝐚—
𝐒𝐚𝐭𝐚𝐧𝐢𝐜 𝐈𝐧𝐟𝐥𝐮𝐞𝐧𝐜𝐞 𝐨𝐧 𝐭𝐡𝐞 𝐒𝐞𝐥𝐟 𝐂𝐚𝐮𝐬𝐞𝐬 𝐀𝐫𝐫𝐨𝐠𝐚𝐧𝐜𝐞 𝐚𝐧𝐝 𝐀𝐧𝐠𝐞𝐫
|قاری|
اس کے ساتھ مزید دو خطرناک اندیشے لاحق ہیں—تکبر اور غصہ— ہر معمولی سی اچھی کوشش پچھلے مرحلے کے مقابلے میں ایک بہت بڑی کامیابی لگتی ہے۔ لہذا ، ہم سمجھتے ہیں کہ ہم سب سے بہترین ہیں اور جب وہ ہماری عزت نہیں کرتے تو ہم لوگوں پر غصہ کرتے ہیں۔ تکبر ، منافقت ، غصہ ، عدم رواداری ، اور اپنی ذات سے ہی جھوٹ بولنا ، یہ سب ہم پر حاوی ہو جاتا ہے۔
نفسِ لوامہ کے مرحلے میں ، شیطان ہماری رگوں اپنا تکبر بھرتا ہے اور ہمارے کان میں وسوسہ ڈالتا ہے 'اب تم اپنے اساتذہ کے برابر ہو گئے ہو، نہ صرف تمہارا علم اُتنا ہے جتنا ان (شیخ) کا علم ہے، بلکہ تمہارا سلوک (رویہ ) بھی بہتر ہے۔ اگر جو کچھ وہ سکھاتے ہیں اپنی زندگی میں اس پر عمل کرلیں تو وہ تمہارے نصف برابر بھی نہیں ۔ تمہیں اُن کی تبلیغ یا اُن کے مشورے کی ضرورت نہیں ۔ اب لوگوں کو تمہاری دانشمندی اور تمہارا عمل نظر آنا چاہئے، تاکہ تم ان کیلئے مثال بن جاؤ۔ ' نہ صرف شیطان کے وسوسے ، بلکہ ساری دنیاوی زندگی اس مرحلے میں سالک کے خلاف ہو جاتی ہے ۔
یہ نفس (لوامہ) ہے جو مسلسل اطاعت اور نافرمانی کے درمیان لڑکھڑاتا رہتا ہے۔ ایک لمحے ، یہ غافل ہے اور (گناہ میں) گرتا ہے اور دوسرے لمحے، یہ آگاہ ہے اور مزاحمت کرتا ہے۔ یہ وہ فطری مقام ہے جہاں ہم پیدائش سے ابتدا کرتے ہیں اور وہاں سے ہم یا تونیچے آتے ہیں یا اُوپر بڑھ جاتے ہیں۔ اس کی نشانی (کبھی) اہل دنیا اور (کبھی) اہل آخرہ کے اوصاف کا اتار چڑھاو ہے۔ یہ نفسِ امارہ جیسی بنیادی حالت نہیں لیکن ابھی بھی اس میں لفانیت اور خودمختاری کی دو خواہشات سرگرم عمل ہیں — لیکن بہت ہلکی یا کمزور حالت میں ۔ یہ نفس کی نجات کا پہلا مرحلہ ہے اور اس کی پاکیزگی اور فلاح کی طرف پہلا قدم ہے۔
|Qa'ari: is ke sath mazeed do khatarnaak andaishay la-haq hain, ghussa aur takkabur— har mamoli si achi koshish pichlle marhalay ke muqablay mein aik bohat barri kamyabi lagti hai. Lehaza, hum samajte hain ke hum sab se behtareen hain aur jab woh hamari izzat nahi karte to hum logon par ghussa karte hain.Takkabur, munafqat, ghussa, adam rawadari, aur apni zaat se hi jhoot bolna, yeh sab hum par haawi ho jata hai . Nafs lawama ke marhalay mein, Shaytan hamari ragon apna takkabur bharta hai aur hamaray kaan mein waswasa dalta hai' ab tum apne usaatzaa ke barabar ho gaye ho, nah sirf tumhara ilm utna hai jitna un ( Shaykh ) ka ilm hai, balkay tumhra saluk( rawayya ) bhi behtar hai. Agar jo kuch woh sikhate hain apni zindagi mein is par amal karlen to woh tumahray nisf barabar bhi nahi. tumhe unn ki tableegh ya unn ke mashwaray ki zaroorat nahi. Ab logon ko tumhari danishmandi aur tumhara amal nazar aana chahiye, taakay tum un ke liye misaal ban jao.' nah sirf Shaytan ke was wasay, balkay saari dunyawi zindagi is marhalay mein salk ke khilaaf ho jati hai. Yeh nafs (lawama ) hai jo musalsal itaat aur nafarmani ke darmiyan larkhrata rehta hai. Aik lamhay, yeh ghaafil hai aur ( gunah mein ) girta hai aur dosray lamhay, yeh aagah hai aur muzahmat karta hai. Yeh woh fitri maqam hai jahan hum paidaiesh se ibtida karte hain aur wahan se hum ya toh neeche jatay hain ya uper barh jatay hain. Is ki nishani ( kabhi ) ahal duniya aur ( kabhi ) ahal akhirah ke awsaf ka utaar charhao hai. Yeh Nafse Ammara jaisi bunyadi haalat nahi lekin abhi bhi is mein lafaniyat aur khudmukhtaari ki do khwahisaat sargaram amal hain — lekin bohat halki ya kamzor haalat mein. Yeh nafs ki nijaat ka pehla marhala hai aur is ki pakizgee aur falah ki taraf pehla qadam hai|
Reader: There are two other grave dangers as well: arrogance and anger. Every little attempt to be good, compared to the previous state, seems like a major achievement. So, we think we are the best and get angry with others who do not seem to respect us. Arrogance, hypocrisy, anger, intolerance, and lying to ourselves can overtake us. At the level of Nafsi Lawwama, the devil injects his character of arrogance into our veins and whispers into our ear, 'You are as good as your teachers now. Not only do you know as much as they do, the way you behave is better. If they were able to apply what they teach in their own lives, they wouldn't be half what you are. You don't need their preaching or their advice. Now let people see your wisdom and your deeds so that you will be an example to them.' Not only the whisperings of the devil, but all worldly life is against the seeker at this stage. It is a self that is in constant fluctuation between obedience and disobedience. One time, it is heedless and falls and another it is aware and resists. This is the natural station which we start from at birth and from there we descend or ascend. Its sign is the fluctuation between the characteristics of the people of this world and the people of the next world. It is not the same base condition as the Commanding Self but the two desires of immortality and sovereignty are still active in it, although in a much reduced or weakened condition. This is the first stage of salvation for the self and the first step toward its purification and success.
شیطان کے مکر فریب سے بچنے کیلئے شیخ کا حضور( روحانی موجودگی کا تصور) برقرار رکھیں
|Shaytan ke makr fraib se bachney ke liye Shaykh ka hudur ( ruhani mojudgi ka tasawur) barqarar rakhen|
𝐊𝐞𝐞𝐩 𝐭𝐡𝐞 𝐏𝐫𝐞𝐬𝐞𝐧𝐜𝐞 𝐨𝐟 𝐭𝐡𝐞 𝐒𝐡𝐚𝐲𝐤𝐡 𝐭𝐨 𝐀𝐯𝐨𝐢𝐝 𝐒𝐡𝐚𝐢𝐭𝐚𝐧'𝐬 𝐃𝐞𝐜𝐞𝐢𝐭
|مولانا شیخ ق|
الحمدللہ، اس سبق کے ساتھ (ختم کرتے ہیں) ، یہ ابھی کیلئے کافی ہے۔ انشاءاللہ ہم کل شاید باقی تفصیل میں جائیں گے۔ نفس کو سمجھنے کی ایک اہمیت ہے۔ اور یہ خیال کرنا کہ اینرجی( قوتوں) کی وجہ سے ، مشائخ کی طاقت کی وجہ سے ہم کہیں پہنچ گئے تو یہ یاد دہانی ہے کہ نہیں : آپ (اُن) مشائخ کا فیض لے رہے ہیں جو ( اعلی مقامات پر ) پہنچے ہوئے ہیں، لیکن اپنے نفس کو جاننا، اپنے رب کو پہچاننا ہے۔
مَنْ عَرَفَ نَفْسَهْ فَقَدْ عَرَفَ رَبَّهُ
" جو اپنے نفس کو جانتا ہے ، اپنے رب کو جان لیتا ہے۔"
رسولِ کریم سیدنا محمد (ﷺ)
جب آپ دیکھیں کہ آپ کس زمرے میں آتے ہیں اور نفس کے کردار اور اوصاف کیا ہیں ، تو ہمارے لئے سمجھنے میں آسانی ہوگی اور سمجھنے سے عاجز رہنا بہت آسان ہو جائے گا۔ اور اس کا علاج ، حضورِشیخ ( یعنی شیخ کے موجود ہونے کا تصور ) اور مضبوط رابطہ ہے، کیونکہ اگر آپ حضورِشیخ میں پختہ نہیں تو آپ شیطان کے فریب میں پڑ جائیں گے ۔
|Mawlana Shaykh Q : Alhamdulilah, is sabaq ke sath ( khatam karte hain ), yeh abhi ke liye kaafi hai. In-sha'Allah hum kal shayad baqi tafseel mein jayen ge. Nafs ko samajhney ki aik ahmiyat hai. aur yeh khayaal karna ke energy ( quwatoon ) ki wajah se, mashaiykh ki taaqat ki wajah se hum kahin pahonch gaye to yeh yaad dehani hai ke nahi : aap ( unn ) mashaiykh ka faiz le rahay hain jo ( aala maqamat par ) puhanche hue hain, lekin apne nafs ko janna, apne rab ko pehchanana hai .[ "Jo apne nafs ko jaanta hai, apne rab ko jaan laita hai. " Rasul-e-Kareem Sayedena Muhammad (saws)] Jab aap dekhen ke aap kis zamray mein atay hain aur nafs ke kirdaar aur Awsaf kya hain, to hamaray liye samajhney mein aasani hogi aur samajhney se aajiz rehna bohat aasaan ho jaye ga. aur is ka ilaaj, Hudur-e-Shaykh ( yani Shaykh ke mojud honay ka tasawwur ) aur mazboot rabita hai, kyunkay agar aap Hudur-e-Shaykh mein pukhta nahi to aap Shaytan ke fraib mein par jayen ge.|
Shaykh Nurjan Mirahmadi: Alhamdulillah. With that understanding, that's enough for now. InshaAllah, we'll go into the rest maybe tomorrow. But the importance of understanding the self and thinking that because of the energies, because of the strength of the shaykhs, that we reach somewhere. And the reminder is no, you're taking the faiz (downpouring blessings) of shaykhs that reach somewhere but to know yourself is to know your Lord.
مَنْ عَرَفَ نَفْسَهْ فَقَدْ عَرَفَ رَبَّهُ
"Man 'arafa nafsahu faqad 'arafa Rabbahu."
"Who knows himself, knows his Lord." Prophet Muhammad (pbuh)
When you see what category you fit and what the character and the characteristics of the nafs are, then much easier for us to understand and to be humble with the understanding. And its remedy is the presence and strong presence of the shaykh. For if you're not strong in the presence with the shaykh, you will fall into the deceit of shaitan.
یہ بیان اس لنک پر دیکھا جا سکتا ہے
Watch this Bayan on YouTube
youtu.be/ABdAyVimdJU
پہلا حصہ
First Part:
مولانا شیخ سید نور جان میر احمدی نقشبندی (ق) کا فیس بک پیج لائک کیجئے
Official Page: Shaykh Nurjan Mirahmadi
Shaykh Nurjan Mirahmadi
اپنے سوالات اور دعا کی درخواست ای میل کیجئے
Ask Your Questions or Need Prayers.
Email: helpme@nurmuhammad.com
2/3