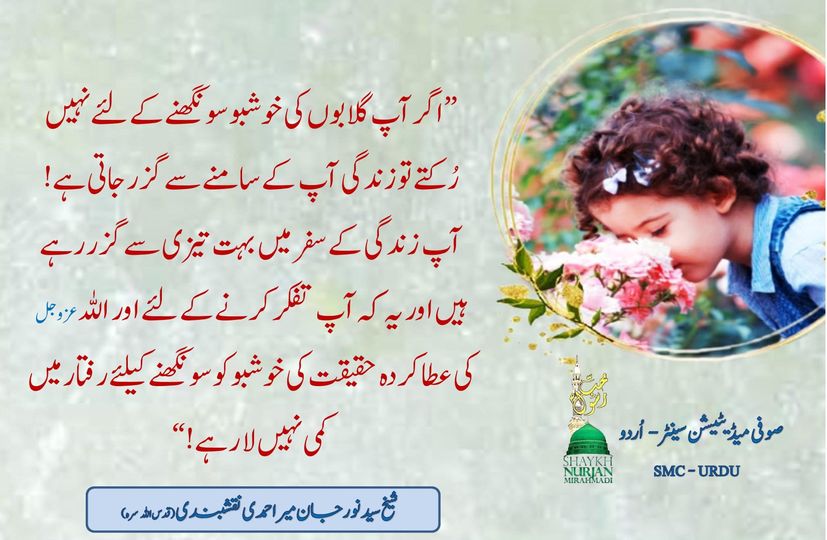 Urdu – غار میں سونے والے (اصحاب الکہف) کی سماعت کو کیوں ڈھانپ دیا گیا تھا- سورۃ الکہف …

غار میں سونے والے (اصحاب الکہف) کی سماعت کو کیوں ڈھانپ دیا گیا تھا- سورۃ الکہف تفسیر ( سورۃ 18) [حصہ اوّل]
𝐆𝐡𝐚𝐚𝐫 𝐌𝐞𝐢𝐧 𝐒𝐨𝐧𝐚𝐲 𝐖𝐚𝐥𝐚𝐲 ( 𝐀𝐬𝐡𝐚𝐚𝐛 𝐮𝐥 𝐊𝐚𝐡𝐟 ) 𝐊𝐢 𝐒𝐚𝐦𝐚'𝐚𝐭 𝐊𝐨 𝐊𝐲𝐮𝐧 𝐃𝐡𝐚𝐚𝐧𝐩 𝐃𝐢𝐲𝐚 𝐆𝐚𝐲𝐚 𝐓𝐡𝐚 – 𝐒𝐮𝐫𝐚𝐡 𝐀𝐥-𝐊𝐚𝐡𝐟 𝐓𝐚𝐟𝐬𝐞𝐞𝐫 (𝐒𝐮𝐫𝐚𝐡 𝟏𝟖) [𝐏𝐀𝐑𝐓 – 𝟏]
Why 7 Sleepers' Hearing Was Veiled – Tafsir Surah Kahf (Chapter 18) [𝐏𝐀𝐑𝐓 – 𝟏]
——————————————–
——————————————–
مولانا شیخ (قدس اللہ سرہ) کی تعلیمات سے اقتباس جیسا کی مولانا شیخ سیّد نور جان میر احمدی نقشبندی (ق) نے سکھایا
اَعُوْذُ بِاللهِ مِنَ الشَّيْطَانِ الرَّجِيْمِ
بِسْمِ اللهِ الرَّحْمَنِ الرَّحِيْم
اَلَّھُمَّ صَلِّ عَلَی سَیَّدِنَا محَمَّدٍ ﷺ وَعَلَی آلِ سَیَّدِنَا محَمَّدٍ ﷺ
میں شیطان مردود سے اللہ عزوجل کی پناہ مانگتا ہوں
شروع اللہ عزوجل کے نام سے جو بڑا مہربان نہایت رحم والا ہے
الحمدللہ رب العالمین, والصلوٰۃ والسلام علیٰ اشرف المرسلین , سیدنا و مولانا محمد المصطفیﷺ – مدد یا سیدی یا رسول الکریم, یا حبیب العظیم , انظر حالنا واشفالنا , عبدنا بمددکم ونظرکم-
𝗧𝗥𝗔𝗡𝗦𝗟𝗜𝗧𝗘𝗥𝗔𝗧𝗜𝗢𝗡:
Mawlana Shaykh ( Q ) ki talemaat se iqtibas jaisa ki Mawlana Shaykh Syed Nurjan Mirahmadi Naqshbandi (Q) ney sikhaya.
A'udhu Billahi Minash Shaitanir Rajeem
Bismillahir Rahmanir Raheem
Alhamdulillahi Rabbil 'aalameen, was salaatu was salaamu 'alaa Ashraful Mursaleen, Sayyidina wa Mawlana Muhammadul Mustafa ﷺ. Madad ya Sayyidi ya Rasulul Kareem, Ya Habibul 'Azeem, unzur halana wa ishfa'lana, 'abidona bi madadikum wa nazarekum.
𝗘𝗡𝗚𝗟𝗜𝗦𝗛 𝗧𝗥𝗔𝗡𝗦𝗖𝗥𝗜𝗣𝗧:
From the Realities of Mawlana Shaykh (Q) as taught by Shaykh Nurjan Mirahmadi
A'udhu Billahi Minash Shaitanir Rajeem
Bismillahir Rahmanir Raheem
I seek refuge in Allah from Satan, the rejected one.
In the Name of Allah, the Most Beneficent, the Most Merciful.
Alhamdulillahi Rabbil 'aalameen, was salaatu was salaamu 'alaa Ashraful Mursaleen, Sayyidina wa Mawlana Muhammadul Mustafa ﷺ. Madad ya Sayyidi ya Rasulul Kareem, Ya Habibul 'Azeem, unzur halana wa ishfa'lana, 'abidona bi madadikum wa nazarekum.
ماہِ صفر میں اولیاءاللہ سے ہدایت و رہنمائ:
صفر کے اس مقدس مہینے میں سُبْحَانَ مَن ھُوَ الْعَلِيْمُ الْحَكِيمْ ( پاک ہے میرا پروردگار جو سب کچھ جاننے والا, حکمت والا ہے) "محمدن وے ایپ" ڈاؤن لوڈ کریں , ماہِ صفر پر کلک کریں- پھر صفر کے حقائق اور ذکر، اولیاءاللہ کی جانب سے رہنمائ ہے- کہ ہاؤس آف کامنز میں لوگ جو چاہیں کر سکتے ہیں- وہ پہلی سورت سے بارہویں سورت تک رہنمائ کی پیروی کرتے ہیں-
𝗧𝗥𝗔𝗡𝗦𝗟𝗜𝗧𝗘𝗥𝗔𝗧𝗜𝗢𝗡:
Mahe Safar mein aulia Allah (AJ) se hadaayat o Rahnumai:
Safar ke is muqaddas mahinay mein Subhana man huwa 'Alim al-Hakim
( pak hai mera parvardigaar jo sab kuch jan-nay wala, hikmat wala hai ) "Muhammadan Way" app down load karen, mahe safar par click karain- phir safar ke haqayiq aur zikar, auliyaullah ki janib se rahnumai hai – ke House of Commons mein log jo chahain kar satke hain- woh pehli sourat se baarhavin sourat tak rahnumai ki pairwi karte hain.
𝗘𝗡𝗚𝗟𝗜𝗦𝗛 𝗧𝗥𝗔𝗡𝗦𝗖𝗥𝗜𝗣𝗧:
Guidance From Awliyaullah (Saints) in the Month of Safar.
In this holy month of Safar, Subhana man huwa 'Alim al-Hakim (Glory be to my Lord, the All-Knowing, the Wise). The Muhammadan Way app, download the app, click on the month, Safar. Then the realities and the zikr (Divine remembrance) of Safar is the guidance from awliyaullah (saints). That, in the house of commons people can do whatever they like. They follow guidance from surah 1 through 12
ہر مہینے میں ایک تجّلی ہوتی ہے اور خدا کے بندے پر ہر مہینے کا ایک لباس ہوتا ہے- جنہیں اللہ عزوجل ہدایت دینا چاہتا ہے- یعنی رشد – رشد ہمارے پاس فارسی میں راشد ین یعنی ہدایت و رہنمائی سے ہے کاملین (کامل) و راشدین ( صحیح ہدایت یافتہ) جو ہم جمعہ (جمعہ کی نماز) میں پڑھتے ہیں۔ اس کا مطلب ہمارے لئے رُشد ہے یعنی پکنا۔ کہ آپ سرسبز نہیں ہیں کہ سب کچھ سرسبز وشاداب ہو بلکہ اللہ عزوجل چاہتا ہے کہ آپ پختہ ہو جائیں- اور رجال کی راہ پر چلیں اور رجال میں سے عباداللہ (اللہ عزوجل کے عبادت گزار بندے) میں سے ہو جائیں۔ عبااد اللہ سب سے اونچا مقام ہے کیونکہ اللہ عزوجل نے انہیں "عین" عطا فرمایا ہے اور انہیں علوم عطا کئے ہیں, قدیم علوم سے نوازا ہے اور رجال اللہ وہ اس حقیقت کو حاصل کرنے کی تربیت میں ہیں-
𝗧𝗥𝗔𝗡𝗦𝗟𝗜𝗧𝗘𝗥𝗔𝗧𝗜𝗢𝗡:
Har mahinay mein aik tajallii hoti hai aur khuda ke bande par har mahinay ka aik libaas hota hai – jinhein Allah azzwajal hadaayat dena chahta hai – yani Rashd – Rashd hamaray paas farsi mein rashid yan yani hadaayat o rahnumai se hai Kamilin ( kaamil ) o rashdin ( sahih hadaayat Yafta ) jo hum jummay ( jummay ki namaz ) mein parhte hain. Is ka matlab hamaray liye rushd hai yani pakna. Ke aap sirsabz nahi hain ke sab kuch sirsabz o shadaab ho balkay Allah azzwajal chahta hai ke aap pukhta ho jayin- aur Rajal ki raah par chalein aur Rajal mein se Ibadullah ( Allah azzwajal ke ibadat guzaar bande ) mein se ho jayen. Ibadullah sab se ouncha maqam hai kyunkay Allah azzwajal ne inhen "ayn" ataa farmaya hai aur inhen uloom ataa kiye hain, qadeem uloom se nawaza hai aur Rajal Allah woh is haqeeqat ko haasil karne ki tarbiyat mein hain.
𝗘𝗡𝗚𝗟𝗜𝗦𝗛 𝗧𝗥𝗔𝗡𝗦𝗖𝗥𝗜𝗣𝗧:
Each month has a tajjali (manifestation) and each month has a dress upon the servant of the Divine. Those whom Allah (AJ) want to guide – rushd. We have in Farsi to become rushd, from Rashidin, guidance. 'Kamilin (perfected) wa Rashidin (rightly guided)', what we say in Jum'ah (Friday Prayer). This means also for us is rushd, is to be ripened. That you are not green – everything green – but Allah (AJ) wants you to mature and to be in the way of rijal and from rijal, from Ibadullah (devoted servants of Allah (AJ)). Ibadullah is highest because Allah (AJ) gave them ayn and gave them knowledges, ancient knowledges. Rijal, they are in training to receive that reality.
اللہ عزوجل نے اصحاب الکہف کی سماعت کو ڈھانپ دیا تھا:
لہذا اس کا مطلب ہے کہ اس مقدس مہینے کا لباس (تجلی) وہ ہے جو اللہ عزوجل ان ہاؤس آف لارڈز کو, ان بلند روحوں (عظیم روحوں) کو عنایت کرنا چاہتا ہے جس میں اللہ عزوجل نے ان کے لئے اعلٰی درجے کے حقائق کی تفہیم کی ہدایت کو مقرر کر دیا ہے اس کا مطلب ہے کہ سب سے پہلے غار انہیں ادب (آداب) سکھا رہی ہے – وہ واپس جاتے ہیں اور وہ سمجھنے کے لئے آیت بر آیت پڑھتے ہیں، ابتدا ادب سے ہوتی ہے اور اللہ عزوجل کی طرف سے انتباہ کہ 'برا نہ کرو، اس کتاب کو اپنے اندر سمونے کیلئے دعاگو رہو- انہیں برائی سے خبردار کرو!' اب کیا آپ نے اصحاب الکہف کے بارے میں سنا ہے؟ اور اصحاب الکہف کی تفصیلات کے بارے میں سنا ہے؟ کہ انہوں نے اپنے آپ کو اپنے پروردگار کے لیے پیش کر دیا تھا اور اللہ عزوجل نے ان کی سماعت کو ڈھانپ دیا تھا۔
فَضَرَبْنَا عَلَىٰ آذَانِهِمْ فِي الْكَهْفِ سِنِينَ عَدَدًا ﴿١١)
"پس ہم نے ان کے کانوں کو گنتی کے کئی سال تک اسی غار میں ڈھانپ دیا" (الکھف, 18:11)
ہم نے آج ذکر سے ٹھیک پہلے بات کی, سماعت کے ڈھانپنے کا تعلق آپ کی آنکھیں بند ہونے اور بارگاہ الہی میں فنا ہوجانے سے کیوں ہوگا؟ اللہ عزوجل نے یہ کیوں نہیں فرمایا کہ ,'میں نے ان کی آنکھوں کو ڈھانپ دیا اور 309 سال تک سوتے رہے؟'
𝗧𝗥𝗔𝗡𝗦𝗟𝗜𝗧𝗘𝗥𝗔𝗧𝗜𝗢𝗡:
Allah Azzwajal Ne Ashaab UL Kahaf Ki Samaat Ko Dhaanp Diya Tha :
Lehaza is ka matlab hai ke is muqaddas mahinay ka libaas ( tajallii ) woh hai jo Allah azzwajal un House of Lords ko, un buland roohon ( azeem roohon ) ko inayat karna chahta hai jis mein Allah azzwajal ne un ke liye aala darjay ke haqayiq ki tafheem ki hadaayat ko muqarrar kar diya hai is ka matlab hai ke sab se pehlay ghaar inhen adab ( aadaab ) sikha rahi hai – woh wapas jatay hain aur woh samajhney ke liye aayat bar aayat parhte hain, ibtida adab se hoti hai aur Allah azzwajal ki taraf se intibah keh 'bura nah karo, is kitaab ko apne andar samonay ke liye dua'go raho. Inhen buraiee se khabardaar karo!' Ab kya aap ne Ashaab ul Kahaf ke baray mein suna hai? Aur Ashaab ul Kahaf ki tafseelaat ke baray mein suna hai? Ke unhon ne apne aap ko apne Parvardigaar ke liye paish kar diya tha aur Allah azzwajal ne un ki samaat ko dhaanp diya tha .
"Pus hum ne un ke kaanon ko ginti ke kayi saal tak isi ghaar mein dhaanp diya" ( Al-kahf, 18 : 11 )
Hum ne aaj zikr se theek pehlay baat ki, samaat ke dhanpnay ka talluq aap ki ankhen band honay aur bargaah ellahi mein fanaa hojane se kyun hoga? Allah azzwajal ne yeh kyun nahi farmaya ke,'Mein ne un ki aankhon ko dhaanp diya aur 309 saal tak sotay rahay? '
𝗘𝗡𝗚𝗟𝗜𝗦𝗛 𝗧𝗥𝗔𝗡𝗦𝗖𝗥𝗜𝗣𝗧:
Allah (AJ) Veiled the Hearing of Ashab ul Kahf
So, it means that this holy month's dress is that Allah (AJ) want to bestow upon these House of Lords, these lofty souls in which he has destined for them guidance of a higher understanding. So, it means the cave at the front is telling them the adab (manners). Those who go back and they read verse by verse to understand. The beginning is the adab and warning from Allah (AJ) that, 'Don't do bad. Ask for this kitab (book) to come into you. Warn them from badness.' Now have you heard about Ashab ul Kahf (Companions of the Cave)? And the details of Ashab ul Kahf? That they submitted themselves for their Lord and Allah (AJ) placed upon them a veil on their hearing.
We talked today, right before the zikr, why would a veil on hearing have to do with you becoming closed eyes and annihilating in Divinely Presence? Why Allah (AJ) didn't say, 'I put a veil on their eyes and they slept for 309 years?'
غار میں سونے والوں نے بارگاہ الٰہی میں جانے کے لیے جسمانی خواہشات کو ترک کردیا:
غار میں سونے والے, عیسائیت میں افسیس کے سونے والے, یہ پرانی قدیم حقیقت سے تھا۔ یہ سونے والے 7 لوگ، اللہ عزوجل نے بیان کیا کہ انہوں نے مادی دنیا کی منفی اور اس سے منسلک شیطانی خواہشات کو چھوڑ دیا – انہوں نے بارگاہِ الٰہی کی جانب دوڑنے کے لیے اپنی حیثیت و مرتبے کو پیچھے چھوڑ دیا – ہم نے اس غار کے اداب کے بارے میں بات کی کہ ہر آزمائش یہ دیکھنے کے لئے آتی ہے کیا آپ جنگلی ہیں؟ پھر اللہ عزوجل نے فرمایا کہ کیا آپ آزمائش (امتحنات) اور زندگی میں مسلسل ہونے والی بمباری سے گزر رہے ہیں؟ سبحان اللہ جیسے ہی اس مہینے کا آغاز ہوا پوری دنیا میں انٹرنیٹ کی پوری روحانی دنیا میں یہ سارا جنون نظرآنے لگتا ہے- ہر طریقة (روحانی راستہ) اب آگے پیچھے ہو رہا ہے اور جھگڑ رہا ہے چیخ رہا ہے اور تمام کتّے ظاہر ہو رہے ہیں یعنی وہ جو اپنا اصل کردار, جھاڑپھونک اور بھونکنے والے حقیقی وحشی, اصلی جنونی کردار ظاہر کرنے لگتے ہیں-
𝗧𝗥𝗔𝗡𝗦𝗟𝗜𝗧𝗘𝗥𝗔𝗧𝗜𝗢𝗡:
Ghaar Mein Sonay Walon Ne Bargaah Ellahi Mein Jane Ke Liye Jismani Khwahisaat Ko Tark Kardiya :
Ghaar mein sonay walay, Esaiyat mein Ephesus ke sonay walay, yeh purani qadeem haqeeqat se tha. Yeh sonay walay 7 log, Allah azzwajal ne bayan kya ke unhon ne maadi duniya ki manfi aur is se munsalik shaytani khwahisaat ko chore diya – unhon ne Bargaah e Ellahi ki janib dornay ke liye apni hesiyat o martabay ko peechay chore diya. Hum ne is ghaar ke aadaab ke baray mein baat ki keh har azmaish yeh dekhnay ke liye aati hai kya aap jungli hain? Phir Allah azzwajal ne farmaya ke kya aap azmaish (imtihanaat) aur zindagi mein musalsal honay wali bombari se guzar rahay hain? SubhanAllah jaisay hi is mahinay ka aaghaz hwa poori duniya mein internet ki poori Rohani duniya mein yeh sara junoon nazar anay lagta hai – har tariqah ( Rohani rasta ) ab agay peechay ho raha hai aur jhagar raha hai cheekh raha hai aur tamam kutte zahir ho rahay hain yani woh jo apna asal kirdaar, jhaar phoonk aur bhonknay walay haqeeqi wehshi, asli junooni kirdaar zahir karne lagtay hin.
𝗘𝗡𝗚𝗟𝗜𝗦𝗛 𝗧𝗥𝗔𝗡𝗦𝗖𝗥𝗜𝗣𝗧:
The Sleepers of the Cave Ran From Physical Desires to the Divinely Presence
The Sleepers of the Cave, the Sleepers of Ephesus in Christianity, it was from old ancient reality. These 7 sleepers, Allah (AJ) described, that they left the negativity of the physical world and the demonic desire from it. They gave from their status away to run towards the Divinely Presence. We talked about the mannerisms of that cave, that every testing comes to see if you're wild. Then Allah (AJ) said, 'If you're passing the testing and the continuously in life bombarding.' SubhanAllah, as soon as this month opened, all this craziness all over the world, and all over the spiritual world of the internet. Every tariqah (spiritual path) is now jumping back and forth, and fighting and yelling and all the dogs come out. The ones who want to show their real characteristic, groveling and barking, real vashi, real crazy.
فتنوں میں حصہ نہ لیں کیونکہ آپ اعلٰی ذرائع سے آزمائے جا رہے ہیں:
جب اس مہینے میں, اگر ان کی درست تربیت ہوتی, انہیں تربیت دی جانی چاہیے تھی کہ خاموش رہیں- یقینی طور پر فتنوں میں حصہ نہ لیں کیونکہ آپ اعلٰی ذرائع سے آزمائے جا رہے ہیں- جیسے آپ خاموش ہوتے ہیں, آپ سمجھ جاتے ہیں- اللہ عزوجل آپ کو کچھ عطا کرنا چاہتا ہے اور اس کی وضاحت فرماتا ہے,'میں(عزوجل) انکی سماعت کو ڈھانپ دوں گا اور انہیں حالتِ تسلیم میں لے جاؤں گا'- یہ اہمیت سمعنا واطعنا والے لوگوں کی ہے-
إِنَّمَا كَانَ قَوْلَ الْمُؤْمِنِينَ إِذَا دُعُوا إِلَى اللَّـهِ وَرَسُولِهِ لِيَحْكُمَ بَيْنَهُمْ أَن يَقُولُوا سَمِعْنَا وَأَطَعْنَا ۚ وَأُولَـٰئِكَ هُمُ الْمُفْلِحُونَ ﴿٥١)
ایمان والوں کا قول تو یہ ہے کہ جب انہیں اس لئے بلایا جاتا ہے کہ اللہ اور اس کا رسول ان میں فیصلہ کردے تو وه کہتے ہیں کہ ہم سنتے ہیں اور مان لیتے ہیں۔ اور یہی لوگ کامیاب ہونے والے ہیں-( النور, 24:51)
وہ ایسے امتی ہیں جو سنتے ہیں اور وہ اطاعت کرتے ہیں اور یہ ان کے کانوں اور روح کی اہمیت ہے کہ کان روح کے دروازے ہیں اور آپ دروازے کے ذریعے روح کے ساتھ چھیڑ چھاڑ کر سکتے ہیں – آنکھیں اس روح کی کھڑکی ہیں – آپ آنکھوں کے ذریعے روح کو تاریک کر سکتے ہیں-
𝗧𝗥𝗔𝗡𝗦𝗟𝗜𝗧𝗘𝗥𝗔𝗧𝗜𝗢𝗡:
Ftnon Mein Hissa Nah Len Kyunkay Aap Aala Zaraye Se Aazamaaye Ja Rahay Hain :
Jab is mahinay mein, agar un ki durust tarbiyat hoti, inhen tarbiyat di jani chahiye thi ke khamosh rahain- Yakeeni tor par fitno mein hissa nah len kyunkay aap aala zaraye se aazamaye ja rahay hin-Jjaisay aap khamosh hotay hain, aap samajh jatay hain- Allah azzwajal aap ko kuch ataa karna chahta hai aur is ki wazahat farmata hai,'Mein ( azzwajal ) unki samaat ko dhaanp dun ga aur inhen halat-e tasleem mein le jaoon ga' – yeh ahmiyat samina wa atana walay logon ki hai.
"Imaan walon ka qoul to yeh hai ke jab inhen is liye bulaya jata hai ke Allah aur is ka Rasool un mein faisla kardey to woh kehte hain ke hum suntay hain aur maan letay hain. Aur yahi log kamyaab honay walay hain." ( Al-noor, 24 : 51 )
Woh aisay ummati hain jo suntay hain aur woh ita'at karte hain aur yeh un ke kaanon aur rooh ki ahmiyat hai ke kaan rooh ke darwazay hain aur aap darwazay ke zariye rooh ke sath chairr chhar kar sakte hain – ankhen is rooh ki khirki hain – aap aankhon ke zariye rooh ko tareek kar satke hain.
𝗘𝗡𝗚𝗟𝗜𝗦𝗛 𝗧𝗥𝗔𝗡𝗦𝗖𝗥𝗜𝗣𝗧:
Don't Participate in Fitna! You're Being Tested By a Higher Source
When this month, if they were trained correctly, they should have been trained, stay quiet. Definitely don't participate in fitna (confusion) because you're being tested by a higher source. Soon as you stay quiet, you understand. Allah (AJ) want to give you something and begin to describe that, 'I'm going to put a veil on their hearing and put them into submission' being the importance of the people of samina wa atana. They are a nation in which they hear, and they obey, and that the importance of their ears and the soul. The ears are the door to the soul and you can manipulate the soul through the door. The eyes are the window of this soul. You can darken the soul through the eyes.
ٹھہراؤ لائیں اور اللہ عزوجل کی عطا کردہ ہر حقیقت پر تفکر کریں:
لہذا اس کا مطلب ہے کہ شیطان لوگوں کی آنکھوں پر کیا بھیج رہا ہے؟ ایسی چیزیں جنہیں آپ کو نہیں دیکھنا چاہیے یہ مسلسل تاریکی و ظلمت ہے۔ یہ آرہا ہے، روح کو تباہ و برباد کر رہا ہے ,دل پر بمباری کر رہا ہے- لیکن اللہ عزوجل نے جو اس مقدس سورت میں توجہ مبذول کروائی ہے وہ یہ ہے کہ ان کے کانوں پر پردہ ڈال دیا گیا اور وہ اپنی حالتِ فنا میں چلے گئے تو پھر (یہاں) کانوں کی اہمیت ہے کہ کانوں کو کس طرح منظم کرنا ہے اور تفکر اور غوروفکر میں کیا اہمیت ہے کہ جو بھی ان حقائق سے صاحب بصیرت ہونا چاہتا ہے اسے لازمی طور پر غور و فکر , مراقبہ, تفکر کی زندگی گزارنی چاہیے- اگر آپ گلابوں کی خوشبو سونگھنے کے لئے نہیں رکتے ہیں تو زندگی آپ کے سامنے سے گزر جاتی ہے آپ زندگی کے سفر میں بہت تیزی سے گزر رہے ہیں اور یہ کہ آپ تفکر کرنے کے لئے اور اللہ عزوجل کی عطا کردہ حقیقت کی خوشبو کو سونگھنے کیلئے رفتار میں کمی نہیں لا رہے۔
𝗧𝗥𝗔𝗡𝗦𝗟𝗜𝗧𝗘𝗥𝗔𝗧𝗜𝗢𝗡:
Thehrao Layein Aur Allah Azzwajal Ki Ataa Kardah Har Haqeeqat Par Tafakar Karen :
Lehaza is ka matlab hai ke shetan logon ki aankhon par kya bhaij raha hai? Aisi cheeze jinhein aap ko nahi dekhna chahiye yeh musalsal tareqi o zulmat hai. Yeh aa raha hai, rooh ko tabah o barbaad kar raha hai, dil par bombari kar raha hai – lekin Allah azzwajal ne jo is muqaddas surat mein tawajah mabzool karwai hai woh yeh hai ke un ke kaanon par parda daal diya gaya aur woh apni halat-e-fanaa mein chalay gaye to phir ( yahan ) kaanon ki ahmiyat hai ke kaanon ko kis terha munazzam karna hai aur tafakar aur ghor-o-fikar mein kya ahmiyat hai ke jo bhi un haqayiq se sahib-e-baseerat hona chahta hai usay laazmi tor par ghhor o fikar, muraqbah, tafakar ki zindagi guzaarni chahiye. Agar aap gulabo ki khushbu soonghnay ke liye nahi ruktay hain to zindagi aap ke samnay se guzar jati hai aap zindagi ke safar mein bohat taizi se guzar rahay hain aur yeh ke aap tafakar karne ke liye aur Allah azzwajal ki ataa kardah haqeeqat ki khushbu ko soonghnay ke liye raftaar mein kami nahi laa rahay .
𝗘𝗡𝗚𝗟𝗜𝗦𝗛 𝗧𝗥𝗔𝗡𝗦𝗖𝗥𝗜𝗣𝗧:
Slow Down and Contemplate Every Reality Allah (AJ) is Giving
It means then what shaitan (satan) is sending upon the eyes of people – it's continuous darkness, things you should be not looking at. It's coming, bombarding the soul, bombarding the heart. But what Allah (AJ) drew our attention in this holy surah is their ears were veiled and they went into their annihilation. So, then the importance of the ears – how to discipline the ears, and the importance in tafakkur and contemplation. That anyone whom wants to be from that understanding, they must be living a life of contemplation, of meditation, of tafakkur. If you don't stop to smell the roses, life has already passed you by. You're going too fast through the process and that you're not slowing down to contemplate, to smell the fragrance of every reality that Allah (AJ) is giving.
اپنے کانوں کو شیطان کی سرگوشیوں سے محفوظ رکھنے کے لیے دروووسلام سنیں:
جیسے ہی وہ ایک راستہ اپناتے ہیں وہ تفکر کرنا چاہتے ہیں، وہ ٹہرتے ہیں وہ تھوڑا سا مطالعہ کرتے ہیں اور وہ اس پر مراقبہ کرتے ہیں , تفکر کرتے ہیں اور پھر ان کے مشائخ نے ان کو سکھایا ہے کہ آپ کے کانوں پر ایک زبردست راز موجود ہے کہ جیسے ہی آپ بیٹھیں اور مراقبہ کریں تو صلوٰاة سنیں، اپنے کانوں کو خالی نہ چھوڑیں- شیطان آپ کے کان میں داخل ہو جائے گا- آپ کے کانوں میں ہر طرح کی منفی باتیں ڈالنا شروع کر دے گا آپ کو لگتا ہے کہ آپ کو الہام ہو رہا ہے اور جبکہ آپ کو تو پہلے ہی سے بیوقوف بنا دیا گیا ہوتا ہے-الہام کان سے نہیں آتا – آپ اپنے کان سے کچھ (الہام) سننے کے منتظر نہیں ہیں کیونکہ یہ تو شیطان کی سرگوشیوں کا باعث بنے گا- لہذا , آپ اپنے کانوں میں درود و سلام لگائیں. آپ اپنے شعور کے ذریعے سننے لگیں گے-
𝗧𝗥𝗔𝗡𝗦𝗟𝗜𝗧𝗘𝗥𝗔𝗧𝗜𝗢𝗡:
Apne Kaanon Ko Shetan Ki Sargoshiyo Se Mehfooz Rakhnay Ke Liye Darud O Salam Sunen :
Jaisay hi woh aik rasta apnatay hain woh tafakar karna chahtay hain, woh thehertay hain woh thora sa mutalea karte hain aur woh is par muraqba karte hain, tafakar karte hain aur phir un ke mashaiykh ne un ko sikhaya hai ke aap ke kaanon par aik zabardast raaz mojood hai ke jaisay hi aap bathain aur muraqba karen to salawaat sunen, apne kaanon ko khaali nah chorain- Shetan aap ke kaan mein daakhil ho jaye ga- Aap ke kaanon mein har terhan ki manfi baatein daalna shuru kar day ga aap ko lagta hai ke aap ko ilham ho raha hai aur jabkay aap ko to pehlay hi se bewaqoof bana diya gaya hota hai – Ilhaam kaan se nahi aata. Aap apne kaan se kuch ( ilham ) suneney ke muntazir nahi hain kyunkay yeh to shetan ki sargoshiyo ka baais banay ga. Lehaza, aap apne kaanon mein duroood o salam lagayen. Aap apne shaoor ke zariye suneney lagen ge.
𝗘𝗡𝗚𝗟𝗜𝗦𝗛 𝗧𝗥𝗔𝗡𝗦𝗖𝗥𝗜𝗣𝗧:
Listen to Salawats to Protect Your Ears from Shaitan's Whispers
As soon as they take a path, they want to contemplate, they slow down. They read a little bit and meditate. They contemplate. Then they been taught by their shaykhs that there is a tremendous secret on your ears. That every time you sit and make tafakkur (contemplation), listen to salawats (praises on Prophet Muhammad ﷺ) Don't leave your ear to be unattended. Shaitan will enter in through your ear and begin to put every type of negativity into your ear. You think you're receiving inspiration and you've already been fooled. Inspiration does not come through the ear. You're not waiting to hear something from your ear because that's going to be shaitan whispering. So, you put salawats on your ear. You're going to hear through your consciousness.
———————————
یہ بیان یوٹیوب پر دیکھنے کیلئے
Watch this Bayan on youtube:
اس آرٹیکل کو انگلش میں پڑھنے کیلئے
Why 7 Sleepers' Hearing Was Veiled – Tafsir Surah Kahf (Chapter 18)
Why 7 Sleepers' Hearing Was Veiled – Tafsir Surah Kahf (Chapter 18)
یو ٹیوب چینل ابھی سبسکرایب کیجئے
Subscribe Now: The Muhammadan Way Sufi Realities
Www.youtube.com/channel/UC4E8QX7OgwYDgyuuXTBMrcg
شیخ سید نور جان میر احمدی نقشبندی (ق) کا آفشیل فیس بک پیج لائک کیجئے
Official Page: Shaykh Nurjan Mirahmadi
Https://www.facebook.com/shaykhnurjanmirahmadi/
► 𝐀𝐧𝐝𝐫𝐨𝐢𝐝 𝐀𝐩𝐩: https://play.google.com/store/apps/details?Id=com.nurmuhammad.muhammadanway
► 𝐢𝐏𝐡𝐨𝐧𝐞 𝐀𝐩𝐩: https://apps.apple.com/us/app/muhammadan-way/id1244297852
► 𝐒𝐨𝐮𝐧𝐝𝐂𝐥𝐨𝐮𝐝: https://soundcloud.com/muhammadanway
► 𝐃𝐨𝐧𝐚𝐭𝐞 (𝐏𝐀𝐊𝐈𝐒𝐓𝐀𝐍 𝐚𝐧𝐝 𝐖𝐎𝐋𝐑𝐃𝐖𝐈𝐃𝐄) : https://www.nurmuhammad.com/donate
Please Subscribe and Share