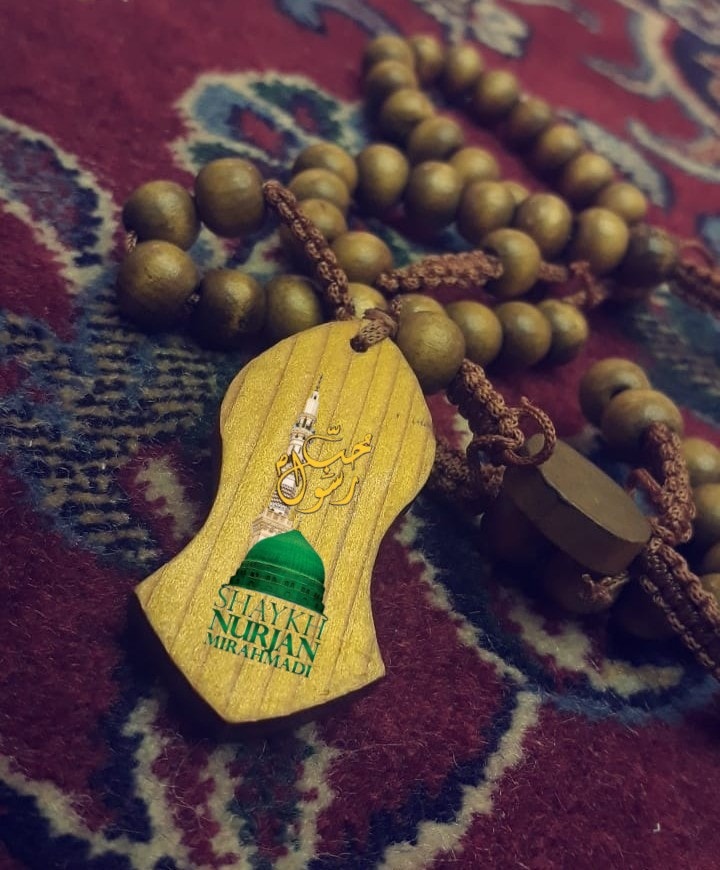 Urdu – مسلسل درودشریف سے اپنی زبان میٹھی بنائیں۔تسلیم میں آئیں اور سیدنا محمد (ﷺ) کی مق…
🙏🏻مسلسل درودشریف سے اپنی زبان میٹھی بنائیں۔تسلیم میں آئیں اور سیدنا محمد (ﷺ) کی مقدس چوکھٹ پر ایک خوبصورت قالین بن کے بچھ جائیں🌹
شیخ سید نورجان میراحمدی نقشبندی قدس اللہ سرہ کی سنہری تعلیمات سے اقتباس
بِسْمِ اللہ الرَّحْمٰنِ الرَّحِیْمِ ۞
"اَللّٰھُمَّ صَلِّ عَلیٰ سَیِّدِنَا مُحَمَّدٍ وَعَلیٰ آلِ سَیِّدِنَا مُحَمَّدْ"
سیدنا داؤد (عَلَيْهِ ٱلسَّلَامُ) اور سیدنا سلیمان (عَلَيْهِ ٱلسَّلَامُ) کی نماز سجدے سے آگے ہے، وہ زمین پر پوری طرح لیٹے رہتے اور اللہ (عزوجل) سے عرض کرتے کہ ، "میں آپ کے سامنے بالکل تسلیم میں ہوں جیسے 'قالین' !! ، میں حرکت نہیں کرسکتا ، اپنے پائے مبارک مجھ پر رکھیئے اور میری تسلیم کو کامل کردیجئے۔ " اس کا مطلب یہ ہے کہ بعض اوقات خود کو روضہ شریف کی موجودگی میں دیکھیں کہ نہ صرف میں اپنے سجدوں میں ہوں (بلکہ ) فرش کی طرح ہوں ، جیسے قالین تسلیم میں ہوتا ہے۔ 'یا سیدی یا رسول کریم' ہم ضائع ہو (کھو) جائیں گے اگر آپ (ﷺ) ہم پر نگاہ نہ فرمائیں گے ، اگر آپ (ﷺ) مجھ پر اپنا قدمِ مبارک اور پائے مبارک نہیں رکھتے۔ (مجھ پہ قدم رکھیئے) تاکہ "تسلیم" کا نور میرے دل میں داخل ہوجائے۔ صَلُّوْا عَلَیْہِ وَسَلِّمُوْا تَسْلِیْماً" صرف 'تسلیم' کے ذریعہ ہی حاصل کیا جاسکتا ہے۔
اِِنَّ اللَّهَ وَمَلَائِكَتَهُ يُصَلُّونَ عَلَى النَّبِيِّ يَا أَيُّهَا الَّذِينَ آمَنُوا✨صَلُّوا عَلَيْهِ وَسَلِّمُوا تَسْلِيماً
"بیشک اللہ اور اس کے فرشتے نبی اکرم(ﷺ) پر درود بھیجتے ہیں: اے ایمان والو! تم بھی ان پر خوب درود اور ہر لحاظ سے سلام پیش کرو۔"
(سورۃ الاحزب 33:56) ✨
"اَللّٰھُمَّ صَلِّ عَلیٰ سَیِّدِنَا مُحَمَّدٍ وَعَلیٰ آلِ سَیِّدِنَا مُحَمَّدْ صَلُّوا عَلَيْهِ وَسَلِّمُوا تَسْلِيماً"
("اے اللہ! محمد(ﷺ) اور آلِ محمد(ﷺ) پر درود و سلام بھیج")
کہ میں آپ کے رب (اللہ عزوجل) کے حکم کی پیروی کر رہا ہوں اور آپ کی دہلیز پر بچھ رہا ہوں۔ نہ صرف میرا سجدہ بلکہ میرا سارا جسم آپ کے سامنے ہے جو ایک قالین کی طرح ہے مجھ پر رحم فرمائیے۔ نظر عنایت فرمائیں کہ میں تسلیم نہیں کرسکتا ، میں اپنے برے عملوں کو نہیں روک سکتا ، میں اپنے غصے کو نہیں روک سکتا ، میں آپ (ﷺ) کے شامل ہوئے بغیر ایسا کوئی کام نہیں کرسکتا جو اللہ (عزوجل) کو راضی کرسکے۔ کم از کم مجھ پر اپنا قدم مبارک رکھیے اور میرے کردار میں حاوی ہو جائیے۔ میری وحشت ، یہ ہمارے اندر کا جنگلی پن ہے جو ہر چیز چلا رہی ہے اور ہر سمت جا رہی ہے لیکن صحیح سمت (آپکے نقشِ قدم میں ہے)۔ لہذا ، یہ 'تسلیم' ہے اگر سیدنا محمد(ﷺ) کا قدم مبارک ہے کیونکہ اس کی روحانی حقیقت بہت وسیع ہے۔مادیت کے تناظر میں نہ سوچو کہ ہم پائے مبارک کے لئے درخواست کررہے ہیں لیکن ہم اس نعلینِ پاک کے بارے میں عرض کر رہے ہیں جس میں وہ سیدنا صراط المستقیم علیہ الصلوٰۃ والسلام ہیں ، یعنی یہ قدم، آپ کی روح میں داخل ہونا شروع کردیں۔ آپ کی ہستی میں سب کچھ صراط المستقیم(سیدھے راستے) سے ہے۔ کہ آپ (ﷺ) کا قدمِ مبارک مجھ پر نقش ہو تاکہ میری روح ، میرا جسم سب استقام ، مضبوطی اور 'تسلیم' میں داخل ہوجائیں۔ جب ایک بار حضور پاک (ﷺ) مجھے ملبوس فرمانے لگے ، تو آپ کا دستِ انور مجھے تیار کرے گا اور اللہ کی قدرت مجھ میں داخل ہونے لگے گی۔ آپ(ﷺ) کا دستِ مبارک میری زبان پر ہونے کا مطلب ہے کہ روضہ شریف پر ، یہ یہاں ختم نہیں ہورہا ہے ، یہ نبی کریم (ﷺ) سے مسلسل درخواست کر رہا ہے کہ ، "میں یہاں ہوں ، میں آپ کا غلام ہوں ، میرے جانے کو کوئی ٹھکانہ نہیں ہے ، اللہ عزوجل نے مجھے خریدا اور مجھے آپ کے خادم کی حیثیت سے آپ کے پاس بیچ دیا۔ میں آپ کا غلام ہوں "اور شہنشاہ کے سامنے آپ کی کوئی مرضی نہیں ہوتی۔ آپ وہ کرتے ہیں جو شہنشاہ کرنے کا حکم دیں۔ اللہ (عزوجل)نے مجھے آپ(ﷺ) کی خدمت میں حاضر ہونے کے لئے بھیجا ہے، میں آپ کا غلام ہوں۔مجھے ملبوس فرمائیں،مجھے برکت عطا کیجیے براہ کرم میری زبان پر بھی اپنا مقدس دستِ شفقت فرما دیں جو میری زبان کو "تسلیم" میں لے آئے ،یہ برا کہنا بند کردے ، برائی کہنے سے باز آجائے۔ اسے اپنی مقدس خوشبو سے معطر کردیں۔تاکہ، یہ صرف آپ (ﷺ) کی خوبصورت نعت کہے اور میرا منہ آپ(ﷺ) کی محبت سے میٹھا ہوجائے گا۔ کسی کی بات میٹھی کیوں ہوتی ہے؟ یہ سیدنا محمد(ﷺ) کی محبت ہے۔ اللہ عزوجل کی محبت سیدنا محمد(ﷺ) کے دروازے سے آتی ہے۔ جب اللہ عزوجل محبت عطا فرمانا چاہتا ہے تو یہ حقیقت ہے ، یہ گھڑا اور برتن یا ذریعہ ہے جس میں آپ کے پاس سیدنا محمد (ﷺ) تشریف لاتے ہیں۔ آپ کی زبان کو جو چیز میٹھا کرتی ہے وہ صلوات النبی (ﷺ) ہے۔ اگر آپ کی زبان میٹھی نہیں ہے تو ، ڈاکٹر(مرشد) جو آپ کی طرف دیکھتا ہے وہ جانتا ہے کہ آپ درود شریف نہیں پڑھ رہے ۔آپ انھیں خلوص نیت سے نہیں کر رہے ، آپ ان کو کافی (تعداد میں ) نہیں کر رہے۔ایک ایسا شخص جس کا مسلسل (ورد) "اَللّٰھُمَّ صَلِّ عَلیٰ سَیِّدِنَا مُحَمَّدٍ وَعَلیٰ آلِ سَیِّدِنَا مُحَمَّدْ""اَللّٰھُمَّ صَلِّ عَلیٰ سَیِّدِنَا مُحَمَّدٍ وَعَلیٰ آلِ سَیِّدِنَا مُحَمَّدْ" ہے ۔(سیدی کئی بار دہراتے ہیں)۔کیسے اللہ(عزوجل) اس زبان کو میٹھا نہیں کرسکتا؟ اگر یہ (درودپاک)آپ کی زبان کو میٹھا نہیں بنا سکا تو کچھ بھی آپ کی زبان کو میٹھا نہیں بنا سکے گا۔ لہذا ، مطلب یہ ہے کہ پھر سب کچھ سیدنا محمد(ﷺ) کی چوکھٹ پر ہے کہ براہِ کرم میری زبان اور جنگلی پن کو لے لیں اور اسے اپنی خوشبو( عطرِ محمدی ﷺ) سے میٹھا کردیں۔ آپ کا پائے مبارک میری روح پر ہو اور مجھے ، "تسلیم و رضا" میں ڈھال دے۔تاکہ، اللہ (عزوجل) مجھ پر نگاہ فرمائے، میں آپ کی دہلیز پر ایک خوبصورت کارپٹ ہوں۔ سیدنا محمد(ﷺ) کس (عظیم الشان) کرسی اور تخت پر جلوہ فرما ہوتے ہونگے اور میں اس بارگاہ کا کیا خوبصورت قالین بن سکتا ہوں ،مجھے وہ قالین بننے دیجیے۔ اللہ عزوجل نے آپ(ﷺ) کو ایک عمدہ تخت عطا فرمایا ہے، ہمیں کوئی اعلیٰ مقام نہیں چاہئے ، مجھے صرف فرش بننے دیجئے تاکہ میرا چہرہ نیچے ہو اور آپ کا قدمِ مبارک مجھ پر ہو اور اللہ عزوجل مجھے اس طرح کی تسلیم میں دیکھے ،وہ مجھے 'تسلیماً' سے ملبوس فرمائے۔ وہ اس تسلیم کا خوبصورت معیار دیکھے۔ ان شاء اللہ 💚
⚡️یوٹیوب چینل:
www.youtube.com/user/NurMir
⚡فیس بک پیج:
facebook.com/shaykhnurjanmirahmadi/
🌹 Sweeten your tongue with Continuous salawats. Submit Yourself and Become a beautiful carpet at the Holy threshold of Sayyidina Muhammad صلى الله عليه وسلم . 🌹
The salah of Sayyidina Dawood عَلَيْهِ ٱلسَّلَامُ and Sayyidina Sulaiman عَلَيْهِ ٱلسَّلَامُ is that beyond the sajdah, they would lie in complete flat onto the ground and ask Allah (AJ) that, "I am completely in submission to you that like a 'carpet', I cant move, keep your feet upon me and perfect my surrender." Means at times see ourselves in the presence of Roza Sharif that not only in my sujood I'm complete like a 'farsh' (floor), like a carpet surrendering. 'Ya Sayyidi Ya Rasool-e-Kareem' if you don't keep your nazar (gaze) upon me we, will be lost. If you don't keep your qadam (holy feet) and holy qadam upon me so that this light of 'taslim' (submission) enters into my heart. "Salu alaihi wa salimu taslima" can only be achieved with 'taslim'.
إِنَّ اللَّهَ وَمَلَائِكَتَهُ يُصَلُّونَ عَلَى النَّبِيِّ يَا أَيُّهَا الَّذِينَ آمَنُوا ✨صَلُّوا عَلَيْهِ وَسَلِّمُوا تَسْلِيماً
33:56 "innAllaha wa malayikatahu yusalluna 'alan Nabiyi yaa ayyuhal ladhina aamanu sallu 'alayhi wa sallimu taslima. "
"Allah and His angels send blessings on the Prophet: O you that believe! Send your blessings on him, and salute him with all respect." (Surah Al-Ahzab 33:56)✨
'Alahumma Sali ala Sayyidina Muhammad wa ala ali Sayyidina Muhammad Salu alaihi wa salimu taslim'. ("O Allah! Send Peace and blessings upon Muhammad (ﷺ) and upon the Family of Muhammad (ﷺ)")
That I'm following your command of Allah (AJ) and laying myself at your threshold. Not only my sujood (prostration) but my whole body in front of you that like a carpet that have pity upon me. That see that I cannot submit, I cannot stop my bad practices, I cannot stop my anger, I cannot do anything that is pleasing to Allah (AJ) without you intervening. At least put your foot upon me and intervene in my character. My wildness, it's the wildness within us that is moving everything and going in every direction but the right direction. So, this 'taslim' is if Sayyidina Muhammad (ﷺ)'s Holy qadam because it has a lot of spiritual reality. Don't think from the physical only that we're asking for the foot but we're asking for this Holy qadam in which He's Sayyidina Sirat al-Mustaqim alaihi salatu salam, that is that qadam, begin to enter onto your soul. Everything about your being to be from Sirat al-Mustaqim (The straight path). That your qadam upon me so that my soul, my body all enter into isteqam, firmness and 'taslim'. That once that Holy foot begin to dress me, your hand will dress me and Allah's power begin to enter into me. That your hand to be onto my tongue means at Roza Sharif, it's not ending there, it's continuously asking Prophet (ﷺ) that, "I'm here, I'm your Ghulam (slave), I have nowhere to go. Allah has bought me and sold me to you as your servant. I am your Ghulam" and (before) a king you have no will. You do what the king tells you to do. Allah (AJ) send me to be of service to you, I am your Ghulam. Dress me, bless me that please even put your holy hand on my tongue that make my tongue to 'taslim', to stop saying bad, stop talking bad. Let it to be fragrance with your Holy fragrance. So, that only beautific praising's come and my mouth will become sweet from your love. What makes somebody's speech to be sweet? It's the love of Sayyidina Muhammad (ﷺ). Allah's love comes through the door 🚪of Sayyidina Muhammad (ﷺ). When Allah want to give love 💚 and muhabbat, it's the reality, it's pitcher and vehicle or vessel in which comes to you is Sayyidina Muhammad (ﷺ). What make your tongue to be sweet is Salawat an-Nabi (ﷺ). If your tongue is not sweet, the doctor who looks at you knows you're not doing salawats. You're not doing them sincerely, you're not doing them enough. How can one whom is continuously, "Alahumma Sali ala Sayyidina Muhammad wa ala ali Sayyidina Muhammad" (Sayyidi repeats a couple of times). How Allah (AJ) cant make that tongue sweet. If that can't make your tongue sweet nothing will make your tongue sweet. So, means then everything is at the door of Sayyidina Muhammad (ﷺ) that please take my tongue and take the wildness and make it sweet with your fragrance. Your foot to be upon my soul and make me into submission, into 'taslim'. So, that Allah (AJ) look at me, I'm a beautiful 🌸carpet at your threshold. What chair and throne Sayyidina Muhammad (ﷺ) sits upon and what beautific carpet can I make for that presence, let me be that carpet. Allah gave you a magnificent throne, we don't want high station, let me just be the farsh so that my face be down and your holy qadam to be upon me and Allah see me in this type of 'taslim', he dress me with 'taslima'. He sees the beautific quality of that submission. Insha'Allah.✨🌹💕
⚡Download App:
► Android App: play.google.com/store/apps/de…
► iOS App: itunes.apple.com/us/app/muham…
⚡️Please Subscribe Now:
www.youtube.com/user/NurMir
⚡️Please Like Our Main Page:
facebook.com/shaykhnurjanmirahmadi/